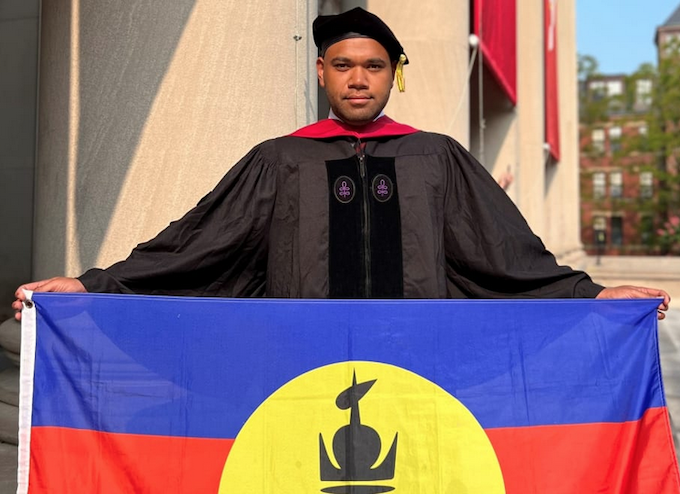 By Finau Fonua, RNZ Pacific journalist
New Caledonian Joe Xulue has made history by becoming the first person of Kanak heritage to graduate from Harvard University in the United States.
During his graduation in Boston on June 6, he proudly wore the Kanak flag as he received a diploma in law — and photos of the moment have since gone viral, celebrated by fellow Kanaks across social media.
Xulue said his accomplishment is collective because it sets an example to fellow Kanaks.
"It's a win for all Kanak people," said Xulue.
"I see it as a service — a way of giving back to my community — even by just going to Harvard . . . it can mean a lot to a young Kanak kid who is unsure of the dreams and aspirations that they have about themselves,
"When I was up there holding the flag, despite alot of the things that my people have gone through because of colonisation, it felt so proud to showcase how much we can achieve.
"Getting to Harvard wasn't easy, I've had to go through more rejection than acceptance to get to where I am today."
An avid New Caledonia pro-independence supporter, Xulue said his and other Kanak successes contributes to the indigenous movement for self-determination.
"It's pretty clear that colonisation has dis-enfranchised so many of our people," said Xulue.
"Young Kanaks like me are trying to change the narrative — to effectively reverse years and years of colonial rule, and policy guidelines and directions that have left us in a poor state."
The French territory has seen recent political turbulence, with pro-independence supporters disputing a referendum in 2021 that rejected independence from France.
Political dissatisfaction is widespread among the Kanak people who inherit a history marred by war and oppression. The majority of native Kanaks, who make up over 41 percent of New Caledonia's population, support independence.
Xulue is one of them, and he said getting a Harvard degree is one way of improving the socio-political condition of Kanaks.
"This idea of a neocolonial territory to exist in a world where we are supposed to be allowing countries to have independence is disconcerting," he said.
"I find it so strange that a country like France will talk about equality and freedom for all, but won't guarantee it to a nation like New Caledonia where they can clearly see the effects of colonisation on an indigenous group.
"On one hand, the French government talks about freedom and rights, but they don't guarantee them to people who inherently deserve those rights."
He applied to Harvard after being encouraged to do so by others including Samoan Harvard graduate Dylan Asafo.
A key focus of his study was creating cultural spaces to improve justice systems.
"My application was based on the idea of using indigenous ideas and practices, to shape the more traditional legal structures that we have in New Zealand," said Xulue.
"That was the basis for why I wanted to study and I knew it would give a platform to the Kanak struggle for independence.
"We see alot of the ways that different tikanga practices are in the New Zealand justice systems . . . we see how changing the settings like allowing for the kaumatua to get involved or allowing for the marae for youth justice processes can occur . . . simple ways we can use indigenous knowledge within the current colonial hegemony."
"I look at the law as a tool to effect positive change for our people . . . I think that's what Harvard saw and why they accepted me into their university."