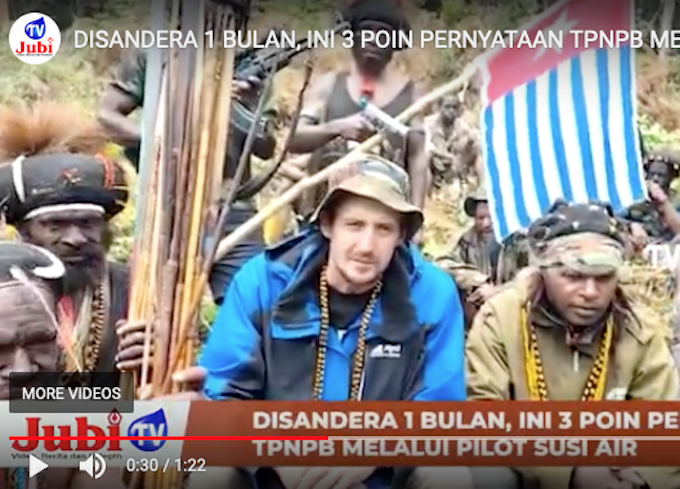 The West Papua National Liberation Army (TPNPB) has released a new video about New Zealand hostage pilot Philip Mehrtens and a Papuan news organisation, Jubi TV, has featured it on its website.
The Susi Air pilot was taken hostage on February 7 after landing in a remote region near Nduga in the Central Papuan highlands.
In the video, which was sent to RNZ Pacific, Mehrtens was instructed to read a statement saying "no foreign pilots are to work and fly" into the Papuan highlands until the West Papua is independent.
He made another demand for West Papua independence from Indonesia later in the statement.
Mehrtens was surrounded by more than a dozen people, some of them armed with weapons.
RNZ Pacific has chosen not to publish the video. Other New Zealand news services, including The New Zealand Herald, have also chosen not to publish the video.
Jubi TV item on YouTube
However, Jubi TV produced an edited news item and published it on YouTube and its website.
Previously, a West Papua National Liberation Army (TPNPB) spokesperson said they were waiting for a response from the New Zealand government to negotiate the release of Mehrtens.
A Papua independence movement leader, Benny Wenda, and church and community leaders last month called for the rebels to release Mehrtens.
Wenda said he sympathised with the New Zealand people and Merhtens' family but insisted the situation was a result of Indonesia's refusal to allow the UN Human Rights Commissioner to visit Papua.

The latest video featuring NZ hostage pilot Philip Mehrtens. Video: Jubi TV
According to Jubi News, the head of Cartenz Peace Operation 2023, Senior Commander Faizal Ramadani, says negotiations to free Mehrtens, who is held hostage by a TPNPB faction led by Egianus Kogoya, has "not been fruitful".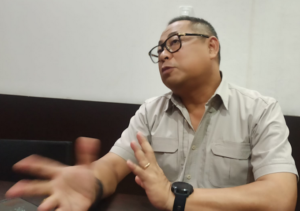 But Commander Ramadani said that the security forces would continue the negotiation process.
According to Commander Ramadani, efforts to negotiate the release of Mehrtens by the local government, religious leaders, and Nduga community leaders were rejected by the TPNPB.
"We haven't received the news directly, but we received information that there was a rejection," said Commander Ramadani in Jayapura on Tuesday.
"The whereabouts of Egianus' group and Mehrtens are not yet known as the situation in the field is very dynamic," he said.
"But we will keep looking."
Republished with permission from RNZ Pacific and Jubi TV.