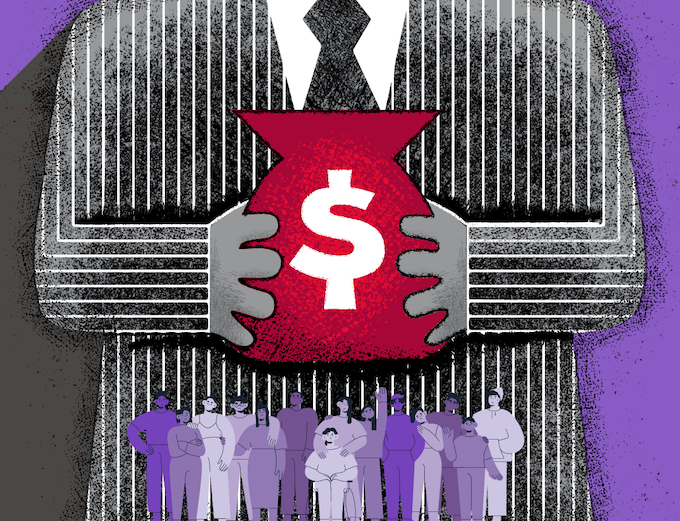 By Kalinga Seneviratne in Sydney
A National Tertiary Education Union (NTEU) report claims that "wage theft has shamefully become an endemic part of universities' business models" while Australia's biggest public universities record massive surpluses and their vice-chancellors earn more than A$1 million a year in wages.
The union report, released late last month and titled Wage Theft, exposes a staggering amount in wages that has allegedly been stolen from casual academic staff.
An analysis of 34 cases conservatively estimates that a collective amount of A$83.4 million is owed to staff across the higher education sector. More than A$80 million has been uncovered since 2020 across public universities.
Thousands of casual academic staff were laid off during covid-19 pandemic closures starting from March 2020 when revenue from foreign students fell dramatically.
NTEU argues that this should not be an excuse for some of Australia's wealthy universities not to pay proper wages to hard-working staff who are integral to teaching and research which "generates revenue and delivers immeasurable public good".
Bigger problem than anticipated
"It's deeply disappointing but not at all surprising that the staggering wage theft figure is even higher than the NTEU first calculated," Dr Alison Barnes, national president of NTEU, said in a media statement.
"Even more sadly, the true figure will rise well beyond AU$107.8 million once ongoing cases are settled. Systemic wage theft is endemic in our public universities. This is simply unacceptable," she added.
Barnes told University World News it was also "unacceptable" that A$107.8 million "has been stolen from higher education staff while universities post huge surpluses and vice-chancellors collect million-dollar salaries".
At fault are some of Australia's top universities which also attract huge numbers of foreign students.
The University of Melbourne topped the list with an estimated "wage theft" bill of A$31.6 million, while the University of Sydney came second with A$12.75 million and Royal Melbourne Institute of Technology (RMIT University) third with A$10 million.
Higher education wage theft comes in many forms, according to the NTEU report.
It includes being paid for fewer hours than the work takes, piece rates for marking instead of the actual time worked, and sham contracting to undercut award and agreement entitlements.
Teaching misclassification is among the most common forms of wage theft in universities.
According to Barnes, two-thirds of all Australian university staff are employed insecurely. With high rates of casualisation among university academic staff, casually employed workers are more vulnerable to wage theft than those who have secure employment, argues the NTEU report.
"Many workers are reluctant to raise complaints over underpayment, or to ask for compensation for hours worked for free when they require contract renewals every teaching period," it notes.
Fresh revelations and claims
New revelations from the University of Melbourne have taken its underpayment tally beyond A$45 million, cementing it as the leading culprit. Monash University admitted to A$8.6 million in wage theft in 2021.
The management is now fighting tooth and nail against new claims, going to the Fair Work Commission in an attempt to change its enterprise agreement so it is no longer liable to pay staff the money the union alleges is owed.
Bill Logan (not his real name) has worked as a casual for many years at Melbourne University and lately at RMIT. Speaking to University World News on condition of anonymity out of fear that his casual contracts may be denied in the next round, he said that as a casual you have job security for only three months at a time.
Casual lecturers, even though they do the same work as full-time lecturers — preparing tutorials, marking and student administration — are not considered for full-time academic appointments.
After reading the NTEU report, he said: "I still can't figure out how it has happened as universities pay via software and it is approved by a few people at the top before payments."
He said it was ironic that universities underpay staff "while teaching students how to practise good governance".
Logan admits that having job flexibility is a highlight of doing casual teaching.
However, he points out disadvantages: "Until the pre-semester preparation, we didn't know whether we would be able to do tutoring for the semester, because it depends on the number of students [enrolled for the course]."
"Casuals are not paid for administrative tasks such as writing recommendation letters for internships or further studies [for students]," he added.
Personal sacrifices
Speaking on ABC TV's 7.30 Report, Natalia Chulio, who has worked as a casual sociology lecturer at the University of Sydney for the past decade, said that to do such work she had had to make a lot of sacrifices in her personal life.
"I can't have children because I don't have a guaranteed income … You are always doing work that you are not paid for. For example, I am paid for 28 hours of face-to-face work per week, but I work for more than 45 hours a week.
"I'm underpaid when it comes to marking."
Logan said: "Even though casual tutors are paid at a higher rate [in academia] than in other sectors, there is no consistency in payments. [Thus] casuals are discriminated against [for example] when you apply for bank loans."
According to the Wage Theft report, the University of Melbourne admitted in November 2022 that it had started back-paying more than 15,000 staff who were owed A$22 million. That revelation came a little over a year after Melbourne repaid A$9.5 million to 1000 casual academics.
It posted a A$584 million surplus in 2022.
When interviewed on the 7.30 Report, Professor Nicola Phillips, provost of the University of Melbourne, admitted that the system needed an overall. "This is not a sustainable model for us and it is not a desirable one for the future," she said. "We are looking at dramatically reducing our number of casual contracts as a way of employing staff."
Logan agreed that institutions like Melbourne University should employ permanent part-time staff rather than casuals.
"Permanent part-time tutors could be hired who could teach a variety of similar subjects," he argued, pointing out that casuals "teach different but similar subjects" every semester.
'Tackle insecure work' plea
"We're calling on the federal government to address wage theft through tackling its chief cause — insecure work," said NTEU's Barnes. "Wage theft in higher education is a deep crisis. We need urgent action to create the better universities that Australia deserves."
Barnes called on the Australian government to pass laws that make wage theft a crime.
"That needs to happen alongside a mechanism for staff to quickly recover money stolen from them," she said.
She also encouraged all university staff to become union members.
"The NTEU has pursued enterprise agreements which include secure jobs guarantees, like at Western Sydney University, to increase permanent roles," she said.
Dr Kalinga Seneviratne is a Sri Lanka-born journalist, radio broadcaster, television documentary maker and a media and international communications analyst. He was head of research at the Asian Media Information and Communication Centre (AMIC) in Singapore from 2005-2012.This article was originally published by University World News and has been republished here with permission.