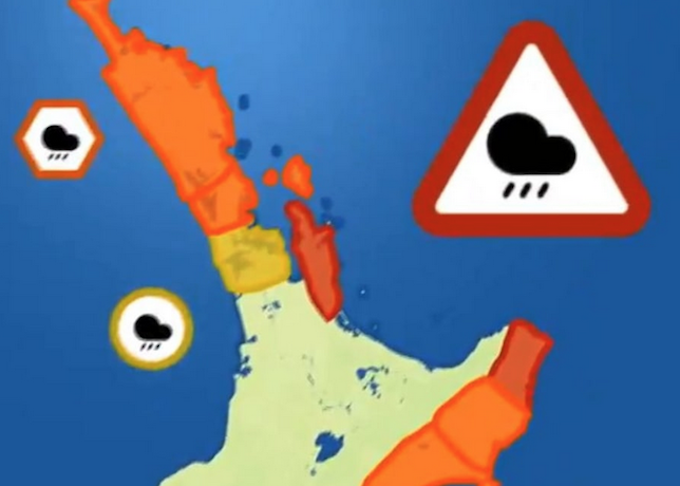 Coromandel Peninsula and Gisborne north of Tolaga Bay are now under red heavy rain warnings in Aotearoa New Zealand linked to Cyclone Gabrielle.
MetService says it expects up to 400 mm of rain to fall in the regions, mostly on Monday.
Civil Defence Controller for the Coromandel Garry Towler said that as well as heavy rain, winds of up to 130 km/h were expected and after weeks of severe weather, civil defence officials are very worried.
Towler said the Coromandel was in a fragile state after the extreme weather battering late last month — which left four people dead — and Civil Defence was deploying as many resources onto the Coromandel as it could.
He said a mobile alert would be issued this afternoon, and warnings would go out to people in vulnerable areas.
The storm is due to track across Northland on Sunday before moving south to Auckland, Coromandel, Waikato, Bay of Plenty and Gisborne on Monday and Tuesday.
Forecasters are warning of strong wind, heavy rain and big seas.
Widespread severe weather
MetService meteorologist Lewis Ferris said the cyclone would bring widespread severe weather.
The cyclone had taken a more eastern track over the last few days, but there was still disagreement over where the central point will lie when it made landfall, Ferris said.
"It's still looking like Monday-Tuesday are going to be the biggest days for the weather with the approaching cyclone. The worst impacts, where they are and when they occur, are still going to be riding on where the track of the cyclone actually eventuates."
It is possible that even Wellington could see some impacts, MetService said.
The cyclone has been upgraded to category 3.
MetService has issued heavy rain and strong wind watches ahead of its arrival.
Earlier today, MetService issued upgraded orange heavy rain and wind warnings associated with Cyclone Gabrielle.
Orange warnings
The orange warnings covered Northland, Auckland north of Whangaparaoa, including Great Barrier Island, Coromandel Peninsula, Gisborne and Hawke's Bay.
The rest of the North Island was under a strong wind watch, along with Marlborough, Nelson and Buller north of Seddonville in the South Island.
There was also a heavy swell warning for Wairarapa.
Meanwhile, the government is urging people to avoid non-essential travel in areas that could be hit by Cyclone Gabrielle.
Air New Zealand is offering flight deferrals in affected areas, asking people to postpone air travel unless it was urgent.
Emergency Management Minister Kieran McAnulty said safety trumped the disappointment of scrapping weekend plans.
"We would urge people, despite the inconvenience this would naturally cause, to heed that advice, because it is not given lightly," he said.
"We are taking this very seriously. Depending on how this tracks it could be quite severe and we're just asking people to take it seriously."
McAnulty said he had assurances government agencies and local civil defence services would update their social media channels regularly.
People were also being urged to stock three days' worth of food and water and prepare for possible power outages.
This article is republished under a community partnership agreement with RNZ.