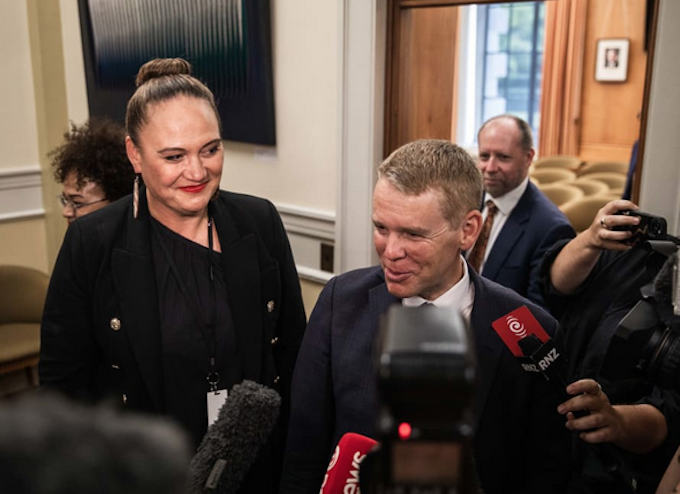 Incoming Prime Minister Chris Hipkins of Aotearoa New Zealand has signalled tackling the "inflation pandemic" will be a top priority for his cabinet's slimmed-down work programme.
Hipkins and new Deputy Prime Minister Carmel Sepuloni — the first with a Pasifika heritage — will take the reins on Wednesday, following Jacinda Ardern's sudden announcement last week she was quitting after a challenging five years in the top role.
It was perhaps the cleanest transfer of power in the Labour Party's recent history, and a far cry from the post-Helen Clark, pre-Ardern years of infighting and headline-grabbing leadership tussles.
"Jacinda Ardern and I are both absolutely committed to providing strong and stable leadership to New Zealand," Hipkins told RNZ's Morning Report today.
"I think that's what they've seen from the Labour government over the past five-and-a-half years, and that's what they're going to continue to see."
While in 2020 Ardern led the party to the most comprehensive victory of any in the MMP era and still leads polls for the most-preferred prime minister, those same polls suggest Labour is on track to lose the election later this year.
With polls also showing the cost of living and inflation are far more important to voters than the likes of Three Waters reform and merging state-owned media entities, Hipkins said it was time to "run the ruler" over the government's work programme.
Need to focus
"We need to focus in on some of those bread-and-butter issues that New Zealanders are certainly focused on at the moment, including issues like the cost of living, the effects of the ongoing global inflation pandemic that we're experiencing at the moment.
"We just have to make sure that we're putting our resources into the things that are going to make the biggest difference and that are the most important."
Asked if tackling inflation could come in the form of "tax relief" or toning down the Labour government's rapid increases to the minimum wage, Hipkins said he would not make up policy "on the fly", but would be careful to make "sure that the policy settings that the government has aren't going to make the inflationary problem worse".
But he hinted those on the lowest incomes wouldn't be a target for reining in inflation, which — as he noted with the phrase "inflation pandemic" — is a global problem.
"People on the lowest incomes often feel the pinch from higher inflation more than most because they don't have a lot of extra disposable income to meet those additional costs."
As for public servants, many he said were in pay discussions at present so he could not comment.
Another global issue New Zealand has not been immune to is the worker shortage. Hipkins said he would not "simply rely on immigration as being the only answer" to that particular problem.
"They want more skilled workers, but they also want to know that their sons and daughters, and their classmates and so on, are also going to find productive, gainful employment… I don't think it's and either-or…
"We've got thousands of young New Zealanders at the moment who aren't doing anything. We're going to have to have a bigger focus on making sure we activate that potential labour force, which at the moment isn't there."
'Take a breath'
Asked if the Ardern-led government had moved too fast on social issues, Hipkins said while "worthy and valuable, we can't always progress them all at the same time" and it was time to "take a breath".
But he would not say which programmes might be scaled back or scrapped, having yet to meet with his new Cabinet.
Opponents of the Three Waters reforms however are likely to be disappointed – Hipkins saying that will still go ahead.
"Some of the rates increases people could see without further reform in this are could be … thousands of dollars a year extra on their rates if we don't do something to address this issue. I'm not going to walk away from that.
"But I will run the ruler over what we're currently proposing to make sure that we're focused in on the right issues."
A few articles published over the weekend suggested Hipkins' political views were to the right of Ardern. On having that put to him, Hipkins said labels like that "don't mean a lot".
"I'm a Labour politician. I believe in the role of government to support New Zealanders, to make sure that they have opportunity . . .
"I absolutely believe in the values the Labour Party was founded on, which is that we are here for people who are working hard to get ahead and create a better life for themselves and their families."
This article is republished under a community partnership agreement with RNZ.