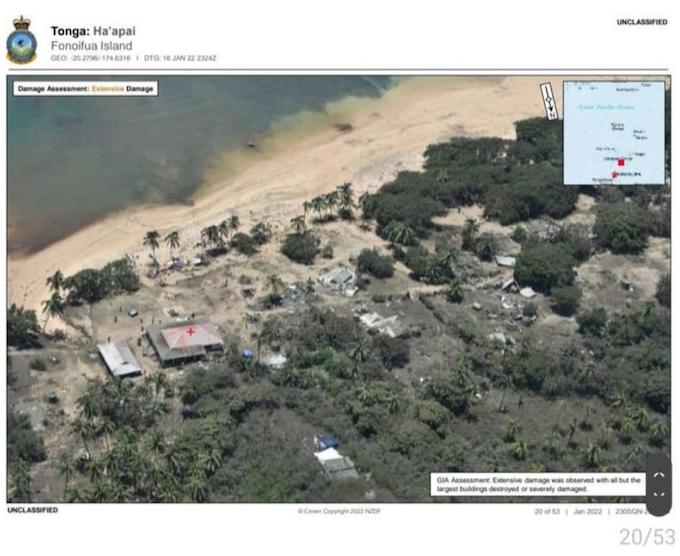 By Finau Fonua and Lydia Lewis, RNZ Pacific journalists
There is an overwhelming sense relief in Tonga with people thankful the death toll is low following the Hunga volcanic eruption and tsunami a week ago.
A journalist in Nuku'alofa, Pesi Fonua, has described the event as "apocalyptic".
He is the father of RNZ Pacific reporter Finau Fonua, and finally managed to speak with his son by phone after a week of being cut off.
"It's a lot of work, cleaning up and work like that to be done, apart from that I think people are pleased nothing really worse happened. They are just so thankful not many lives lost," the elder Fonua said.
Pesi Fonua is the editor of Matangi Tonga Online, Tonga's major news agency.
He said the country was slowly returning to a state of normality with businesses re-opening and landline communications re-established on the main island of Tongatapu.
Pesi Fonua said that there was an overall sense of relief among the public in spite of the great damage caused.
The western district of Tongatapu suffered catastrophic damage with villages left in ruins.
"They're having a hard time. Particularly in Kanokupolu but there's a lot of help going out to them and they're just so thankful that not many lives were lost," Fonua said.
Three fatalities have been confirmed since the eruption last Saturday.
Meanwhile, the internet and phone connections remain intermittent and minimal.
Fonua put this down to a 2G service clogged by families overseas desperately trying to contact loved ones.
"They are hoping that ah, remember the cable is broken so it affects the cable so while we are waiting for that I think they are also working on trying to fix the connection between here, Ha'apai and Vava'u," Pesi Fonua said.
Collection continues at Mt Smart
The collection drive for donations to be shipped to Tonga continued yesterday at Mount Smart Stadium in Auckland.
Water bottles have been the main donation item, as the kingdom face water shortages after the tsunami.
Organiser and community leader Teleiai Edwin Puni said there was a greater turnout of Tongans.
"We are here and those who are wanting to donate water in particular, and non-perishible food – that will be the priority items to go to Tonga. At two pm today, we will be presenting all of it to Lord Fakafanua, speaker of Legislative of Tonga and committee," he said.
The collection drive finished at 8pm today.
This article is republished under a community partnership agreement with RNZ.