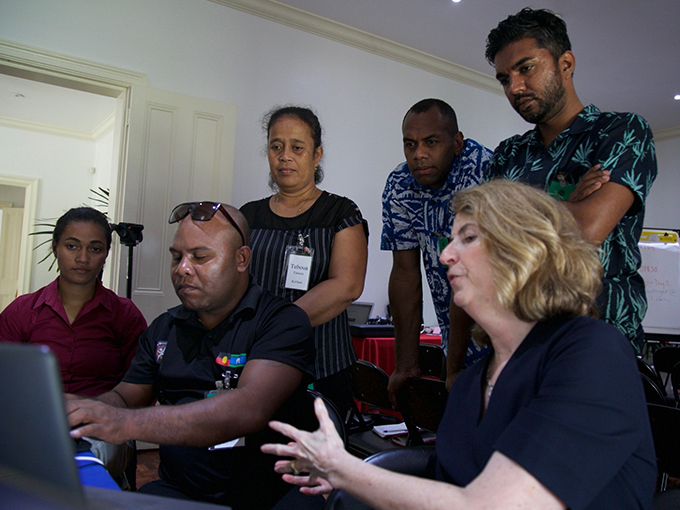 By Ben Bilua in Suva
Multimedia skills and innovation are key to adapting to the changing media landscape, says US academic Professor Debora Wenger as newsmakers around the world continue to grapple with challenges arising from the transformation of technology and social media.
Speaking to journalists at a regional workshop on new media and multimedia reporting organised by the United States Embassy in Suva last week, Professor Wenger said other media platforms would soon lose face because of this overwhelming digital transformation.
She said a significant approach was to strategise and apply multimedia innovation.
READ MORE: USP journo students return from Solomons climate storytelling project
"The chance to keep all media platforms active and alive is to revolutionise the media culture and tradition," said Professor Wenger, who is a digital tools trainer, multimedia practitioner and educator at the University of Mississippi.
"Multimedia is a dynamic form of journalism that engages the audience to interact with different storytelling platforms. It brings the news alive to individuals through photos, videos, texts, animation and maps."
Wenger said multimedia accommodated fun and interaction that could translate all media cultures, and that it could penetrate and attract individuals' interest in a space of time.
"Media plays an important role in shaping societies when it comes to decision-making. Keeping up the pace with the transition of modern technology is paramount," she told workshop participants, which included regional media practitioners and student journalists from the University of the South Pacific's Journalism Programme.
Rapid pace
Market development communications specialist Talei Tora said the training was beneficial and timely for journalists in the Pacific as the media landscape was changing at a rapid pace towards technology-based tools to deliver effective and more interactive news.
She said tools and applications learned from the workshop were a huge bonus for the participants to tell stories as well as adapt to storytelling standards produced in the Western world.
"It's really important that we attend this workshop to learn these multimedia tools to be able to adapt to our work. I've learned techniques such as using mobile phones to capture special moments and make videos. I'd like to take some considerations from this training to make improvements in my team using available tools," Tora said.
Second-year journalism student at USP Wanshika Kumar said the workshop was an eye-opener for her as an aspiring journalist.
"Multimedia tools I found fascinating included the 360 video tool, juxtapose tool, and social video tools. Another interesting tool was the Street View application. This application could inform people about what is happening at a particular location. This application is useful when covering sports, festivals or community work," Kumar said.
She said knowledge and skills obtained from the workshop would help with her professional growth as a journalist.
The four-day workshop was held at the US Chief of Mission Residence in Suva.
Ben Bilua (Solomon Islands) is a second-year journalism student at USP's Laucala campus. He was also a participant of the new media and multimedia reporting workshop organised by the US Embassy Suva.
The Pacific Media Centre and Asia Pacific Report have a publishing partnership with the University of the South Pacific journalism programme.