By Michael Andrew
A group of University of the South Pacific journalism students have returned from a week-long trip to the Solomon Islands covering communities at the forefront of climate change.
Rosalie Nongebatu, Romeka Kumari and Ben Bilua, who are also part of Wansolwara team, were selected to be a part of the project "Adapting to and mitigating effects of climate change and island sea level rise," funded through the Internews/Earth Journalism Network (EJN) Asia-Pacific and Bay of Bengal 2019 media grants.
Wansolwara editor and trip leader Geraldine Panapasa, said it was a very successful and valuable experience for the students.
READ MORE: USP journo students head to Solomons for environmental reporting project
"The students were able to apply their journalism production skills for print, online and broadcast. Part of the field reporting training included mojo (mobile journalism) skills for short news videos," she said.
"We visited vulnerable communities in the greater Honiara area, spoke to those at the forefront of climate change, those in resilience and adaptation projects, those suffering from the devastating impact of climate change, those in decision-making positions and the future generation."
The students found that, unlike in Fiji, climate change does not get much exposure in the Solomon Islands. Government agencies usually supply environmental reports to the newspapers rather than journalists doing the reporting themselves.
Communities seldom visited
Because communities seldom get visits by local media or government, the students met many people who wanted to share their stories about shortages of water, depleted fish stocks and other climate change effects.
When the students visited the Lord Howe Settlement in Honiara, they found that the residents, mostly of Polynesian decent, had few food gardens and depended on the sea for their livelihood.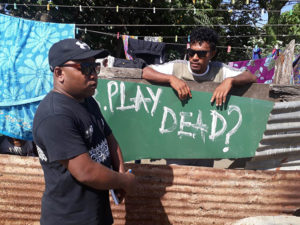 "Sanitation wise, they also use the sea for bathing and other 'toilet' business. Proper water supply, health and sanitation are clearly lacking in this community," Panapasa said.
However, she said that many people have come to see climate change reporting as a money making opportunity and only supply information for payment.
"This, of course, would taint the credibility of their views. Would they really tell us what they're going through or tell us what we want to hear?" Panapasa said.
Balanced and thorough coverage
However, the group ensured their coverage was both balanced and thorough and spoke to representatives across the community.
"We felt it was important to cover all aspects of the project by speaking to stakeholders – grassroots communities, UN agencies, NGOs & CSOs, government, youth etc.
"We also took into consideration the importance of providing gender balanced views on the issues we intended to cover with climate change, resilience and mitigation."
USP Journalism coordinator Dr Shailendra Singh thanked the grant sponsors, saying that it had enabled the students to report on pressing issues through a professional experience.
"The USP journalism programme would like to thank the Earth Journalism Network for making this project possible.
"Next we will take a student team to the Cook Islands on a similar assessment.
"We look forward to our continued partnership with EJN to develop both environmental journalism and student journalists in the Pacific."