EMTV News reports on the latest defections from Prime Minister Peter O'Neill's government.
Pacific Media Centre Newsdesk
The latest group of Papua New Guinea MPs who have defected from Prime Minister Peter O'Neill's government include three senior ministers, making a total of five to quit the ruling People's National Congress Party coalition.
They held a news conference in Port Moresby yesterday slamming O'Neill's leadership.
Health Minister Sir Puka Temu, Defence Minister Solan Mirisim and Forests Minister Douglas Tomuries announcing their resignation from their portfolios, and from the PNC party, reports EMTV News.
They joined former Finance Minister James Marape and Justice Minister and Attorney-General Davis Steven who resigned last week.
Six other MPs also quit the party yesterday.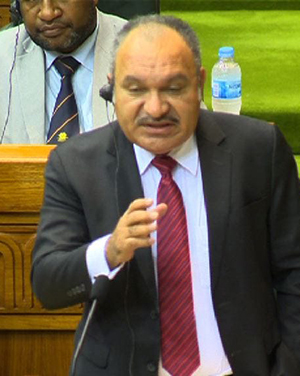 According to reports today, rebel government factions of government MPs had gathered at Port Moresby's Laguna Hotel and already numbered about 57 in the 111-seat Parliament ahead of the no confidence vote due on Tuesday. The Opposition numbers about 24 seats.
Mirisim, who is also the member for Telefomin, called on other MPs to leave the coalition.
PM asked to resign
He told the news conference that during the PNC caucus meeting on Wednesday, Sir Puka Temu had asked Prime Minister O'Neill to resign as he had "lost the confidence" of the cabinet.
The negative response from O'Neill led to the defections and resignations.
In other developments in the ongoing parliamentary crisis, 15 Pangu MPs have resigned from the party effectively killing the party's parliamentary wing of the country's oldest political party, reports EMTV News.
The move is meant to put an end to the ongoing conflict between the executive arm of the party led by President Patrick Pundao and General Secretary, Morris Tovebae.
Lae bureau chief Scott Waide reports that in the 2017 elections, "a long running feud evolved into a tit-for-tat power play" when the executive wing had nominated candidates for the same seats contested by those endorsed by party leader, Sam Basil, who is now part of the O'Neill government.
Prime Minister O'Neill is yet to issue an official response to the ongoing exodus of coalition members.
He was attending the National Lands Forum in Port Moresby when the three ministers and other MPs announced their resignations.
The Pacific Media Centre republishes news items in collaboration with EMTV News.