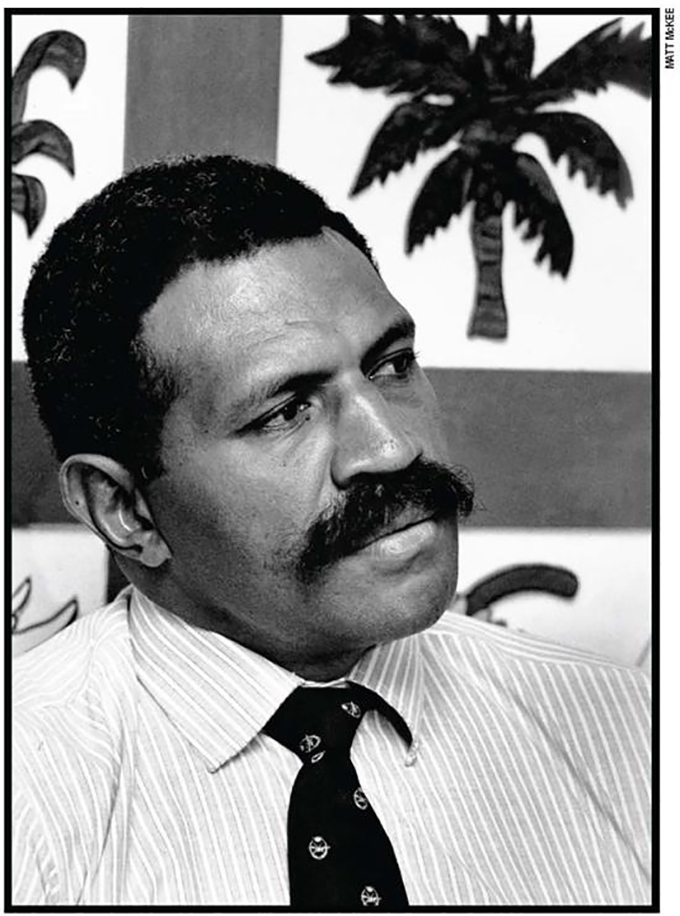 By Sri Krishnamurthi of Asia-Pacific Report
A repentant Sitiveni Rabuka, the Fiji military strongman who sparked off the country's "coup culture" in 1987, admits he was "coerced" by the defeated Alliance party into carrying out the first coup.
Three decades after I watched Lieutenant-Colonel Sitiveni Rabuka walking Parliamentarians out of the back door of Parliament at the point of a gun on 14 May 1987, dressed in a light-blue suit, he has told me who the architects of the coup were – and his regrets about it all.
It has taken 31 years, and Rabuka, the face of the 1987 Fiji coups, is becoming more open and vocal about who were really behind the South Pacific's first military takeover.
READ MORE: Background on the four Fiji coups and the 2009 constitutional 'half coup'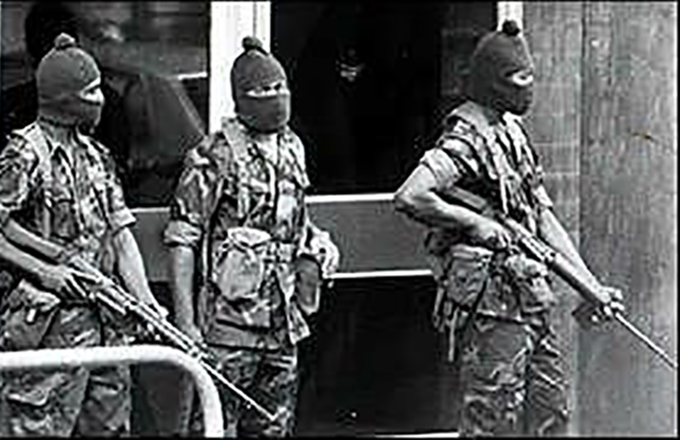 Hardly a day goes by when Sitiveni Rabuka, now leader of the Social, Liberal, Democratic Party (SODELPA), isn't asked to recall that fateful day that changed the course of history in Fiji.

The people of Fiji who have joined the diaspora in other parts of the Pacific, Commonwealth and beyond still view him with suspicion, if not the hatred of old – believing the old adage that a "leopard can't change his spots".
It is for that reason I was a little apprehensive to meet the man who loomed larger in the imagination than Freddy Krueger in A Nightmare on Elm Street. Unlike the slasher, Rabuka was real. So was the impact of his coups.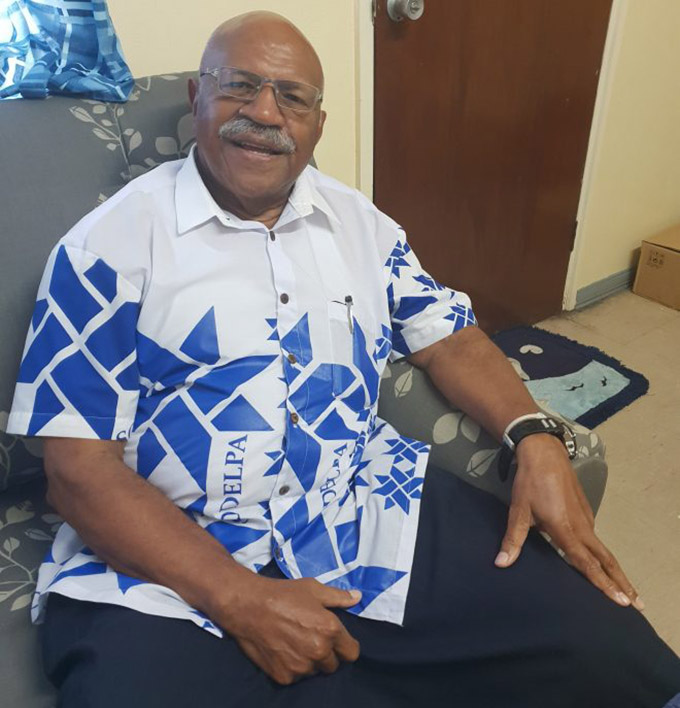 But, to be greeted by "bula" followed by his disarming and wide Fijian smile makes one realises that Rabuka, who has been on the international stage since he became Prime Minister in 1992, is now very much a diplomat.
Gone was the soldier
Gone was the soldier and in his place sat a casual, relaxed, worldly politician ready to speak his truth with remarkable honesty.
Taking him back to 1987, the burning questions were: whether he thought that the coup's objectives were met? And who were the unseen faces behind the takeover?
Rabuka reiterated that the coup was instigated by the Alliance Party and its leader, the late then Prime Minister Ratu Sir Kamisese Mara (who later became president). Each time he talks on the subject, Rabuka seems to provide a little more detail than before.
"1987 was really political in the sense that the Alliance leaders at the time wanted something done, wanted something changed, and yes (I took the action)," Rabuka says, referring to the meetings he had with Ratu Sir Kamisese Mara that led to his actions – the leader of the now-defunct Alliance party.
"The only way to change the situation now is to throw this constitution out of the window."
These were the words of Sir Ratu Mara," he told Dr Sue Onslow in an interview in Suva on Thursday, 10 April 2014.
Time and time again he apologised for the coups in 1987.
'I have apologised'
"I have said that before, I have apologised for the hurt to the people for the coups," he says without hesitation.
"I knew they [the coups] were wrong and because I apologised I was forgiven. I apologised to the Indians at the time on the very next "Girmit" [agreement] day on May 14 the following year [1988]– one year after the first coup.
"I attended the "Girmit" festival and apologised."
Multiculturalism is very much a part of his lexicon now, although he does not subscribe to the theory of assimilation and homogeneity in all cultures and races.
"The biggest challenge to multiracialism all over the world is understanding — crosscultural understanding," he says.
"As long as we understand each other we can co-operate, not integrate and not assimilate but we can harmoniously co-exist."
If SODELPA wins next month's election what does he intend to be his first action on the steps of Parliament?
'I'm anticipating victory'
"In Parliament I will be thanking the people for giving us a majority. I'm anticipating that we'll be victorious, and I will thank the people of Fiji for giving us their confidence, particularly in me.
"The many that I have hurt, they may not vote for me this time, but more and more are coming around and embracing me."
He admits to trying to form a coalition against FijiFirst, but not all – like Roko Tupou Draunidalo and the Hope party – were buying into it. That she has no time for Rabuka is evident in her frequent, public outbursts.
"I don't know, maybe because her step-father was Dr [Timoci] Bavadra [elected Prime Minister in 1987 when he carried out the coup] and maybe she has not forgiven me since 87," says Rabuka.
"We've spoken to everyone except for Tupou. Her party was not formed when we were doing the coalition talks and she just went straight ahead and said, 'no, we'll never coalesce with SODELPA as long as Rabuka is involved'".
Besides domestic politics, Rabuka is keeping an eye on the geopolitical situation. The indications are that he is uncomfortable with the growing presence of China in Fiji.
"China is an international player but not a traditional partner and we should consolidate our co-operation with our traditional partners – people we know and whose systems are similar to ours."
Chinese base plan 'blocked'
China announced it was giving Fiji 30 million RMB yuan (FJ$9.5 million) in aid last month.
Just a day later, Australian media reported that it had been revealed that Canberra had  successfully blocked China from funding a major regional military base in Fiji.
In August, Australia and Fiji jointly announced the Black Rock military base in Nadi was to be redeveloped as a regional hub for police and peacekeeping training, according to a report by Radio New Zealand.
"If it is aid it is aid, but it is not really aid because it has to be a reciprocal arrangement and I don't know what that reciprocal arrangement is."
There were rumours of China setting up a naval base near Suva like those reportedly planned for Vanuatu and Papua New Guinea.
However, Rabuka does not think it is plausible and would require much more than simply making a military decision.
"Bases are government decisions, not military decisions, I don't think they can just come in and set up a base without the government [approving it].
Government should allocate
"The government should accept the aid as aid to the government and allocate it, instead of the aid going straight to the military," says the man who should know.
After selling land he owned in Savusavu, Vanua Levu, to a Chinese from Brisbane in July, Rabuka was labelled a hypocrite.
However, he defended his actions by saying in the Fiji Sun: "I had an arms-length dealing with him. The name was in Chinese, but the address was from Brisbane."
Rabuka's road to Damascus didn't just seemingly happen overnight but through all his trials and tribulations, and he isn't finished yet.
He still has battles to fight, this time as a politician for SODELPA, not as a soldier.
Sri Krishnamurthi is a journalist and Postgraduate Diploma in Communication Studies student at Auckland University of Technology. He is attached to the University of the South Pacific's Journalism Programme, filing for USP's Wansolwara News and the AUT Pacific Media Centre's Asia Pacific Report.