Some of the arrested students being taken to jail in Jayapura. Video: Majalah Kunume Net
By Benny Mawel in Jayapura
Students from several tertiary institutions in the Papuan provincial capital of Jayapura have been holding actions to support efforts by Vanuatu and other Pacific countries to take the West Papua issue before the 72rd Session of the UN General Assembly this week.
Protest actions organised by the United Liberation Movement for West Papua (ULMWP) on Monday ended with students being assaulted and arrested by police.
"One student, Petrus Kosamah was assaulted on the campus grounds," Papua ULMWP action committee secretary Crido Dogopia told Tabloid Jubi in Abepura, Jayapura.
Dogopia said Kosamah was assaulted when police broke up a free speech forum held by students on campus grounds.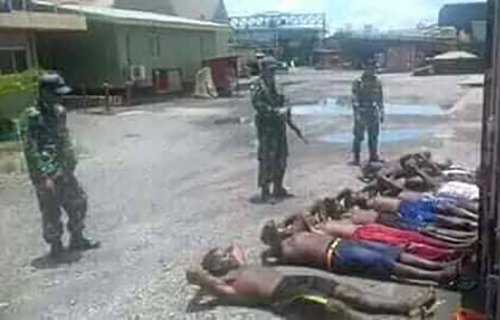 "Police broke up the forum but students resisted. Police forcibly dragged demonstrators into a crowd control [Dalmas] truck. It was then that he was assaulted," said Dogopia
Dogopia said that all the students involved in the free speech forum were taken to the Jayapura municipal police station. There they joined protesters who had been arrested earlier at an Expo gathering point in front of the regional post office in Abepura.
'Secured' the protesters
Papua police chief Inspector General Martuani Sormin, however, denied that police officers assaulted demonstrators, saying they just "secured" the protesters in order to bring them in for questioning.
"None of our officers behaved violently towards protesters, they only questioned them and tonight they'll be returned [home]", said Sormin on Monday evening.
According to Sormin, the protesters failed to inform police beforehand about the demonstration.
"We don't require [protests] to have a permit, but there was no notification", he said.
Senior human rights lawyer Gustav Kawer said that arresting protesters on the ground that there was no prior notification is invalid.
Law Number 9/1998 on freedom of expression does not stipulate that police have the authority to reject a notification of a demonstration.
"The police do this repeatedly. There is no [stipulation] in the law stating that police can reject [a notification]", he explained.
Escort needed
Kawer said that police are only authorised to issue a document stating they have received the notification. They are then obliged to facilitate the protest until the demonstrations have conveyed their aspirations.
"The proper way is for police to escort them until the demonstrators have achieved their goal," he said.
Kawer added that he was shocked at how police violated laws which guaranteed freedom of expression.
Police instead see it as an issue of law enforcement.
"Police frequently violate the law", he said.
According to Kawer, police were not actually aware that actions which they saw as enforcing the law harmed Indonesia. Indonesia becomes the focus of world attention on freedom of expression.
"This approach attracts world attention. The international community questions how far Indonesia is open to free expression," he said. Because of this, in future police must adhere to regulations, not interpret legislation.
The following is a chronology of the arrests which took place at three protest gathering points:
1. Expo Taxi Roundabout, Waena: At 8.30am local time, protesters arrived at the gathering point. Meanwhile, police were already on alert.
At 9.22 the protesters began giving speeches. Police then approached the demonstrators and negotiated with them. The negotiations ended with the arrest of demonstrators. The protesters were ordered into a Dalmas truck and taken to the Jayapura municipal police station.
2. Jayapura Science and Technology University (USTJ) campus: At 10.30am local time. students had gathered on campus grounds and were giving speeches.
At 11.45am, police entered the USTJ campus grounds and forcibly broke up the free speech action. But the students refused to disband and in the end police acted violently and the students were arrested and dragged into to Dalmas truck and taken to the Jayapura municipal police station.
3. Abepura, in front of the post office: At 11.10am, protesters had gathered on Jl. Biak in front of the Jayapura State Senor High-School 1. The protesters then marched on foot to the Abepura post office.
At 11.20am local time the protesters arrived at the post office and began giving speeches. At 11.30 police approached the demonstrators and closed down the free speech forum.
The following are the names of those arrested who based at the mobilisation points:
1. Expo:
Dewo Wonda (student)
Lion Kabak (student)
Yunara Wandikbo (student)
Niba Aroba (student)
Kabel Bagau (student)
Anggrek Babugau (student)
Ason Mirin (student)
Kisman Nabyal (student)
Deki Kogoya (student)
Freedom T (student)
Wiame Hagijimbau (student)
Ebed Enggalim (student)
Memo Hagijimbau (student)
Yuspianus Duwitau (student)
Wanius Kombo (student)
Ricky Yapugau (student)
Mitinus Lawiya (student)
Fery Kogoya (student)
Feri Mujijau (student)
Seteniel Bagubau (student)
Nobel Belau (student)
Gerson Wetipo (student)
Fredy Wamu (student)
Weyek Aliknoe (student)
Marius Agimoni (student)
Zeth Enn (student)
Chyrro Dendegau (student)
Binladen Mabin (student)
Kominus Ueling (student)
Lanihe Lany (Mahasiswi)
Mandena Tanambani (student)
Siwe Weya (student)
Noken Tipagau (student)
Melawan Wantik (Koordinator Umum Aksi)
Naman Manufandu (student)
Jespien Emani (student)
Arel Jikwa (student)
2. USTJ:
Malvin Yobe (student)
Alber Yatipai (student)
Yosep Asso (student)
Jeny Degei (Mahasiswi)
Allo Alua (student)
Hendrikus Okmonggop (student)
Don Borom (student)
Mater Sambom (student)
Yosep Yatipai (student)
Petrus Kosamah (student)
Leo Konorop (student)
Yustinus Yare (student)
Desma Wasina (student)
Widius Kossay (student)
Efrat B. Wakerkwa (student)
Rustinus Tuwok (student)
Petrus Alua (student)
Meky Gobai (student)
Enos Adii(student)
3. Abepura:
Obaja Itlay (student)
Septinus M. Kossay (student)
Otinus Meage (student)
Gerson Asso (student)
Bertinus Kossay (student)
Aleksander Tiko (student)
Andrianto Tekege (Pelajar)
Lewis Ningdana (student)
Daniel Kudiay (student)
Abiniel Doo (student)
Beny Hisage (student)
Translated by James Balowski for the Indoleft News Service. The original title of the article was " Demo ULMWP; 67 mahasiswa ditangkap, satu dipukul polisi". Benny Mawel is a journalist with Tabloid Jubi which has a content sharing arrangement with the Pacific Media Centre.