The Fiji media laws aren't as draconian as they are perceived – if one follows rules – Asia Pacific Report's Sri Krishnamurthi was told by the former chief executive of the Media Industry Development Authority (MIDA).
Fiji's Media Industry Development Decree (MIDD) isn't the rampant beast that it is widely regarded as being, claims Matai Akaoula, who once served as chief executive of the authority.
"Not really, I would say being a media person myself, you just have to see how you adjust and work within the rules and if you stick by the code of ethics you won't have any problems. And so far no one has been taken to task [by MIDA]," says Akaoula, who has experienced all four Fiji coups since 1987 as a journalist.
He doesn't understand what the fuss is all about, since the decree which became law in 2015 one year after the Fiji elections, following Voreqe Bainimarama's coup in 2006.
READ MORE: Sri Krishnamurthi's Fiji media backgrounder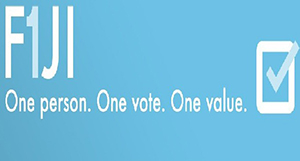 "it depends where they are coming from because MIDA hasn't taken to task anyone in the last four years, and the years it was established. So far so good, there hasn't been anyone taken to task through the media decree as well," the current FijiFirst MP says with pride.
"I believe the rules of engagement are clearer now, there shouldn't be a lot of fuss now that the media understands their role, what's coming out of the elections – the supervisor of the elections says what they can and cannot do.
"Previously, it was a kind of a last-minute thing that we did, but now in trying to get the rules of engagement, the media has been updated by the supervisor of the elections of how things will work for media," he says of the upcoming elections.
He believes while the overseas opinions that have been voiced do have some standing, it is a case of doing what is best for Fiji.
'Different scenarios'
"It is no longer one size fits all, different countries have different ways of dealing with their own scenarios. New Zealand is different from Fiji, likewise Australia and the other Pacific Island countries, there are so many things we need to understand," he says carefully not wanting to get into a foreign affairs stoush.
"Outside of the country you will always have critics, they will throw things at you, but they aren't facing the brunt of what you are facing in country."
That the media is largely inexperienced in Fiji, even though they may have the enthusiasm for the trade, is a big disadvantage for the industry, says Akaoula who has worked for FijiTV (television), the Fiji Broadcasting Corporation (FBC, radio), the Fiji Sun and The Fiji Times (print).
He is also a former chief executive of the Pacific Islands News Association (PINA), a Suva-based regional media industry advocacy body.
"So much has changed, you just need to look around the country. So, it all boils down to education – even in the media. You need people who have the oomph for the media rather than it being used as an alternative to their preferred profession.
"The landscape has changed, most of the journalists weren't there during the first military coup, some of us have been here for all the coups, we have seen how things have changed and we believe things can get better moving forward, but there needs to be training and upskilling.
"So, we are hoping for self-regulation rather than laws coming down to restrict the media at work, the truth is we have lost a lot of experienced journalists, and those who are experienced aren't in the forefront of the journalism trade. That is why there needs to be a lot of training now."
Those who criticise the media decree don't understand or have other agendas, he says.
'People harping on'
"Most of those don't understand the landscape of the media, it's a different ball game altogether, if a media person was complaining than I would pay attention, but here people from various political avenues are harping on and talking about the media decree, and I am saying, we haven't taken anyone to task, so why are they complaining?
"In terms of fines, it goes back to the code of ethics, if you have made a mistake there are avenues in the code of ethics, like publishing a correction then, that's the ground rules."
Does he think that MIDD will be relaxed after the elections? Personally, Having been to New Zealand and observing Parliament and the Press Gallery, he hopes something similar will come about in Fiji.
"Your guess is good as mine, we've come in leaps and bounds and hopefully things can continue to improve because the focus has to be on the development of the media."
But, for now the guillotine threatens to come down on the necks, and the threat, he believes should suffice.
Sri Krishnamurthi is a journalist and Postgraduate Diploma in Communication Studies student at Auckland University of Technology. He is attached to the University of the South Pacific journalism programme, contributing to USP's Wansolwara News and the Pacific Media Centre's Asia Pacific Report.