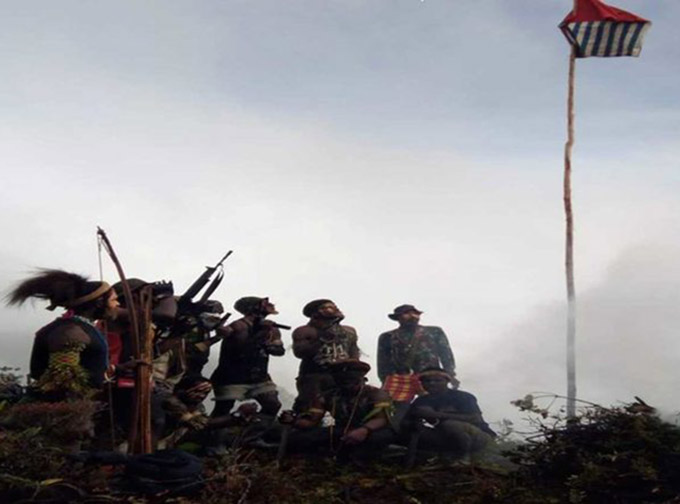 By RNZ Pacific
Thousands of West Papuan villagers have reportedly fled from their homes in a remote regency due to conflict between Indonesian military forces and pro-independence fighters.
This follows a string of deaths in Nduga regency where Indonesian security forces and the West Papua National Liberation Army have exchanged gunfire in recent weeks.
Three people were killed in an attack on police at the local airport two weeks ago during regional elections. A faction of the Liberation Army claimed responsibility.
LISTEN TO RNZ PACIFIC: West Papuans tired of ongoing conflict
Following the attack, about 1000 extra police and military personnel were deployed to the remote regency as part of a joint operation.
They have been conducting an aerial campaign over the Alguru area in pursuit of the Liberation Army, with unconfirmed reports saying at least two Papuans have been shot dead and others injured in recent days.
A police helicopter was reportedly fired on by a faction of the Liberation Army last week, although it is unclear whether it was in response to rounds of aerial artillery fired by the military over Alguru.
The United Liberation Movement for West Papua has accused the Indonesian military of bombing in Nduga.
'Bombing, burning'
"Bombing, burning houses, and shooting into villages from helicopters are acts of terrorism," the Liberation Movement's chairman Benny Wenda said.
"The Indonesian government's horrific acts of violence against the Melanesian people of West Papua are causing great harm and trauma."
The Nduga regent, Yarius Gwijangge, last week made a plea to the security forces not to shoot from the air because he feared this could lead to civilian casualties.
With the situation in Nduga remaining tense, a local Liberation Army field operations commander, Egianus Kogoya, confirmed a number of Alguru villagers had fled from their homes.
"All the (Liberation Army) soldiers scattered back into the forest with 50 heads of family from Alguru village without possessing or not carrying their possessions, in order to save themselves from the death threats of Indonesian military and police bombs," Kogoya said.
"The Indonesian military helicopters fired the bombs, four times with huge explosion through air strikes at Alguru village. As a result of this attack, the gardens and houses of the people in Alguru's village are flattened with the ground."
However, Indonesia's military published a statement saying reports that security forces were conducting airstrikes or dropping bombs were a hoax.
Liberation stronghold
It said military forces were working with police in "law enforcement activities" in Alguru which is considered a stronghold of the Liberation Army and the OPM Free West Papua Movement.
Indonesian authorities have described the Liberation Army as armed criminals rather than by their pro-independence moniker.
Meanwhile, Responding to the attacks, the largest organisation of Christian Churches in Indonesia called for the country's human rights commission to open offices in Papua region.
The Communion of Churches (PGI) urged Indonesian authorities to stop repressive action and adopt a strategy of persuasion.
It said the National Commission on Human Rights should open an office in Papua, citing a government mandate under Papua's special autonomy laws.
PGI spokesman Irma Riana Simanjuntak said Indonesia's government should establish a fact-finding team to verify deaths in recent attacks and guarantee the public's safety.
Indonesian authorities did not give permission to the KNPB to hold a demonstration, so police and military forces blocked the procession of demonstrators who aimed to petition the Papuan Legislative Council.
Human rights workers, journalists and medical workers should also be able to access Papua,  Simanjuntak said.
Indonesia officially ended restrictions on access to Papua in 2015 but human rights groups and journalists continue to face hurdles when trying to travel there.
Trauma revisited
Young people in Nduga are tired of violence triggered by politics, a West Papuan from the regency said.
Speaking from the Papua provincial capital Jayapura, Samuel Tabuni said he had been in contact with friends and family in Nduga.
Thousands of Nduga villagers had fled from the regency since the violence surged during last month's elections, Tabuni said.
The villagers were terrified by recent developments which echoed shootings and killings that took place in previous Indonesian military deployments to the remote region, he said.
The recent influx of Indonesian military had brought back memories from 1996 in particular, when Indonesian military commander Prabowo Subianto led special forces into the same area on a campaign to save hostages held by the Free Papua movement commander Kelly Kwalik.
"That's why when a lot of troops… army and police coming in to Nduga, Kenyam, most of our people are afraid, you know, that the same thing is going to happen," Tabuni said.
"So we are deeply traumatised. That's why when a lot of troops… army and police coming in to Nduga, Kenyam (the regency's capital), most of our people are afraid, you know, that the same thing is going to happen. "
Special Autonomy Status
Special Autonomy Status was granted to Papua by Jakarta in 2001 with the promise of developing its human potential but in Mr Tabuni's view this had not transpired.
"Conflicts in Special Autonomy is more than in the past because of this politics," he said.
"The regional politics as well as the politics in terms of campaigning (for) being head of regency and governors. So these two politics kill many Papuans, honestly, especially those that are young."
Tabuni said many young Papuans wanted dialogue between Indonesia's government and those pursuing independence to find a peaceful solution.
"We don't want to be invoved in all this politics and conflict and war. We have to have open dialogue to solve all the problems."
Meanwhile, human rights activists urged the security forces to withdraw their join operation in Nduga, saying it was having a major impact on the lives of local villagers.
The Pacific Media Centre has a content sharing partnership with RNZ Pacific.