Pro-Palestinian activists have taken to the seas in the latest Freedom Flotilla in a bid to reach Gaza. Richard Sudan reports from Denmark before their departure. Video: PressTVUK
Pacific Media Centre Newsdesk
Veteran New Zealand human rights campaigner and Unite union leader Mike Treen leaves this week to join the 2018 international Freedom Flotilla challenging Israel's 11-year-old illegal naval blockade of Gaza.
Treen, who will join Al Awda, one of four flotilla vessels, for the final leg to Gaza said it was a "great honour" to be asked to participate and contribute to a deeper solidarity between workers in New Zealand and Palestine.
"We need an international campaign to isolate apartheid Israel in the same way we did against apartheid South Africa," Treen said.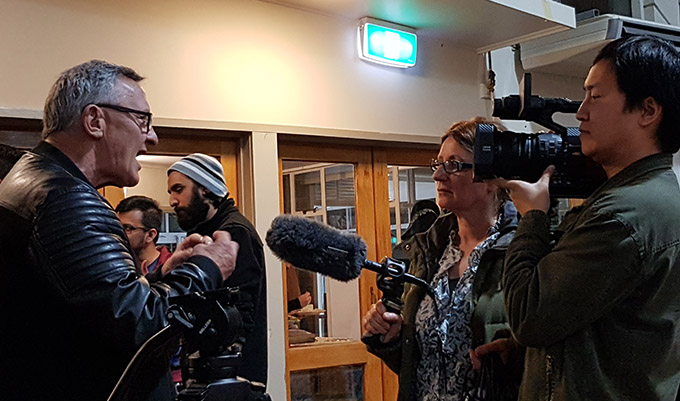 "I see my participation in this trip as a logical continuation and extension to my participation in the Biko Squad against the Springbok tour of New Zealand."
Supported by the New Zealand/Palestine solidarity group Kia Ora Gaza and hundreds of donors, Treen will be New Zealand's representative on this humanitarian solidarity mission.
He follows in the wake of Green Party co-leader Marama Davidson who joined the Women's Boat to Gaza two years ago.
Treen is due to fly to Sicily this weekend to board the leading flotilla boat Al Awda, a former Norwegian fishing trawler.
'Safe passage' appeal
Kia Ora Gaza has written to Foreign Affairs Minister Winston Peters, asking him to demand that Israel allow the flotilla "safe and unhindered passage" to Gaza.
The flotilla, carrying prominent human rights defenders from more than 20 countries, and a quantity of much-needed medical supplies, expects to be intercepted and detained by the Israeli navy before reaching their destination, as most previous efforts have.
If they break through the blockade and reach Gaza, the boats will be donated to the Gaza fishermen. The flotilla's progress can be followed on Facebook and the website www.kiaoragaza.net
There was worldwide outrage when eight years ago Israeli commandos raided a similar Gaza-bound peace flotilla in international waters, killing 10 civilians and wounding dozens more.
Often referred to as "the world's largest open-air prison", Gaza is home to 2 million Palestinians, most of whom are impoverished refugees confined to the tiny coastal enclave by Israel's siege.
Israel, a colonial occupier with one of the strongest military forces in the world, bombards Gaza with sophisticated weapons as an on-going illegal act of "collective punishment".
Gaza has no army, navy or air force. Medical and other civil services are in a state of near collapse.
Tighter restrictions
This week Israel has imposed tighter restrictions on Gaza at the only border crossing for goods, prohibiting all imports and exports. It has also enforced a reduced fishing zone from nine nautical miles to six.
"These attempts to strangle the lives and hopes of millions of human beings is a war crime that should be met with worldwide condemnation and action to break the blockade now," said Treen.
"The time for worldwide action by governments and civil society is now. I hope my participation in this new attempt to break the naval blockade can contribute towards that goal."
A farewell function is planned for Thursday, 6.30pm at the Auckland Trades Hall, 147 Great North Rd, Grey Lynn, Auckland. Supporters also plan to see him off at the Auckland International Airport on Friday night at 9pm.