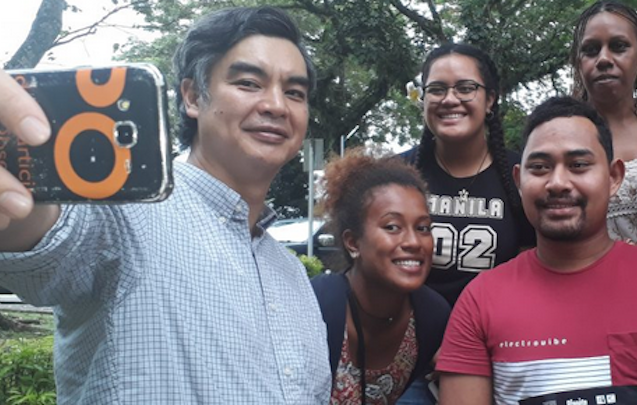 By Elizabeth Osifelo in Suva
The French government is committed to the fight against climate change in the Pacific and hopes programmes such as the eParticipatory Observers Project (ePOP) will shed light on the impact of this global phenomenon in the region.
Ambassador of France to Fiji Sujiro Seam made the assurance during a visit to the journalism newsroom at the University of the South Pacific in Suva last week to observe the progress made at the conclusion of an ePOP workshop, which focused on producing short videos about the perceptions and impact of climate and environmental changes on Pacific Island populations.
Seam said ePOP targeted young people and gave them an opportunity to share stories on climate change and environmental issues taking place in their communities.
"I am very happy that we have this programme because it is not only beneficial for the youth but it also focuses on climate change," he said.
"Since COP21 and the Paris Agreement on Climate Change, France tries to stay at the forefront of this fight against climate change.
"With the ePOP training, there are some good tools for the participants' personal development and their professional career.
"I think it is important today to master these techniques and knowhow to tell a story in different formats."
French actors
Seam said it was also appropriate for him as Ambassador of France in Suva to support the initiative which was designed and led by French actors.
Ten students from USP, including a group of journalism students, were part of the four-day intensive training ePOP workshop which enabled them to maximise their reach through video storytelling and develop a brand narrative across multiple social media platforms.
One of the training facilitators was Julien Pain, former editor-in-chief of France24's Observers, a citizen journalism project he set up in 2007. Prior to that, Pain was head of the new media desk at the Paris-based global media freedom agency Reporters Without Borders.
ePOP is a concept imagined by RFI Planète Radio (France Media Monde Group) and developed with the IRD (National French Research institute for Sustainable Development), in collaboration with many partners including the PIDF (Pacific Island Development Forum), L'Office des postes et télécommunications (OPT) in New Caledonia, the Fondation Expéditions Tara, la Fondation de France , la Fondation des Alliances françaises et l'Organisation internationale de la francophonie (OIF).
Two Auckland University of Technology students, Hele Ikimotu and Blessen Tom, are travelling to Fiji later this month on the Pacific Media Centre's Bearing Witness climate change project and will be working with USP students and staff.
Elizabeth Osifelo is a final year student journalist at the University of the South Pacific.