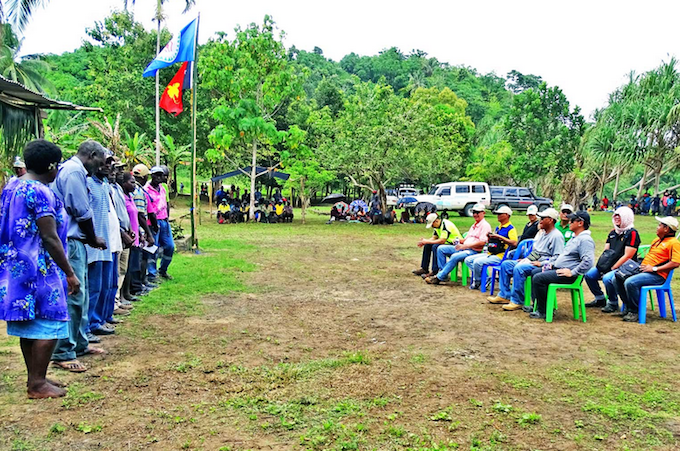 By Franklin Kolma
The Autonomous Bougainville Government has granted its second mining exploration licence to a Philippine company in a low-key event at Tunania, the seaside home of Bougainville crisis commander of rebel forces Sam Kauona.
The event was set against the sombre double backdrop of the bloody crisis which had begun as a protest against mining giant Bougainville Copper in 1989 and a desperate race against time to get some serious investment on the ground before the referendum next June to decide the question of independence for the Autonomous Region.
Bougainville Exploration Licence No. 5 covering a 183 sq km area was launched by Bougainville President Dr John Momis with a plea to stand "united" and "strong".
READ MORE: Bougainville government welcomes infamous Filipino mining company
The echoes of the crisis were palpable here and brought a sombre note to an occasion that speaker, after speaker suggested, was "the turning point", "a special milestone", "a breakthrough", and a fresh start".
The silence and the people's reactions spoke more forcefully than the speeches.
The people gathered in small silent groups under the shade of trees and coconut palms, more observers than participants, while the representatives of Philippine company, SR Metals Inc. battled it out in the clearing under the blazing sun, appearing to all like a graduating class of foreigners in some Bougainville initiation ceremony.
The chiefs of nine affected clans were first called out and they gave their blessing and permission for the forests to be disturbed in the interest of all during the exploration period.
Leap of faith
Then each speaker coaxed the people to leave their fears behind and take a leap of faith.
Sam Kauona said: "I fought for this 28 years ago. After going through many years of sacrifice and pain, we deserve to see the benefit of what we fought for. I as your general assure you. Do not be afraid. Let us move forward."
Bougainville President Dr John Momis said: "Bougainville now stands at the threshold of a new social, economic, political, and moral order.
"Independence is imminent, just round the corner. But independence will not just happen.
"We dream dreams and we want to be free. We want to be free agents of development. We want to break away from the syndrome of dependency and economic exploitation and manipulation by those who have money because we treasure our people and their resources.
"But we need resources ourselves to do this. That is why Mr Gutierrez [manager of SR Metals], we are so grateful that you could have listened to my plea to have come to Bougainville."
Bougainville South MP and Deputy Opposition Leader Timothy Masiu said: "This is a breakthrough. This is the day that our former leaders and our people have dreamt of and fought for. The wheels of change are starting now."
Call for trust
"Masiu called on the people to trust in the leadership of the ABG and be responsible partners in all undertakings if there was to be real meaningful development.
"These people (mining company) have the expertise. They have the experience. They have the money. They will teach us how to do mining but only if we respect them and look after them."
The SR Metals Inc Managing Director Eric Gutierrez said his people were ready but would mobilise only if the company was invited by the government and the people.
Mrs Kauona, representing women, said: "We mothers bore the burden of the mining industry here in Bougainville. 20,000 people have died because of this industry, because of Panguna mine.
"Our children have bathed this island with their blood. Today we celebrate because this new deal has been forged out of the expensive and fresh blood of our children.
"Papua New Guinea was sustained by Bougainville. We are doing the same thing. History has come around again. We are going to sustain the independence and livelihood of Bougainville."
However, Papua New Guinea Mine Watch accused SR Metals Inc of being fined for environmental violations in the Philippines, adding the company's track record showed "report after report in the Filipino press accusing SR Metals and its chief of corruption, clientalism, and illegal mining".
Frank Kolma is a senior journalist with the PNG Post-Courier.