As Palestinians protest against US President Donald Trump's announcement that he would recognise Jerusalem as the capital of Israel, Democracy Now! profiles the issues. Video: Democracy Now!
Pacific Media Centre Newsdesk
Nearly 400 Aucklanders, from a wide variety of backgrounds, joined in an impromptu rally and peaceful march today for a Free Jerusalem – "the heart of Palestine".
The protest was called by the NZ Palestine Solidarity Network in urgent response to US President Donald Trump's proclamation that the US considered Jerusalem to be the "capital of Israel" and to move the US embassy there from Tel Aviv.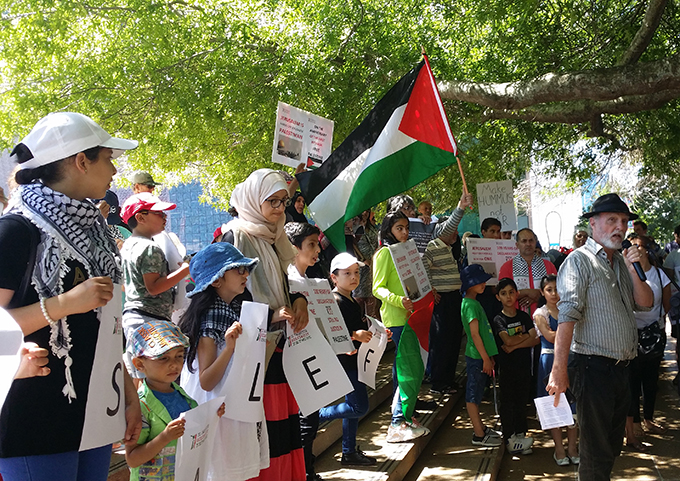 The rally came as   a "Day of Rage" protests continued for a fourth day across the occupied West Bank, East Jerusalem and the Gaza Strip.
The demonstrations yesterday came as Palestinian leaders were to meet in Ramallah to firm up a response to US President Donald Trump's controversial move.
In East Jerusalem, Israeli forces fired stun grenades and tear gas as they charged – some on horseback – through a crowd of at least 100 peaceful demonstrators in Salah Eddin, one of the city's busiest shopping streets, reports Al Jazeera.
At least 13 Palestinians were detained and 12 injured as Israeli troops pushed and beat demonstrators at the scene. Among those held was Jihad Abu Zneid, a member of the Palestinian Legislative Council.
Before her arrest, Abu Zneid told Al Jazeera the protesters were determined to "never give up".
In Cairo, the head of the Arab League called President Trump's decision on Jerusalem as "dangerous and unacceptable" and a "flagrant attack on a political solution" to the Israeli- Palestinian conflict.
The statement by Ahmed Aboul-Gheit, the regional bloc's secretary-general, came at the start of an emergency meeting of foreign ministers from 22 Arab states in Egypt's capital.
Shut Israeli embassy call
In Auckland, Kia Ora Gaza reports that after short, passionate speeches by justice campaigners, union leaders and spokespersons from the local Palestinian community, the rally unanimously endorsed a resolution to "demand the NZ government strongly oppose the US president's decision to recognise Jerusalem as the capital of Israel", and as an act of sanction, "shut down the Israeli embassy in Wellington".
Mike Treen, national director of the Unite Union, told the crowd that his union moved a motion supporting Boycott, Divestment and Sanction (BDS) to sever ties with Israel, which was passed by the CTU.
One protester, Ricardo, reflected on today's march: "There's something awesome about communities that are often 'invisibilised' by mainstream politics coming together and making their voices heard."
"Members of the Palestinian community in Aotearoa/New Zealand (and supporters) came out to protest against Trump appointing Jerusalem as Israel's capital.
"The demands were clear: For the government to shut down its Israeli embassy and for the Government to openly and strongly condemn the Trump's administration for these actions that are already a fanning the flames of conflict.
I have always held a lot of solidarity with Palestinians, having grown up by the US/Mexico border, another example of border imperialism that has displaced and dispossessed many. I hope one day we can fully dismantle these institutions that continue to divide us."
Democracy Now! has featured women Palestinian writers and campaigners denouncing the US president's move.
The independent multimedia programme East Jerusalem to spoke with Budour Hassan, a Palestinian writer and project coordinator for the Jerusalem Center for Legal Aid and Human Rights in east Jerusalem; Rebecca Vilkomerson, executive director of Jewish Voice for Peace; and were  We joined in Ramallah by Hanan Ashrawi, a Palestinian politician and scholar.