When the police roll in with bulldozers to clear a waterfront residential area in Papua New Guinea's capital Port Moresby and make space for a huge luxury hotel, an international scandal of epic proportions ensues.
It's a true David vs Goliath story about the small community of Paga Hill's battle against a construction project worth several billion dollars and succeeds in taking the increasingly sinister case all the way to the Supreme Court.

Then Opposition Leader Dame Carol Kidu is the first person to be arrested, but the rest of the 3000-strong community gather with a pro bono lawyer and an international anti-corruption expert to assemble the increasingly dirty puzzle of evidence into a complete picture.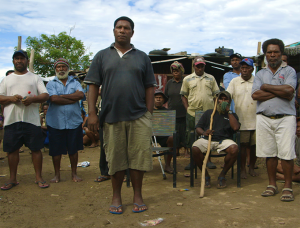 They are led by fearless anti-corruption community campaigner Jose Moses whose life is threatened.
Many of the families in the family have lived there for four generations.
Life then imitates art as the filmmakers of the award-winning documentary The Opposition are challenged in court by Dame Carol Kidu, one of the subjects in the film and the Australian property developer, Paga Hill Development Company (PHDC), in question in an attempt to ban the film.
Selected to screen at DocEdge last year, young director Hollie Fifer's film was pulled at the last minute due to the court challenge and was cleared for international release in July.
What began as a student film project finally had its Australian home premiere at the Human Rights Film Festival last month and has also now been screened at the DocEdge film festivals in Wellington and Auckland this month.
Earlier this year, Papua New Guinean cabinet minister Justin Tkatchenko called for a Commission of Inquiry into the "murky deals behind acquisition of Paga Hill land and the abuse suffered by its former residents".

Legal consultant and researcher Dr Christian Lasslett, on the executive board of the International State Crime Initiative, called the evictions a "state crime" in a 2012 microsite, quoting a PNG Public Accounts Committee (PAC) report as describing the development company as a "private, foreign speculator with no ability to even pay the land rental, much less build anything on the site".
The PHDC had been awarded a 99-year business lease over Paga Hill.
The Opposition won the Grand Prize at the International Pacific Documentary Film Festival, FIFO, in French Polynesia, in February.
Papua New Guinea is currently in the middle of an election campaign with voting between June 24 and July 8.