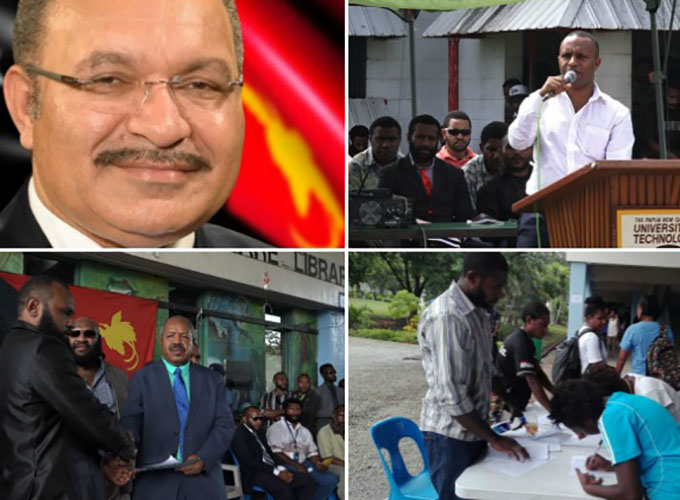 Papua New Guinea's Prime Minister Peter O'Neill has replied to the petitions from the student representative councils of both the University of PNG and Unitech in Lae demanding that he stand down.
The 10-page letter addressed to the presidents of the student bodies at both universities, says that there were aspects of all the points raised by the students that were still before the courts.
"I have no intention of either stepping aside or resigning from the Office of the Prime Minister," he said.
"The people that have the legal mandate to remove a Prime Minister from Office are the National Parliament or the people at the General Election.
"I was mandated by the people in 2012 and duly elected by Members of Parliament, and I intend to uphold and respect their mandate until 2017 General Election."
He appealed to students to go back to classes, saying further boycotts would only affect the education of many young Papua New Guineans.
"The government and your parents have invested so much in your education, and it is important that you give this your top priority," O'Neill said.
This letter followed a short one on Friday to the student presidents saying that he needed technical and legal "advice" from government offices to reply to all the all points raised in their petitions.
UBS loan affair
On the UBS loan affair, O'Neill said there were some aspects relating to it, that were still before the courts, and therefore he could not comment on them.
However, he did say that the loan was to ensure that Oil Search Limited, one of the country's premier business assets, had to be retained.
He said the UBS had been secured in compliance with PNG laws, and that the loan comes in the form of a "collar" loan, which limits the exposure to the country, and that it has not affected the availability of foreign currency.
On budget cuts, O'Neill said it was necessary to adjust the budget, saying that if it was not done, the country would be facing much more serious problems.
On controversial legal bills payments by the government, O'Neill said the previous Somare government had engaged the private law firms who had become the subject of investigations.