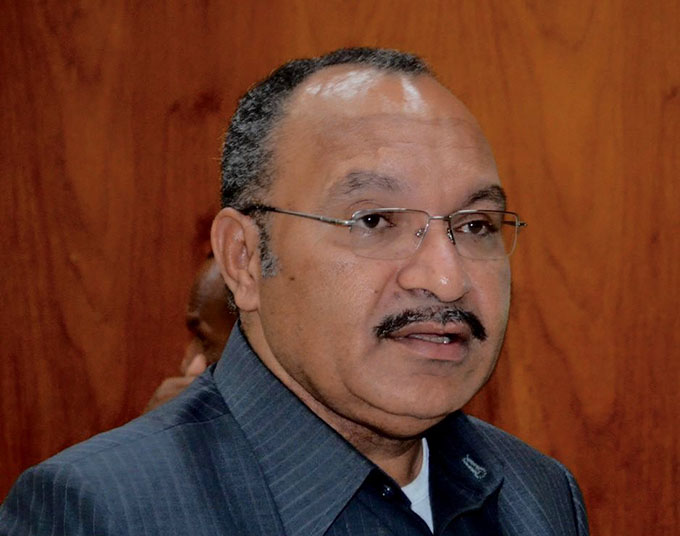 This is the 10-page letter from Prime Minister Peter O'Neill sent yesterday to the University of Papua New Guinea and the PNG University of Technology student representative councils in response to their "stand down for democracy" petitions. With thanks to NauFM News for the text:
23rd May 2016
Mr Kenneth Rapa
President
Students Representative Council
University of Papua New Guinea
P. O. Box 320
UNIVERSITY
NCD
Mr David Kelma
President
Students Representative Council
PNG University of Technology
Private Mail Bag
Lae 411, Morobe Province
Dear President Rapa and President Kelma,
RE: RESPONSES TO PETITIONS
Further to my letter of 20th May 2016, I am now able to provide my response to your Petitions.
Before I do that I wish to take this opportunity to thank you for raising those issues, which are indeed of national importance and in a responsible manner, in which you have expressed yourself.
You will agree with me that every citizen of this country has the right to speak their mind as long as this is done in a way that does not undermine the rights and safety of others. This right is a basic fundamental aspect of our National Constitution, and every responsible citizen must respect and exercise it in a proper manner.
I have considered all the issues raised in the petition and having sought advices from the State Agencies I wish to outline my responses in the following manner, taking into account some matters which are before our courts.
1. UBS LOAN
This matter is before the Court and as such it would be sub judice for me to discuss several aspects at this stage. However I wish to clarify misunderstanding and confusion over this borrowing.
(a) This Loan was obtained to secure our national interest in one of Papua New Guinea's premier business asset, Oil Search Limited. If we had not done so, this Company, which is worth billions of US Dollars, would have been controlled by foreign interests.
(b) The maintenance of Papua New Guinea's National interest in Oil Search Limited is vital because: (i) it is a major contributor to our economic growth; (ii) largest private sector employer; (iii) our largest taxpayer; and (iv) contributes significantly to foreign currency earnings and revenue for budget support.
(c) With Oil Search Limited's acquisition of the InterOil stake in Papua LNG project, the value of PNG's interest has increased, thus strengthened Papua New Guinea's national balance sheet and will generate significant earnings to the Government in the future.
(d) The suggestion that the loan was secured outside of due process is entirely false. Full due process, as is required under our Laws, was fully complied with, including the subsequent approval of the Loan by the National Parliament.
(e) The other claim that this Loan will impact severely on our public finance, debt servicing and breach legal debt to GDP limit (35%) is unfounded. The loan comes in the form of what is called a "Collar". The Collar has a floor of the Oil Search share price known as "PUT" and a Ceiling share price known as "CALL". These CALLs and PUTs limit the exposure to Kumul Petroleum Holding Limited and the Bank, and therefore the value of the shares itself is used as security to the Collar.
(f) The Collar Loan was transferred to Kumul Petroleum Holding Limited in December 2014, and since then has been on the Kumul Petroleum's Balance Sheet. As such it has no impact on the State's public finance, Debt servicing and debt to GDP ratio.
(g) This loan has no direct implication for foreign currency availability in the country. In fact, foreign currency was procured through this transaction.
(h) Unlike previous loans from IPIC (the Arab loans), no other State assets, such as State Owned Enterprises, were mortgaged, only Oil Search shares.
2. BUDGET CUTS
(a) The 2015 supplementary budget was necessitated by the sharp decline in World Commodity prices for some of our major exports including Oil products. The global slump in commodity process affected many of the countries around the world, whose national finances are depended on exports. Papua New Guinea was no exception.
(b) As such the Government had to re-adjust the budget accordingly. The areas affected were: (i) non-essential expenditure, (ii) consumption expenditure, and (iii) projects and programs that were delayed due to slowness in procurement processes. It is important to highlight that key investments in education, health, free tuition fees, infrastructure, and law and order were barely adjusted.
(c) As a result of this action, the following outcomes were achieved: 4.9% budget deficit (consistent with our Medium Term Fiscal Strategy); hundreds of jobs were saved; essential services were maintained; and our economy recorded 9.9% real GDP growth compared to neighbouring economies. This Government is very proud of these achievements.
(d) If the Government had not undertaken this re-adjustment, the opposite result would have occurred. Prudent management of our fiscal policy (budget) is our top priority and we are committed to enhancing our investments in these key priority sectors. Our Government is committed to ensuring that current global pressures do not undermine and risk the welfare of our people.
3. PAUL PARAKA LAWYERS
As this matter is in Court, again it would be improper to debate on this issue. However, there are some facts, which students and the public ought to know.
(a) Paul Paraka Lawyers were engaged by the Somare Government in 2002 and they were paid millions of kina in legal fees without interruption by the Government since 2002.
(b) Taskforce Sweep was established by the O'Neill Government to investigate unexplainable spending by the Somare Government through the Department of National Planning & Monitoring. It is important to note that payments to Paraka Lawyers were NOT original part of the Terms of Reference.
(c) I made an Executive Decision in 2014 to authorise investigation into payments made to Paul Paraka Lawyers.
(d) None of the legal fees paid to Paraka Lawyers since 2002 until now have been found to be fraudulent by the courts.
(e) A Warrant of Arrest, that was of questionable political intent, was issued by Members of the National Fraud and Anti-Corruption unit over payments to Paul Paraka Lawyers.
(f) It does not make any sense at all.
(g) The questions that need to be asked are: Why I and others are being charged, when Paul Paraka Lawyers have not been prosecuted by the Police to establish that there was fraud? Is this the logical thing to do? Or is there another ulterior motive behind this?
(h) I have challenged the Warrant of Arrest in the Court as there has been a clear miscarriage in the administration of Law. As a citizen, I am entitled also to exercise my rights as provided for by the Constitution. In addition I have a duty to protect the Office of the Prime Minister and if I do not, what will stop it from happening to future Governments?
(i) Final point which I want to make is: If evidence is produced today by the Police or Taskforce Sweep that I have received any benefit from Paul Paraka Lawyers, I will voluntarily Step Aside.
4. TURBINE POWER GENERATORS
This matter is also in Court. However I wish to make the following points to clarify misunderstanding:
(a) The Decision to acquire two dual turbine generators by the Government was to assist PNG Power Limited to address power shortages in Port Moresby and Lae.
(b) The Decision was made by the National Executive Council for PNG Power Limited to acquire the two generators through the Israeli Electrical Company, which is a company owned by the Government of Israel.
(c) Both Generators are currently being utilised by PNG Power Limited in Lae and Port Moresby. It is not a waste of public funds as it is an investment that is worthwhile. This was demonstrated by the supply of additional 25MW to both Port Moresby and Lae, which also enabled us to successfully host the Pacific Games with uninterrupted power supply.
(d) The amount for this purchase was K94 million, and not K144 million as some have suggested. In fact, the generators were purchased at a substantially discounted price.
5. DISTRIBUTION OF DISTRICT SERVICES IMPROVEMENT (DSIP) FUNDS
(a) The PSIP and DSIP are not constitutional grants for the Districts and Province. These are a policy initiative by the Government to transfer funds from Waigani directly to the Provinces and Districts. These funds are used by the Districts and Provinces to invest in health, education, law and order, infrastructure and economic empowerment.
(b) No Government in the past has transferred financial resources on this scale directly to the Districts where majority of our people live. Through this policy intervention people are seeing for the first time Government services and developments taking place in their districts. Our people had been denied access to Government services for a long time. The Government's intervention through DSIP provides an opportunity for our people to improve their lives.
(c) The management and disbursement of DSIP are done strictly in accordance with financial guidelines established under the Public Finance Management Act.
(d) All Districts, regardless of the political affiliations of their Member of Parliament, are treated equally. All Districts are allocated the same level of funding every fiscal calendar. There is no discrimination or unfair treatment against the Members of the Opposition. All members of Parliament receive the same amount of DSIP on annual basis.
(e) The release of funds to the Districts is subject to cash flow like every other expenditure appropriation in the Budget. If some Districts have shortfalls in their DSIP, it is largely due to cash flow issues.
(f) Finally, the suggestion that Districts are entitled to DSIP is false. The DSIP is NOT a constitutional grant. They are development funds, provided by the Government for service delivery in the Districts.
6. INDEPENDENT INSTITUTIONS AND THE BUREAUCRACY
(a) Compared to some past Governments, this is the only Government in Papua New Guinea's political history to maintain stability in the public service. All the appointments of Heads of Constitutional and State Agencies are merit based and in full application of processes established by the Constitution and Laws.
(b) The appointment of Head of a Constitutional Office, such as the Ombudsman for example, is done by the Ombudsman Appointment Committee (OAC). This is comprised of the Prime Minister, Chief Justice, Chairman of the Public Service Commission, Leader of the Opposition and Chairman of the Permanent Parliament Committee on Appointments. In essence, the OAC is responsible for the appointment of the Chief Ombudsman or the two Ombudsmen, not the Prime Minister or NEC.
(c) Equally, in respect of removal of Heads of State Agencies are also done in accordance with the processes and guidelines, established under the Constitution and Laws. Some of the persons mentioned in your petition were terminated or removed for a range of reasons, including breach of their employment contracts, poor performance, retirement age being reached, indictments and expiry of their contract of employments.
(d) Also, it should be highlighted that this Government has appointed more women into senior executive positions in the public service than any other Government. These female executives are appointed on their own merits and fully in compliance with the legal processes. We are proud of this accomplishment.
(e) Finally, on the appointment and decommissioning of Ministers, it is the prerogative of the Prime Minister. This is embedded in the Westminster Parliamentary system.
7. NATIONAL DEBT
(a) PNG's total public debt is K18 billion, and of this, K3.9 billion, (5.5% of 2015 GDP) is external Debt. The entire external debt is concessional from bilateral and multilateral sources, such as the World Bank, ADB, EXIM Bank, JICA and others. These loans attract low interest rates, and long grace and repayment periods.
(b) In terms of Debt to GDP, this represents about 28% of GDP, which is well below the 35% Debt/GDP limit set by Fiscal Responsibility Act. This is based on the recent statistical data or National Accounts published by the National Statistical Office.
(c) Our debt level is relatively low compared to other countries in the World. For example Fiji's total debt to GDP is 49.5%, Ghana 71.1%, Mongolia 59.8, and Japan 247%.
(d) For 2016 Budget, the budget deficit is projected at K2.1billion, 3.1% of GDP. Parliament has approved financing of the deficit from either concessional or commercial borrowings. If you add this to the debt level, debt to GDP is projected at 28.9 %, still below the legal limit.
(e) PNG does not have a debt issue. This is because our debt is largely domestic and concessional and as such countries do not default on these types of debts. In essence, Papua New Guinea has a very low debt burden and a negligible foreign currency burden.
(f) Countries with high level of commercial debts are at high risk if they have serious fiscal issues. Papua New Guinea has no commercial debt and is not at risk. The UBS Loan is not part of the public debt and it is wrong to suggest it is. The UBS loan belongs to the Kumul Petroleum Holding Limited.
(g) Any discussion must be based on facts and use data from our national accounts produced by legal entities. There are a lot of critics, who do not wish to see Papua New Guinea succeed. These people deliberately fabricate numbers to mislead us. All of us, including Members of Parliament, must at all times protect our country's interests and should not talk down our country for self-political interests.
8. DEFICIT BUDGET
(a) The budget deficit for 2015 was 3.9% of GDP, not as 9.9% as some claim. Papua New Guinea's national accounts are published annually and are available and accessible by the public. For the 2016 fiscal year, it is projected at 3.1%. These ratios are revised based on new GDP data released by the National Statistics Office in March 2016. The deficit levels are very much consistent with the Medium Term Fiscal Strategy. We have deliberately planned for a reducing budget deficit each year so that we can return to a surplus budget.
(b) The outcome also refutes the claim of high deficits to GDP, used by several misleading commentators. The actual average deficit for the five years is 3.6% and not the 4.9% as claimed by some commentators.
(c) It should be noted that no deficit is justified if it is not used to fund key priority areas. This Government has applied all deficits to finance the key drivers of our economy. We have invested in education, health, socio-economic infrastructure and economic empowerment of our people.
(d) On average the actual expenditure in these priority areas is above 65% of the entire budget. This is a major shift from the past where only 35% of expenditure was spent on the key drivers of our economy, whilst 65% was wasted on consumption expenditure.
(e) This is record which this Government is proud of. We will continue to be fiscally responsible and by doing the right thing, by investing in these key drivers, the future health of our country is safe and bright.
9. CASH FLOW
(a) When this Government came into Office in 2011, there was zero balance in the Waigani Public Accounts. Even the trust accounts, where surpluses had previously been held, were empty. We are talking about K8 billion in surpluses, generated through windfalls from high commodity prices.
(b) Where did these funds go? Were these funds invested? If so where is the evidence?
(c) This Government had no choice but to formulate a MTFS based on deficit financing to rejuvenate the economy and deliver services to our people. The MTFS provides a Five Year fiscal plan for annual National Budgets.
(d) The Government's Fiscal Plan was to borrow to finance investments in the key drivers of our economy. We knew that with the high commodity prices, sufficient revenue will be yielded to offset the deficits.
(e) However, with the sudden drop in commodity prices, we needed to re-adjust our fiscal plan for Five Years. One immediate decision we made was to re-adjust the 2015 Budget downwards by K3 billion.
(f) A tough decision was also made to reduce the 2016 Budget by K2 billion from K16 billion to K14.7 billion. The reduction was focused on non-essential expenditure side, whilst budget outlay for investment was maintained. These included funding for Tuition Fee Free education, free primary healthcare, education, health, law and order, DSIP, PSIP, infrastructure and economic empowerment.
(g) However, a further drop in commodity prices did not help with the 2016 Budget implementation. For example, the budget projected price for Oil (US$/barrel) was US$54 but when it dropped to less than US$30 a barrel it seriously affected our revenue projections.
(h) As a result, the Government had to put in place a cash flow management plan. Its implementation is overseen by a sub-committee of the Central Agencies Coordination Committee. The committee meets regularly to make sure that essential expenditures are financed on a monthly basis. In addition, the Committee is mandated to trim the public service where appropriate, prevent wastage and stop leakages in the system.
(i) Efforts are also being made to collect all the outstanding tax and non-tax liabilities. According to IRC and Customs, there is K2 billion tax liabilities outstanding. Past Governments completely ignored these outstanding tax liabilities. We have put a team of experts to collect these taxes.
(j) The Government is confident of implementing the 2016 Budget as planned. The improvement or surge in commodity prices, resumption of Ok Tedi Mine, collection of outstanding tax liabilities and increased explorations in mining and petroleum sectors provides a high level of confidence. However, if global market conditions do not improve, the Government will do what is responsible by re-adjusting the budget before the November sitting of Parliament.
(k) It should be noted that Papua New Guinea has no control over the some of the factors which affect our economy and budget. For instance, commodity prices are dictated by supply and demand in the international market, and Papua New Guinea is a price-taker.
10. FOREIGN RESERVES
(a) I cannot comment on this issue as it is part of the monetary policy apparatus, which is independently managed by the Central Bank. The Government, through the Ministry of Treasury, have been consulting closely with the Central Bank to address the foreign currency issue.
(b) The advice from the Central Bank is that the decline in the foreign reserves started in 2012, when there was sharp drop in commodity prices. This mean that foreign currency inflows were lower than the outflows. The Bank had to carefully assess the amount it required to intervene in the market with its reserves.
(c) We are advised that some of the commercial banks took advantage of the scarcity of the foreign currency and offered exporters and importers different exchange rates from the one established in the daily interbank market.
(d) The Central Bank intervened to stop these activities of the banks to reduce the exorbitant margins charged to importers.
(e) The further decline in the commodity prices, the closure of OK Tedi Mine, El Nino drought and completion of the construction of the LNG project further applied pressure on the foreign exchange market. As a result foreign reserves show a gradual decline.
(f) I understand the Bank is doing everything possible to intervene in the market so that our key importers are supported.
(g) The Government is also working closely with our donor partners to accelerate funding for some of our key capital projects. In this way, foreign currencies can be transferred into the country. In addition, the Government is also talking with some of major exporters in all sectors, to bring their foreign earnings into the country rather than keeping them aboard.
(h) It should be noted, the foreign currency issue is not a direct result of the Government's spending, it is exacerbated by all the factors highlighted above, and more particularly by the sharp decline in commodity prices, which Papua New Guinea has no control over.
(i) In addition, it should be noted that the effect of the decline in commodity price has affected many other countries around world. Papua New Guinea is not the only country. Many of these currencies have lost their purchasing power, i.e. devaluation of our currency against our major trading partners is a case in point. The Government is doing all it can to address this issue.
(j) The good news is the commodity prices, particularly the Oil Price, have picked up in recent times coupled with resumption of production at the OK Tedi Mine. In addition, the Government is working with ExxonMobil to develop the P'nyang gas field. These developments will provide substantial relief as well as confidence in the foreign exchange market in the coming years.
11. CONCLUSION
(a) I trust that I have satisfactorily answered your petition and you will take whatever appropriate actions for the students to return to your classes. Further boycotts of classes will only affect the education of many young Papua New Guineans.
(b) The Government and your parents have invested so much in your education, and it is important that you give this your top priority.
Finally, I wish to state clearly that I have no intention of either stepping aside or resigning from the Office of the Prime Minister.
The people that have the legal mandate to remove a Prime Minister from Office are the National Parliament or the people at the General Election. I was mandated by the people in 2012 and duly elected by Members of Parliament, and I intend to uphold and respect their mandate until 2017 General Election.
Yours sincerely,
HON PETER O'NEILL CMG MP
Prime Minister of Papua New Guinea