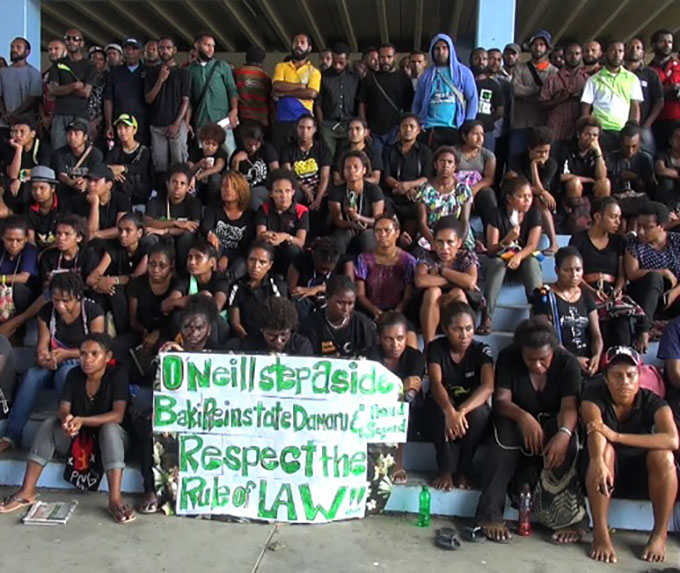 By Vasinatta Yama and Serah Aupong in Port Moresby
An urgent application by the University of Papua New Guinea's Student Representative Council (SRC) president Kenneth Rapa and the SRC against the vice-chancellor, Professor Albert Mellam and Police Commissioner Gari Baki and others has been turned down by the National Court.
On Wednesday, the students requested an ex parte hearing (a hearing without the opposing party present) with Judge David Cannings in a bid to obtain a restraining order to remove police from campus.
Instead, Judge Cannings opted for an in parte hearing and ordered that all parties be served with the notice.
Yesterday, he rejected the application on lack of evidence provided.
"There is insufficient evidence before the courts to demonstrate which particular rights of students have been breached," Judge Cannings said.
After making this ruling, Judge Cannings said the police must be reminded of their constitutional duties to maintain peace and order and students to not resort to violence.
Judge Cannings said the SRC was free to bring the issue back to court after it collects enough evidence to support the allegations of suppression of freedom of expression.
Return hearing
SRC lawyer Robby Yasan said after the hearing that he would be back either today or tomorrow to pursue the matter.
The National reports that Prime Minister Peter O'Neill said every citizen, including the protesting university students, had the right to free speech — as long as it did not undermine the rights and safety of others.
He said this after receiving petitions from the student representative councils at both the University of PNG in Port Moresby and at the University of Technology in Lae.
"Papua New Guinea is a country in which democratic process is universally cherished and respected by our people," he said.
"Every citizen has the right to speak their mind as long as this is done in a way that does not undermine the rights and safety of others.
"I commend students who have expressed their right to free speech in a responsible manner."
The students, who have been boycotting classes in the past three weeks, had been trying to present their petitions to him personally.
Included in their demands is for O'Neill to step aside while police investigate allegations of corruption against him.
But O'Neill had reiterated he would willingly step down only if someone could provide the evidence that he had done something illegal.
The 24 deadline given by the UPNG students  for a response has lapsed with apparently no response from the prime minister.