Indonesian security forces and police have arrested hundreds of Papuan demonstrators during rallies today in support of the United Liberation Movement for West Papua and its effort to reach full member status of the regional Melanesian Spearhead Group.
Tabloid Jubi and West Papua Media reported massive arrests and the Jakarta Globe reported at least 500 arrests in the Papuan provincial capital of Jayapura alone.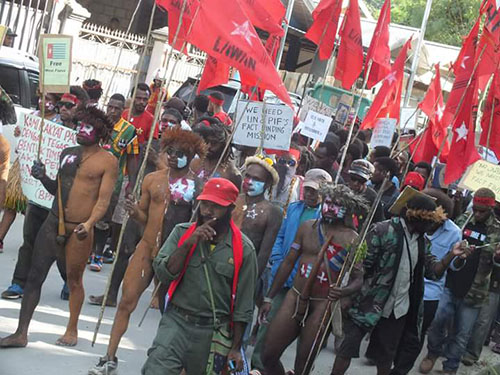 Similar rallies in Merauke and Sorong also led to more than 100 arrests, according to the Jakarta Legal Aid Institute.
Protesters were also showing support for the meeting of the International Parliamentarians for West Papua in London.
Solidarity rallies across Indonesia also ended in arrests, with 48 Papuan students arrested in Semarang, Central Java, and 42 in Makassar, South Sulawesi, Agence France-Presse and news agencies reported.
Radio New Zealand International earlier reported widespread mass arrests in the "Papua region" in advance of rallies.
A #liveupdatesPapua twitter feed reported updates on the arrests, with West Papua Media's citizen journalist network reporting "more than 1600" people having been arrested in West Papua.
According to a breakdown reported by West Papua Media's correspondents, the arrests included:
Jayapura 1449, Sorong 27, Merauke 118, Semarang 45, Makassar 42, Wamena 26 (including yesterday). Figures were still awaited for Manokwari, Yapen, Biak, Fakfak/Kaimana and Paniai.
In an earlier statement today, the Australian West Papua Association called on Australian Foreign Minister Julie Bishop to condemn the mass arrests.
On April 13 some 44 Papuans were arrested and then another 41 were reportedly arrested on Friday.
Reaffirmed support
Leaders of some Melanesian Spearhead Group (MSG) members have reaffirmed their support for full admission of West Papua to the regional organisation.
Most recently, Vanuatu's council of chiefs president Seni Mao Tirsupe called for the admission following a rally in Port Vila on Friday.
ULMWP, which represents a number of pro-independence groups in Indonesia's two easternmost provinces of Papua and West Papua, had sought full membership in a bid to push for self-determination and to air human rights grievances.
Papua New Guinea Prime Minister Peter O'Neill said in a statement last year that the ULMWP had been given observer status as a "development partner representing the welfare of Melanesian people living outside" the region.
Indonesia — which was granted observer status in 2011 and now has associate member status — claims it is represented by leaders from its ethnic Melanesian provinces of Papua and West Papua.
An MSG leaders meeting scheduled for Port Vila this week has been postponed.