West Papuans in Port Moresby calling to Christians across the world to pray for peace for West Papua earlier this year. Video: EM TV
Pray for West Papua is the first documentary about West Papuan leader Octo Mote and his fight for independence from Indonesia and gaining observer status in the Melanesian Spearhead Group in the Solomon Islands last year.
The director is Mircha Mangiacotti and producer "confidential at this stage". A trailer for the film can be seen at Vimeo.
Made in association with the Griffith Film School, Australia, and ULMWP (United Liberation Movement for West Papua), the film is being developed and the director is looking for buyers.
We Are Moving Stories has interviewed the director Mircha Mangiacotti:
1.  Pray For West Papua will be the first film on West Papuan independence leader Octo Mote.  Why do you think we've had to wait so long?
Independence movements in West Papua have unified under the leadership of the United Liberation Movement for West Papua (ULMWP) in December 2014. Octo Mote was elected as secretary-general and began his work in 2015. This is a fresh new start for the movement.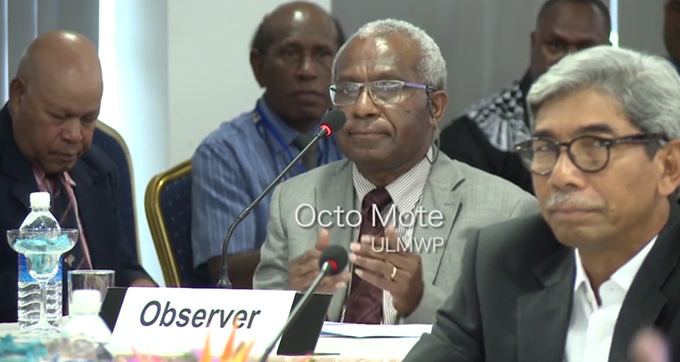 2.   Why is the film called Pray For West Papua?
This is a working title whilst at pre-production stage. West Papuans are predominantly Christian Catholics whereas Indonesians are mainly Muslims. The issue of religion is another important aspect of the struggle for independence. In the face of frustrating diplomatic efforts through convoluted United Nations protocols, the ULMWP is increasingly turning to the Church for help, hoping the Vatican would eventually apply pressure on Indonesia.
3.  Why do you think the tide is beginning to turn when it comes to West Papua?
For decades, the world has been kept in the dark about West Papua. Through a total media ban on the island, the Indonesian government has managed to keep the ongoing genocide a secret, also with the complicity of mainstream Western media. This is now changing as news is beginning to trickle out via alternative media. This is why documentaries like these are important and necessary: the public needs to be informed so that meaningful action can be taken.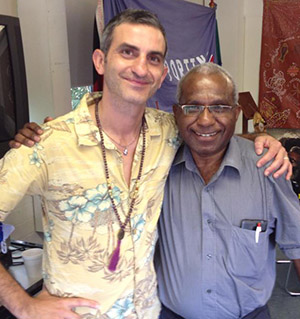 4.  Can you describe the filming you?ve done and what you hope to film in the coming year?
Over the past year, I spent quite some time with Octo and other ULMWP leaders, I worked closely with various Australian support groups, and I've attended the MSG meeting in the Solomon Islands in June 2015. I have extensive footage of meetings, events, rallies, interviews, archival material etc., which culminated in two 10-minute shorts released last year.
I'm hoping to dig deeper into the story over the next two years, following Octo around the world in his diplomatic efforts, working with West Papuan filmmakers to document the atrocities and interviewing key political and religious figures here in Australia.
5.  Will you also include footage from inside West Papua and include other West Papuan leaders like Benny Wenda?
Yes, both.
6.  What type of feedback have you received so far about the film?
Generally, viewers who have never heard about West Papua tell me they are moved by the films and angry about the situation. Most people would like to find out more about the main characters, and their personal stories.
7. Has the feedback surprised or challenged your point of view?
Not really.
8.  What are you looking to achieve by having your film more visible on this platform?
I'm hoping to initiate a dialogue with people who might be interested in collaborating with me on this ambitious project.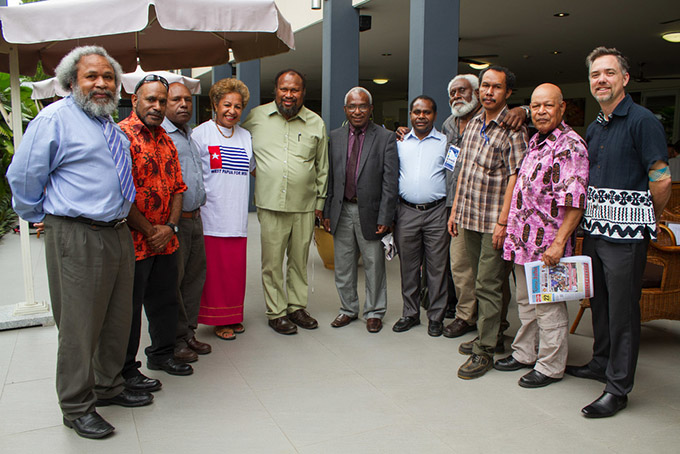 9.  Who do you need to come on board (producers, sales agents, buyers, distributors, film festival directors, journalists) to amplify this film's message?
I have a producer. Working with a distributor would be the most important thing, but it would also be great to engage with potential buyers.
10. What type of impact would you like this film to have?
I would like to make a film that is informative yet accessible, telling the story in a way that moves people. I also hope the film could serve as a call for action.
11. Lastly, what's a key question that will help spark a debate about this issue and film?
Will West Papua ever be Free?
This article was first published on We Are Moving Stories and has been republished here with permission.
Two short docos on West Papua by the director: