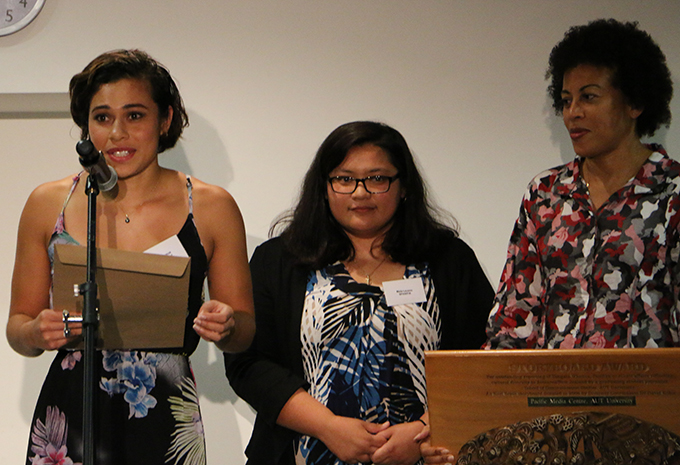 Pacific Media Watch contributing editor TJ Aumua won the SPASIFIK Magazine Prize and Storyboard Award for diversity reporting at AUT's School of Communication Studies awards this week.
Aumua also spoke about the issues of negative Pacific stereotypes represented in the media.
"I know when I say the word 'Pacific' a lot of us think of the white sand beaches, clear waters, tropical heat and dream holiday destinations," she said.
"But when I say Pacific people or Pacific Islanders, the atmosphere changes. People roll their eyes."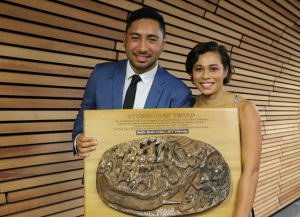 Aumua said indigenous and minority communities in the world need opportunities and platforms to bring their truthful stories and human rights issues to the forefront.
The Sepik traditional storyboard was donated by Pacific Media Centre director Professor David Robie a decade ago to encourage better diversity journalism.
Fellow AUT Communications Studies graduate Joshua Iosefo was jointly awarded the MediaWorks Award with Harriet Maire for television and screen production graduate of the year.
Film award
The trailer of Iosefo's short film Forgotten Dawn Children, which pays tribute to people who suffered in the raids on the homes of alleged Pacific Island overstayers in the 1970s was screened.
He thanked his grandparents, and honoured the conflict they endured during the time of the raids.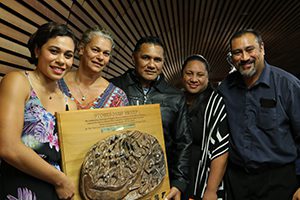 Iosefo, also a passionate advocate for the Pacific community, and well known for his speeches on youth empowerment, is furthering his study in a Postgraduate Diploma in Communication Studies at AUT.
Niklas Pedersen of the Danish School of Media and Journalism, on an exchange programme with AUT last year, was also awarded the annual Radio New Zealand International Prize for the top student in the postgraduate Asia-Pacific Journalism Studies course.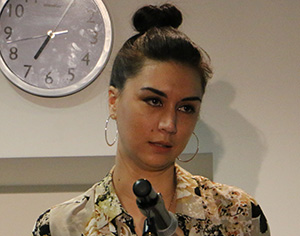 He reported from Fiji on climate change and other issues on a two-week assignment last September.
Pedersen was not able to attend from Denmark and TJ Aumua accepted the award on his behalf.
In a message to the awards audience, he said:
It is my great honor to accept this award …
I had a wonderful time at AUT in the spring and especially in the Asia-Pacific Journalism class under the guidance of the inspirational Dr David Robie. I really enjoyed learning about journalism practices in cultures very different from the one that I'm used to in Denmark.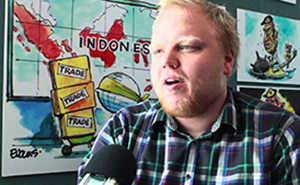 I was lucky enough to not only study about these practices in the Asia-Pacific Region but also experience them first-hand during my internship at Wansolwara and Repúblika Magazine in Suva, Fiji. This experience has given me invaluable tools and knowledge, which I know use in my job as a journalist back in Denmark. 
I'm sorry, I couldn't be there tonight but I want to let you know that if there was anywhere in the world, I would travel 18.000 kilometers to be for just one night, it would be AUT. I sincerely hope that I will be able to return in the future and revisit the place that gave me the experiences of a lifetime.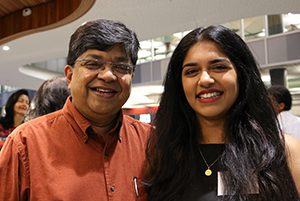 Once again, thank you for this award. And a special thanks to Dr David Robie, Radio NZ International and PMC who made all of this possible.
In another success for diversity, India-born Anuja Nadkarni, who spent two of her early years living in Fiji, won the National Business Review Award for outstanding Bachelor of Communication Studies journalism graduate.