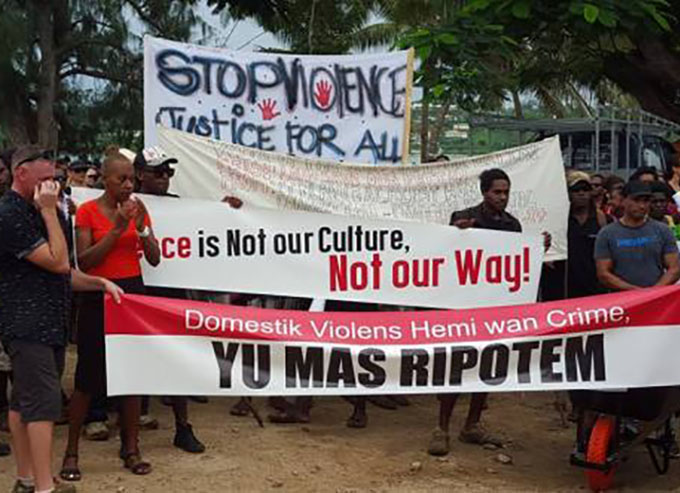 By a Vanuatu Daily Digest correspondent in Port Vila
In an outpouring of popular protest, several hundred women, men and children marched in Port Vila and Luganville yesterday to demand an end to violence against women in Vanuatu.
The march was organised in response to an attack earlier this month on tourism industry worker Florence Lengkon, who was kidnapped and assaulted by seven men after she complained on social media about the aggressive behaviour of some bus and taxi drivers at Port Vila's wharf.
In Port Vila, the protesters marched from the seafront to Parliament House, currently in session, where they met by MPs from government and the Opposition.
At Parliament, Florence Lengkon presented a petition demanding stronger action against gender-based violence to Justice Minister Ronald Warsal.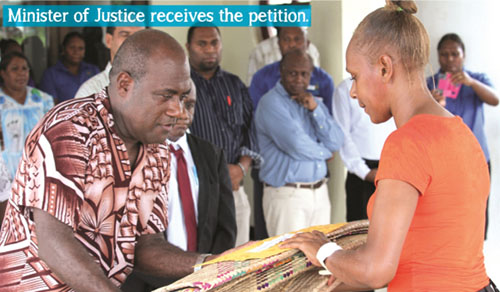 The protesters in Vila included members of the general public, representatives from NGOs, womens' groups, government departments and staff from numerous local businesses who were given time off work to attend the march.
Law students from the University of the South Pacific's Emalus campus also joined in along with local Pacific communities.
The Tongan community's group was led by a royal visitor, the Hon Alematea, son of Princess Fusipalo.
Late yesterday, Vanuatu's Parliament passed a motion to adopt Commonwealth parliamentary procedure and allow the petition to be presented.
This is a first for the country – the petition was read out inside Parliament.