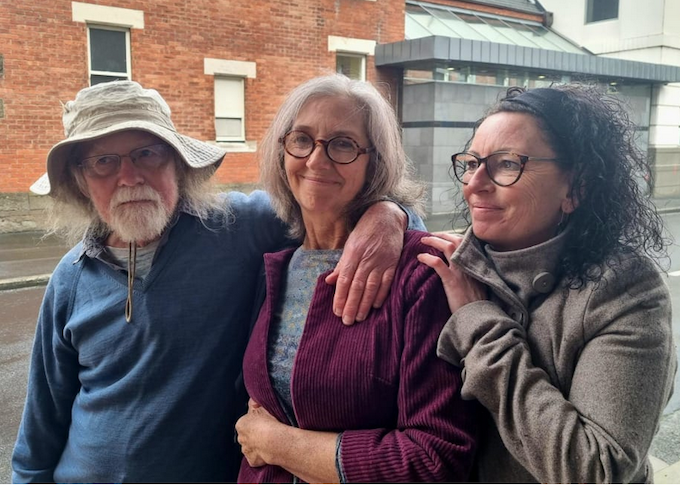 By Tess Brunton, RNZ News reporter
A Dunedin climate activist has been sentenced to 125 hours of community work after writing a fake email saying that a petroleum industry conference in Aotearoa New Zealand had been postponed.
Rosemary Anne Penwarden, 64, was found guilty of forgery and using a forged document by a jury in June.
In 2019, she wrote a phoney email telling delegates of the annual Petroleum Exploration and Production Association of New Zealand conference that it had been postponed due to the climate crisis, using the organisation's letterhead and industry logos.
Judge Michael Turner told the Dunedin District Court on Monday that she did not appear to regret her actions and lacked insight into her behaviour.
"Penwarden must be deterred from behaving in an illegal way in the future," he said.
Penwarden's lawyer Ben Smith sought a discharge without conviction, saying she never thought it would be taken seriously and she was attempting to protest using satire.
Convicting Penwarden would create financial uncertainty by creating issues if she wanted to borrow money and could have a chilling effect on others who were planning to protest, he said.
She would do it again
Judge Turner denied that application, saying he did not believe it was an adequate consequence, especially after she told media following her trial that she had no regrets and she would do it again.
Her actions showed premeditation and a degree of skill to create a false email, use a conference document to find names, create a letter with a logo and send it out — first to media, and then to conference speakers and delegates, Judge Turner said.
He acknowledged her dedication to her community while sentencing her to 125 hours of community work, but said that she would be undertaking work for the New Zealand public this time.
Her supporters sang Te Aroha as she walked out of the courtroom.
Speaking outside the court, Penwarden said she respected the judge's sentence and it was good news she did not have to go to prison.
Maximum up to 10 years
The maximum penalty for using a false document is 10 years' imprisonment.
"I'm an ordinary grandmother and I think anyone who really cares and who really listens to the climate science understands what is coming down the line and it is bigger than one person writing a letter. It is bigger than one person doing community service," Penwarden said.
She could still protest if she stayed within the law, she said.
"I would not incite anybody to break the law, and that's part of my bail conditions anyway."
Penwarden urged people not to vote for anyone pandering to climate change deniers.
"We've got work to do people."
This article is republished under a community partnership agreement with RNZ.