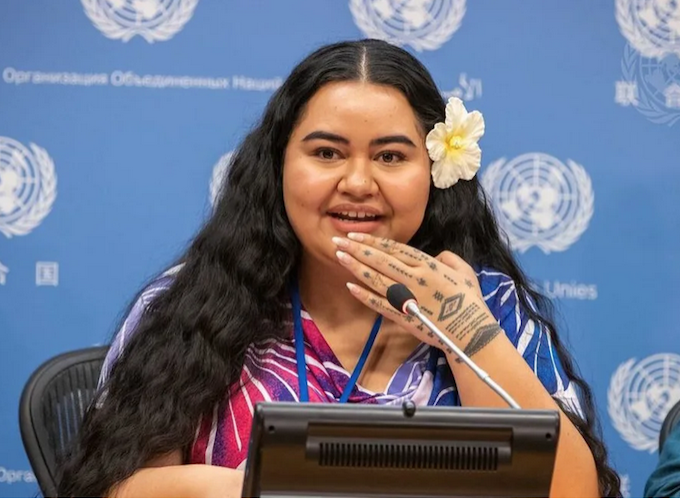 By Lydia Lewis, RNZ Pacific journalist
Pacific youth climate champion Suluafi Brianna Fruean has likened her first time in the United Nations building to primary school.
"It was my first time being in the [UN] General Assembly space," Suluafi said.
"I sat there and I was watching everyone and it kind of reminded me of a mock UN we did when I was in primary school."
But not in a jovial sense, she was seriously reflecting on the lessons she was taught as a child by her teachers.
"The three main lessons they always told us; be kind to your classmates, your neighbours, clean up after yourself, and be careful with your words."
The lesson that was front of mind though was the importance of words — a lesson she hoped was dancing in the minds of the world leaders taking the floor.
And at the Climate Ambition Summit last week, the word "ambition" was underscored.
Climate ambition missing
"Yet [climate ambition is] not something we saw from everyone, including the US Head of State who was not present," Suluafi said.
However, nations that did demonstrate ambition were Chile and Tuvalu, who named the "culprit" of the climate crisis — fossil fuels, oil, gas and coal.
Suluafi said it was critical those words are spoken in these spaces.
"How can we talk about the fight against climate change if we are not naming who we are fighting?"
"Words are important. It is words that literally can mean the sinking or the surviving of our islands."
Suluafi wants to put to bed a "big misconception" perpetuated by the Western world.
"Pacific Islanders don't want to move," she stressed.
"The Western world will tell us that climate change is an opportunity for us to come and live in the West.
"We don't want to live here!"
'Go down with our islands'
For years [Pacific] elders have said that they "will go down with our islands", she said.
Suluafi went on to say Pacific people live in reciprocity with the land.
"We are the land.
"Let's call a spade a spade. Let's call the fossil fuel industry out and let's save my islands."
"How can we talk about the fight against climate change if we're not naming who we're fighting? "– climate activists at #UNGA78 #Vanuatu presser read into weekend energy of NYC 75,000-strong climate march and absence of major emitters speaking at #climateambitionsummit #COP28 pic.twitter.com/v1t3bzh0tL

— Pacific Islands Forum (@ForumSEC) September 20, 2023
Message to polluters
As Australia bids to host COP31, she requests that they take it upon themselves to be "ambitious" with climate initiatives.
"They should not be given the hosting right if they are not actually going to be ambitious enough to represent our region," Suluafi said.
She believes they have a real opportunity to champion the Pacific Ocean and region but need to be ambitious.
To demonstrate they are being ambitious, Australia will need to at the very least make solid commitments to climate financing, she said.
"What are the commitments that they will make to financing those most vulnerable to climate change including those in their very ocean, their neighbours in the Pacific?"
Phasing out fossil fuels will be another important step.
She said Australia, the UK and the US fail to name fossil fuels as the "culprit" and that needs to change now. Because of their inaction those nations were not invited to speak at the Climate Ambitions Summit last week.
"Because Australia and the US were examples of countries that have not been moving at the same speed as which they have been talking," Suluafi said.
She said even the US, who was in the Climate Ambition Summit room, was not allowed to speak.
"The UN wanted to give the voices to those who have been ambitious to be able to speak at the Climate Ambition Summit."
Lifting up the next generation
Suluafi believes having young people in the room at important meetings held at the UN is vital.
According to her, something she noticed while at the UNGA meeting was most of the people were paid to be there.
"It is their job to be here from nine to five or whenever the conference starts," she said.
"And then you look around at the young people, the civil society, the volunteers, the indigenous people who have made their way into the room who are there because of passion and because of heart.
"We need more heart in these rooms."
Suluafi commends the UN for inviting young ambitious climate warriors, even if she did not make it into the room this time.
This article is republished under a community partnership agreement with RNZ.