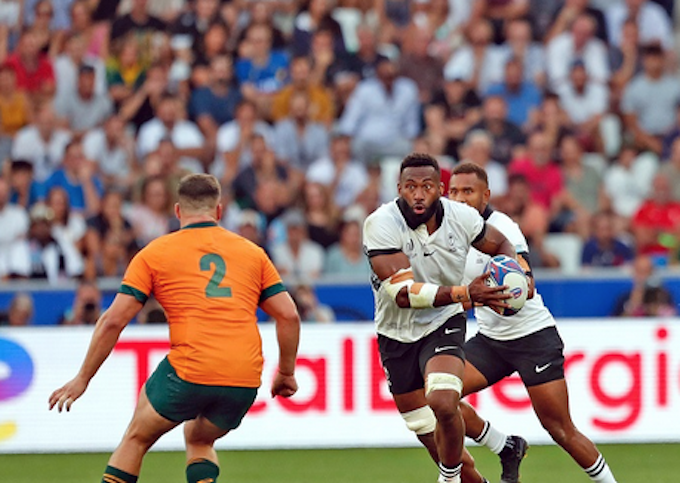 By Rodney Duthie
Lekima Tagitagivalu knows too well how the French are rugby crazy and wasn't surprised about the support shown to the Flying Fijians in last weekend's Rugby World Cup match against Australia.
Playing for Pau in the Top 14 competition, the 27-year-old flanker is a favourite in the French competition.
He is one of several Fijian players in the Flying Fijians squad who plays in France. Like in the match against Wales, the French turned out in numbers to support their second favourite team — Fiji.
Their cheers and those of Fijians who travelled from around the world to the Stade Geoffroy Guichard in Saint Etienne on Monday, rang through the stadium.
"That [French support] means a lot to us," said the man from Marou, Naviti, in Yasawa.
"A lot of the boys play here in France. It means so much knowing that they are behind us too. It's more like a home game for us."
He said the win against Australia would rejuvenate spirits in the team camp for the rest of their RWC campaign — matches against Georgia and Portugal.
"I'm really proud of the boys for the performance and being able to create a part of Fiji rugby's history.
"It was a tough game and we stuck in there for the whole 80 minutes," said Tagitagivalu, adding that the win meant a lot to their World Cup campaign.
"Georgia is next and we won't take any team lightly because they have all been preparing well for this world cup. We'll take one game at a time, learn from our mistakes and move on to the next mission.
"I would like to dedicate this win to my family, to all the families in Fiji and all our supporters around the world who have been messaging us. We've been receiving all videos."
Fiji plays against Georgia on October 1.
Rodney Duthie is a Fiji Times journalist. republished with permission.