Asia Pacific Report
Auckland Deputy Mayor Desley Simpson welcomed a large crowd on Suffrage Day yesterday to celebrate at a memorial to mark 130 years of women in Aotearoa New Zealand having the right to vote.
Speakers included Challen Wilson, a National Council of Women member and great granddaughter of Mere Te Tai Mangakāhia; Isabelle Lloydd, winner of the NCW high school speech competition; and Joanna Maskell of Te Rōpū Wāhine Auckland Council's Women's Network.
New Zealand made history on 19 September 1893 by becoming the first self-governing country to grant women the right to vote in parliamentary elections.
This great leap forward for gender equality was a result of decades of tireless activism by suffragettes across the country who fought for the women's right to vote and shaped the future for women across the motu (country).
In Auckland, influential wāhine such as Kate Sheppard, Mary Ann Müller and Meri Te Tai Mangakāhia, among others, led the charge for women's suffrage.
Auckland Council has encourage people to celebrate the suffragette movement's enduring legacy with a variety of public art pieces, exhibitions and events that "pay tribute to the fearless advocacy of our suffragettes", said a statement.
The event took place in Te Hā O Hine Place where the walls are decorated with the iconic Women's Suffrage Mural by Jan Morrison and Claudia Pond Eyley.
Created in 1993 to mark the centenary of women voting, the mural is made up of 2000 coloured tiles mounted onto the sides of Te Hā O Hine Place stairs as 12 separate mosaic panels in central Auckland.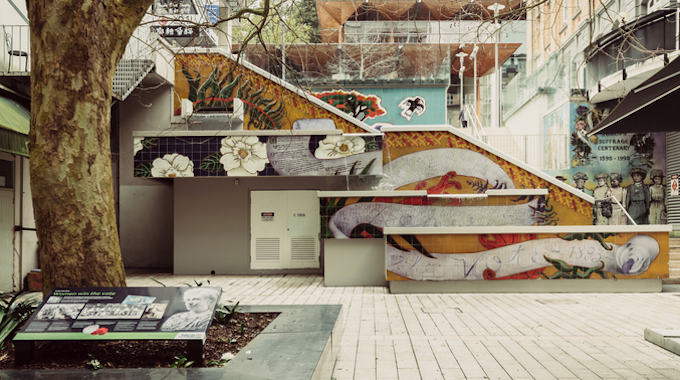 At Monte Cecelia Park in Hillsborough, is 1001 Spheres, a new piece of public art dedicated to gender equality in New Zealand.
This interactive stainless-steel sculpture references a quote from Kate Sheppard: "We are tired of having a 'sphere' doled out to us and of being told that anything outside that sphere is 'unwomanly'".
Created by artist Chiara Corbelletto, the sculpture celebrates the contribution of women in all spheres of life and is an expression of infinite possibilities.