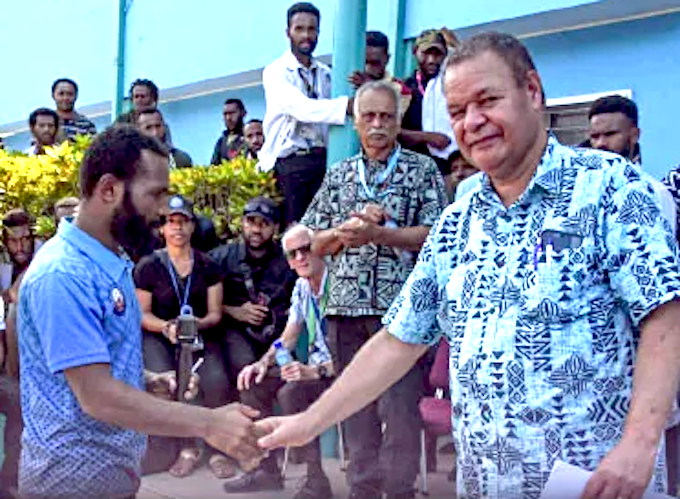 The University of Papua New Guinea's vice-chancellor, Professor Frank Griffin, has assured protesting students of the School of Medicine and Health Sciences that their concerns raised during a sit-in last Friday will be addressed immediately.
He told the students when receiving a seven-page petition containing protests over the student's welfare which was presented to him by Student Representative Council (SRC) student representative Elizah Sap that he would act "today".
"I hear your cry — the work does not start next this week but today," Professor Griffin said.
"I have walked through everyone's dormitories in this campus, the laboratories and the state of the other buildings and the work starts today.
"I have heard your pleas of the students on the whole concept of from the womb to the tomb, this school handles every part of that.
"It may appear that you are being forgotten and neglected, that is not always the case but what we'll do now is a priority with work and planning starting immediately," he said.
He told the students that he would return to the campus to discuss with the school's executive dean and SRC executives to draw up a plan and get the assessment and work going as quickly as possible.
Wifi, generators 'a priority'
"The issues of having the wifi and generators is a priority that we will look at immediately," he said.
He said when the school starts next year, it should be a different place.
He said the medical campus was much older than the main campus in Waigani and for now the university would make sure to make the place "fit enough" to be called the School of Medicine and Health Sciences.
SRC president Sap acknowledged Professor Griffin's response.
"As such, the SRC considers it vital that the student concerns raised in this petition be addressed adequately and promptly," Sap sad.
"Importantly as well, the SRC calls on the administration to look into all of these matters with due care and consideration in order to formulate strategies to remedy these concerns.
"Only together can the administration and SRC help the University of Papua New Guinea improve services for its students."
Republished with permission from the PNG Post-Courier.