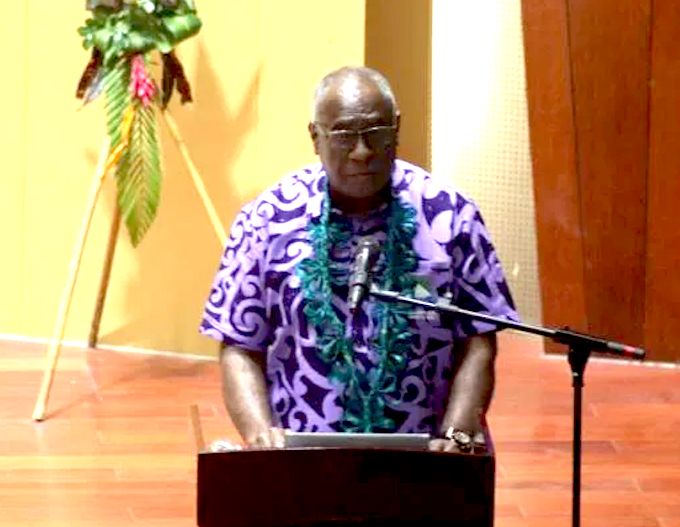 By Doddy Morris in Port Vila
The 22nd Melanesian Spearhead Group (MSG) Leaders' Summit was declared open at the National Convention Centre in Port Vila yesterday with host Prime Minister Ishmael Kalsakau hailing opportunities to "galvanise our efforts as a United Melanesia".
Prime Minister Kalsakau welcomed all the delegations and said how happy and privileged the people of Vanuatu were to have the MSG leaders visit Port Vila after the recent successful Melanesian Arts and Cultural Festival.
"It gives me enormous pleasure, to welcome you all to Port Vila on the occasion of the official opening of the 22nd MSG Leaders' Summit," he said.
"Fifteen years since Vanuatu last hosted in 2008, this gathering of all leaders of our distinctive and noble organization is for history to behold.
"Let me at the outset take this opportunity on behalf of the government and people of Vanuatu to convey our sincere appreciation for your commitment and respect.
"This is not only for honouring the call to attend the Leaders' Summit and related meetings here in Port Vila but more importantly for your leadership and wisdom to collectively harness opportunities to revitalise and galvanise our efforts as a United Melanesia."
Prime Minister Kalsakau said a united Melanesia was not just for the developmental goals, dreams, and aspirations of the Melanesian area, which stretches from West Papua in the Southwest Pacific to Fiji to the East.
Duty of care
He said Melanesian countries had a duty of care and obligation to the remainder of Oceania, particularly the Pacific Small Island Developing States, as custodians of 90 percent of the landmass, population, and natural resources.
"As Prime Minister, chair, and host, I take this opportunity once again on behalf of the Vanuatu government and people, to reiterate Vanuatu's privilege to take on the mantle and challenge of leadership of the MSG, and in furthering our sub-regional organisation's common agendas and aspirations, for the betterment of the group and our peoples," Kalsakau said.
"Many political observers derided our subregional efforts in cooperation, as divisive and destructive to regional cooperation.
"Also in the yesteryear, foreign sceptics with zero understanding of Melanesia and its nucleus referred to us as the 'Arc of Instability'. They drove this agenda for us to fail as nation states.
"Today I stand proud, to say that we have proven these critics wrong on more than one account. We have proven to be resilient collectively building on the fundamentals that bound us together as One People, that inheritance bestowed on us by our Creator, God Almighty."
Kalsakau said the MSG today remained more vibrant and viable than ever, as the countries forged ahead in their collective pursuit of common social, political, economic, and security interests, underscoring the resoluteness, tenacity, and resilience of Melanesia.
"MSG, Being Relevant and Influential" as the theme of the 22nd MSG Leaders' Summit, is therefore a fitting and timely reminder," he said.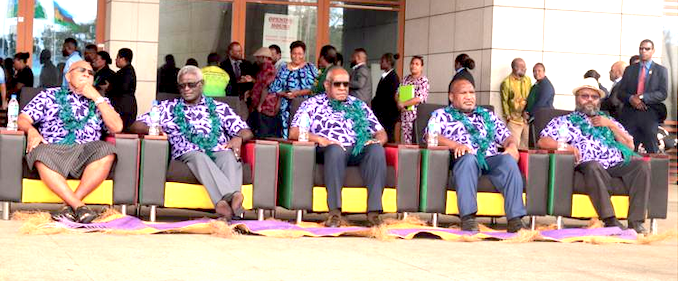 'Conquered the colonial past'
"For the independent states we have conquered that colonial past and now as a collective have transformed the 'Arc' into one of Responsibility and Prosperity. This indispensable Arc of Melanesia is moving forward," said the Prime Minister.
"And we are reminded that among our peoples are those who continue to be deprived of taking up their rightful place among the global union of nations. The MSG platform, therefore, provides unique opportunities in solidifying expressions of hope for all of Melanesia."
MSG was the largest grouping in the Pacific Islands Forum family, Prime Minister Kalsakau said. MSG must continue to assert a leadership role, and in spearheading initiatives, as the name denoted.
He said that MSG was the only subregional grouping that had a permanent secretariat, and perhaps had the only active and functioning free trade agreement in Oceania.
"This is a marked feat, as we commemorate 35 years of MSG's existence as our august organisation, an achievement we all should be proud of," Kalsakau said.
"Our subregionalism is no longer frowned upon but is regarded as the building block for stronger regional cooperation in the wider regional architecture, as we provide added cooperation impetus for the Blue Pacific Continent, of which we are an integral part."
The MSG subregionalism had therefore been vindicated and would continue to grow in prominence and relevance going forward.
Fundamental principles
"As chair, I would like to assert that as a group, we must not lose sight of fundamental principles espoused by the MSG," Kalsakau said. This included:
encouraging sub-regional diplomacy and friendly relations,
maintaining peace and harmony,
encouraging free and open trade, boosting economic and technical cooperation, and
promoting our unique Melanesian traditions and cultures.
However, during his tenure as chair, Prime Minister Kalsakau wants the secretariat to assist the members in bringing to closure many of the outstanding issues leaders had agreed to.
Under the tutelage of the high-performing Director-General, he expected the committed secretariat to implement the main recommendations of the Implementation Strategy for the 2038 Prosperity for All Plan.
"The third-revised MSG Free Trade Agreement 2017 must be brought into operation quickly so we can all benefit from its provisions on trade in services and investments," he said.
"On that note, I wish to assure you all of my government's commitment to signing and ratifying the MFTA by November of this year. The Skills Movement Scheme must be promoted widely so our people can fully take advantage of it."
The Prime Minister announced that, through representatives, the governments of Australia and China were also participating in the Leaders' Summit as special guests.
He commended the secretariat for its facilitation and revitalisation of the first edition of the MSG PM's Cup last year.
Doddy Morris is a Vanuatu Daily Post reporter. Republished with permission.