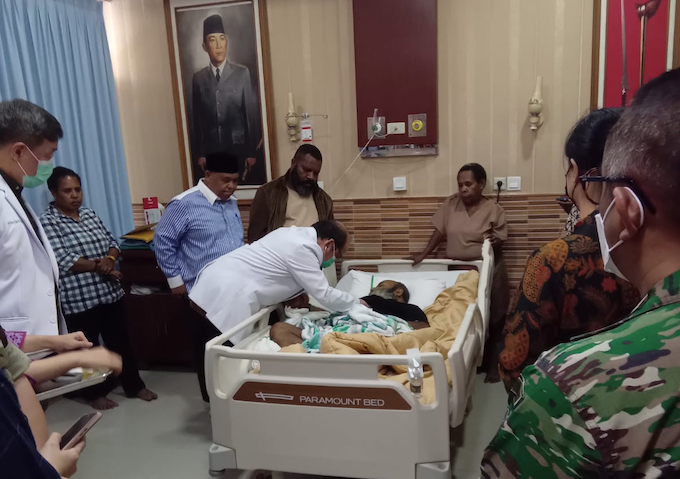 SPECIAL REPORT: By Yamin Kogoya
An Indonesian court has held a hearing to consider whether the ailing suspended Papua Governor, Lukas Enembe, is well enough to go on trial for the allegations of bribery and gratification that he is facing.
The hearing was held in the Central Jakarta District Court yesterday to consider a second medical opinion provided by the Indonesian Medical Association (IDI).
Corruption Eradication Commission (KPK) public prosecutors read out the IDI medical report, which stated that the defendant Enembe was fit to face trial.
Former Governor Enembe was not present at the hearing and his lawyers and family protested against the second opinion of IDI's decision, arguing that the judgment was not based on a proper medical report but rather a view formed and collected by KPK's doctors through interviews.
The family refused to accept this result because they believe it did not accurately represent the medical issues facing the governor.
The governor's lawyers contend that their client is seriously ill, and they have now received an accurate medical report from the army hospital's specialist, who has been treating  Enembe for the past two weeks, since he was moved from KPK's detention cell to Gatot Soebroto Army Central Hospital (RSPAD) in Jakarta on July 16 due to serious health concerns.
"As a result of the explanation given by the RSPAD doctor's team who visited Mr Enembe's in-patient room on Monday (24/7), it was determined that Mr Enembe's kidney function had decreased dramatically. According to Bala Pattyona, Mr Enembe's chronic kidney has deterorated rapidly," reports ODIYAIWUU.com.
From army hospital to cell — emotional for family
Despite serious health concerns, on July 31 the KPK came to the Army hospital and picked up Enembe, taking him to KPK's detention cell.
Enembe's lawyer, Petrus Bala Pattyona, revealed an emotional atmosphere when Enembe was removed from the hospital.
His wife, siblings and other relatives who were at the RSPAD were reportedly crying.
"The governor was taken by wheelchair from his room to the ambulance," Petrus told Kompas.com on Monday night.
Petrus said that before being picked up by the KPK prosecutors, the family had refused to sign administrative documents for Enembe's departure from RSPAD.
"Because the person who brought Mr Enembe to the hospital was a KPK prosecutor, then they are the ones who are responsible for Mr Enembe's discharge from the hospital," said Pattyona.
The KPK officials signed the hospital discharge papers.
Health priority request
The governor's lawyers asked for the unwell governor to remain in the city to prioritise his medical treatment.
In response to his deteriorating health, the governor's legal advisory team sent a letter on Thursday, July 20, to the Jakarta District Court judges.
They requested that Lukas Enembe be granted city arrest status because of his serious life-threatening illness.
The letter was signed by the governor's legal team, including Professor Dr OC Kaligis, Petrus Bala Pattyona, Cyprus A Tatali, Dr Purwaning M Yanuar, Cosmas E Refra, Antonius Eko Nugroho, Anny Andriani and Fernandes Ratu.
According to the governor's senior lawyer, Professor Kaligis, the application was submitted on the grounds that Enembe's health had not improved since he had been detained in KPK's detention cell.
Professor Kaligis said: "Our client is suffering from many complicated, serious illnesses. His kidney disease has reached stage five, he has diabetes, and he has suffered from four strokes. He is suffering from low oxygen saturation, swelling in his legs, and other internal diseases."
In a written statement, Kaligis said Enembe's legal counsel requested the judges to consider bail for the governor. He pleaded with the legal authorities to empathise with Enembe's suffering.
Suharto's case a valuable lesson
Kaligis said that while defending the late Indonesian President Suharto, his party went to Geneva on 13 June 2000 and met with the Centre for Human Rights and specifically the Human Rights Officer, Mrs Eleanor Solo.
"During that time, I was accompanied by Dr Indriyanto Seno Adji and two members of the TVRI crew because a seriously ill individual would not be suitable to [be examined] at the trial. Regardless of accusations a person might be facing, no one should be subjected to inhumane or degrading conduct," Kaligis said.
During Kaligis's visit to Geneva, a human rights delegation visited the residence of Suharto, ensuring that the judge who tried Suharto, the late Chief Justice of South Jakarta State, Judge Lalu Mariun, stopped the examination after receiving a fatwa from the Supreme Court.
Because Lukas Enembe is incarcerated under the authority of a panel of judges — not the KPK — Profewsaor Kaligis said they were hopeful that the request would be granted.
According to Elius Enembe, the governor's brother and spokesman for the governor's family, the governor was in a critical condition.
Nothing good will come from returning him to KPK's prison cells. This is bad news for us and given the governor requires full support in terms of care needs, KPK should be held responsible should something grave occur while under their council. The Papuan people and the world are watching. There is nothing more torturous than this.
On Wednesday, 26 July 2023, the governor had his birthday, turning 56.
What should have been a happy celebration with family and the people of his homeland was abandoned for a hospital bed.
The trial is due to resume next week.
Yamin Kogoya is a West Papuan academic who has a Master of Applied Anthropology and Participatory Development from the Australian National University and who contributes to Asia Pacific Report. From the Lani tribe in the Papuan Highlands, he is currently living in Brisbane, Queensland, Australia.