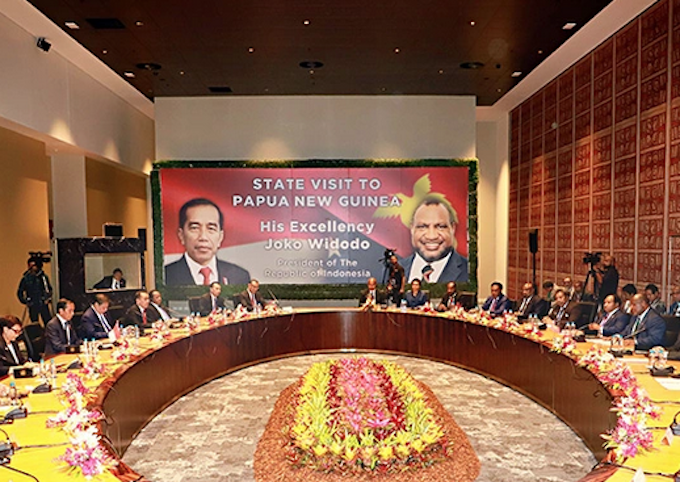 Papua New Guinea and Indonesia say the economic and social ties between them are closer than ever.
Indonesian President Joko "Jokowi" Widodo visited Port Moresby last week with trade, border arrangements and education foremost on the agenda.
Widodo agreed to sponsor 2000 Papua New Guinean students to attend university in Indonesia, and pledged about US$15 million to upgrade Port Moresby's hospital.
"This is a very, very warm, in fact, one of the warmest meetings I've ever had as head of state," Papua New Guinea Prime Minister James Marape said at a joint media conference.
"We [Papua New Guinea] have not been utilising the powerhouse economy that is on the other side — the world's 16th biggest economy right now . . . they're our link to commerce and trade in Asia."
On the day following the visit, Indonesia state news agency Antara reported Trade Minister Zulkifli Hasan stating that Indonesia would offer training to 1000 businesses in Papua New Guinea.
Marape welcomed Widodo at Jackson's International Airport in Port Moresby last Wednesday with a gun salute from the Papua New Guinea Defence Force and a cultural blessing from traditional dancers
Elephant in the room
But one topic that wasn't discussed was West Papua which weighs heavily among many Papua New Guineans, unsettled by the widespread reports of mistreatment of their Melanesian brethren across the border.
One media report said the authorities in Papua New Guinea had clamped down on displays of the West Papuan independence flag ahead of Widodo's visit.
Last week, at the 53rd session of the UN Human Rights Council in Geneva, Human Rights Council special adviser on the prevention of genocide, Alice Wairimu Nderitu, called for a humanitarian assessment in West Papua.
"The human rights situation in West Papua remains deeply concerning," she said.
"This includes alleged harassment, arbitrary arrests, and detention of Papuans . . . that has resulted in the alleged appropriation of non-indigenous lands."
However, many pro-independent West Papua advocates in Papua Guinea also supported the visit.
Port Moresby Governor Powes Parkop, a vocal critic of Indonesia and long-time advocate for indigenous West Papuans, said in a video statement last week that the visit was an opportunity for dialogue.
"I would like to advise the President that we, on the side on the advocacy for West Papua, are ready for talks — we want to move forward in terms of addressing this decades-long issue.
"We are open to talks and I want to invite him [President Widodo] in regard to this, to think about the future and not be defined by the past," Parkop said.
"The past we can't change, there is a lot of pain and there are a lot of issues and history that we are not proud of, but in the future we can redefine and make it better."
It is a sentiment shared by fellow Papua New Guinean activist Jacob Marcos, who has participated in demonstrations against Indonesia's role in West Papua in the past.
"Diplomatically, the PNG government has to maintain its line and discuss only the issues the Indonesian President arrives for . . . about the needs of the country," Marcos said.
But for Papua New Guinea's West Papuan community, the visit and generous economic agreements were a blunt reminder of Indonesia's foreign relations prowess.
An estimated 10,000 West Papuan refugees live in Papua New Guinea, escaping a bloody conflict between armed pro-independence fighters and the Indonesian army.
The conflict has escalated over the last few months following the kidnapping of New Zealand pilot Philip Mehrtens by a rebel group last February 7.
Mangi Lufa-Apo is one of those refugees. He arrived in Papua New Guinea as a child after his parents fled the territory.
Lufa-Apo said he was frustrated by the sight of Pacific nations fostering ties with Indonesia, saying believed the Pacific nations should be emulating the regional solidarity that European countries were displaying with Ukraine.
"We've seen how European countries have rallied for Ukraine," he said.
"The Pacific Island countries are not doing that, why are they so silent?
"There's a genocide on their doorstep . . . I don't know why Papua New Guinea and Pacific Islands can't just take this to the UN and tell them that there's a genocide going on and something needs to be done about it."
This article is republished under a community partnership agreement with RNZ.