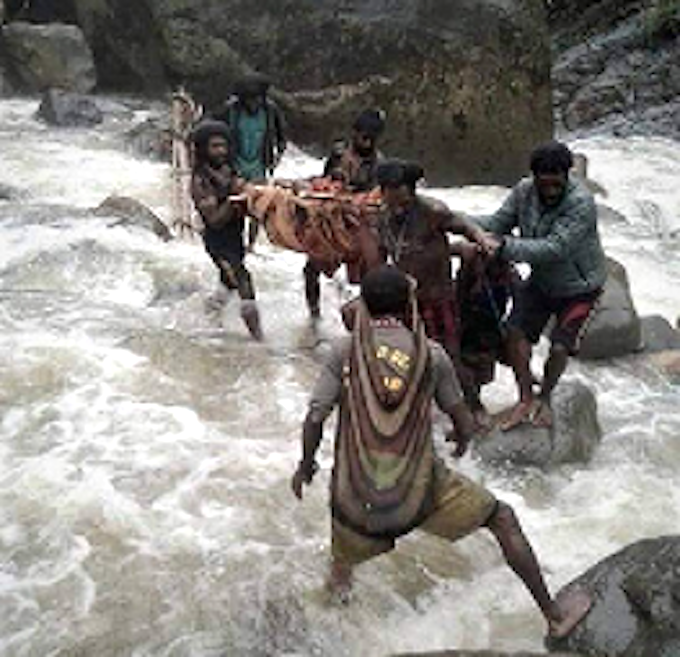 An Australian human rights author and poet has accused successive federal governments of "deliberately aiding and abetting" the 1969 annexation of West Papua by Indonesia and enabling the "stifling" of the Melanesian people's right to self-determination.
In reaffirming his appeal last May for a royal commission into Australia's policies over West Papua, author and activist Jim Aubrey alleged Canberra had been a party to "criminal actions" over the Papuan right to UN decolonisation.
In a damning letter to Governor-General David Hurley, Aubrey — author-editor of the 1998 book Free East Timor: Australia's culpability in East Timor's genocide, also about Indonesian colonialism — has appealed for the establishment of a royal commission to examine the Australian federal government's "role as a criminal accessory to Indonesia's illegal annexation of West Papua and as an accomplice" to more than six decades of "crimes against humanity" in the region.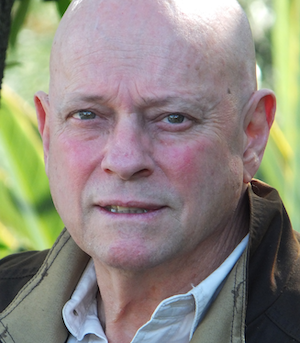 Aubrey's statement was issued today marking the 25th anniversary of the Biak massacre when at least eight pro-independence protesters were killed and a further 32 bodies were washed up on the shores of Biak island.
The killings were – like many others in West Papua – were carried out with impunity. Papuan human rights groups claim the Biak death toll was actually 150.
In his document, Aubrey has also accused the Australian government of "maliciously destroying" in 2014 prima facie photographic evidence of the 1998 Biak massacre.
"At the request of the Indonesian government in 1969, the Australian government prevented West Papuan political leaders from travelling to the United Nations in New York City to appeal for assistance to the members of the General Assembly," Aubrey claimed.
"They wanted to tell the honourable members of the UN General Assembly that the Indonesian military occupation force was murdering West Papuan men.
'Crimes against humanity'
"They wanted to tell the honourable members of the UN General Assembly that the Indonesian military occupation force was raping West Papuan women.
"These crimes against humanity were being committed to stifle West Papua's cry for
freedom as a universal right of the UN decolonisation process.
"Indonesian thugs and terrorists wanted the Australian government's
collusion … and the Australian government provided it."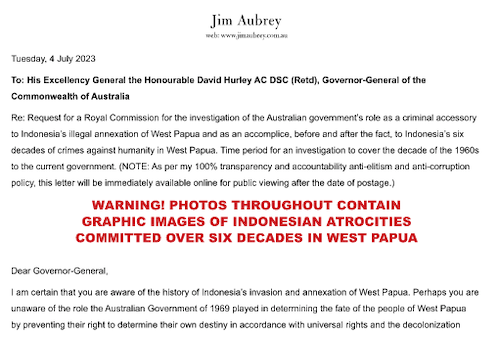 Aubrey has long been a critic of the Australian government over its handling of the West Papua issue and has spoken out in support of the West Papua Movement – OPM.
In a separate statement today about the Biak massacre, OPM leader Jeffrey Bomanak called on Papua New Guinean Prime Minister James Marape to "remember his Melanesian heritage and his Papuan brothers and sisters' war of liberation against Indonesia's illegal invasion and occupation of half of the island of New Guinea".
Bomanak also appealed to Marape to press for the "safe-keeping and welfare" of New Zealand hostage pilot Philip Mehrtens during his meeting with Indonesian President Joko Widodo today.
Mehrtens has been held captive by West Papuan pro-independence rebels in the Papuan highlands rainforests since February 7. The rebels demand negotiations on independence .
'150 massacred'
"On July 6, 1998, over 600 Indonesian defence and security forces tortured, mutilated and massacred 150 West Papuan people for raising the West Papuan flag and peacefully protesting for independence," said Bomanak in his statement.
"No one has ever been brought to justice for the Biak massacre."
About the Australian government's alleged concealment in 1998 — and destruction in 2014 — of a roll of film depicting the victims of the Biak island massacre, Bomanak declared: "We are your closest neighbour, the Papuan race across Melanesia.
"We did not desert you in your war against the Imperial Japanese Empire on our ancestral island, and many of your wounded lived because of our care and dedication."
In Aubrey's statement accusing Canberra of "collusion" with Jakarta, he said that at the Indonesian government's request, the Australian government had prevented West Papuan leaders William Zonggonao and Clemens Runaweri from providing testimony of Indonesian crimes against humanity to the United Nations in 1969.
"If this is not treacherous enough, another Australian government remained silent about the 1998 Biak island massacre even though that federal government was in possession of the roll of film depicting the massacre's crimes.
"The federal government in office in 2014 is responsible for the destruction of this roll
of film and photographs printed from the film," claimed Aubrey.
Aubrey's 68-page open letter to Governor-General Hurley is a damning indictment of Indonesian atrocities during its colonial rule of West Papua.