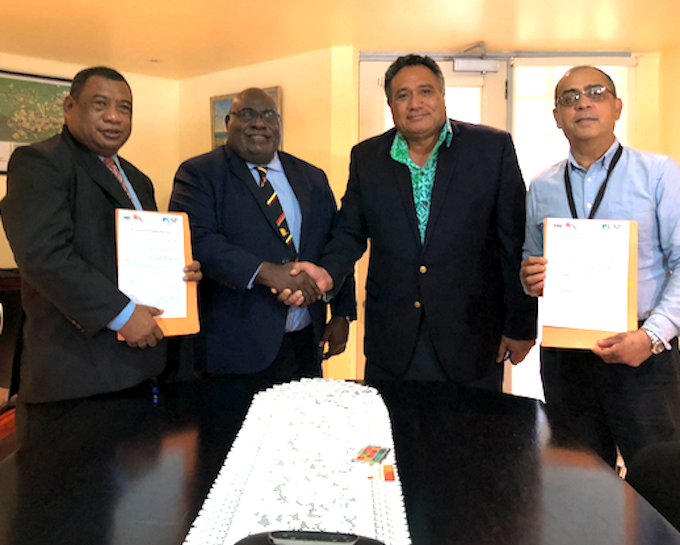 By Viliame Tawanakoro in Suva
The University of the South Pacific's regional journalism programme has penned three milestone Memorandums of Understanding that will usher in greater collaboration with media industry partners over student upskilling and training, joint workshops and seminars, and publication of the award-winning training newspaper Wansolwara.
Papua New Guinea's National Broadcasting Corporation (NBC) and the Pacific Islands News Association (PINA) have formalised three-year MOU partnerships with the region's longest running journalism programme at Laucala campus.
They were signed by NBC managing director Kora Nou and PINA managing editor Makereta Komai respectively.
The signing ceremony was witnessed by PNG's Minister for Communication and Information Technology Timothy Masiu — a former journalist — and USP's deputy vice-chancellor (regional campuses and global engagement) Dr Giulio Paunga.
"It is indeed history because we have never had such an MOU between this prestigious university and our National Broadcasting Corporation, which is a flagship of PNG," said  Masiu.
"The intention of this MOU is basically threefold — student training, staff exchanges and joint workshops, seminars, research activities. We are really looking forward to this; very interesting times ahead for NBC and your university."
To further strengthen the MOU, Masiu announced a F$10,000 funding support for the journalism programme through the PINA office. NBC's managing director is also current chair of PINA.
Masiu as a journalist
Masiu also shared his excitement and delight at being part of the signing ceremony and reminisced about his time as a broadcaster for NBC, and later a journalist for The National daily newspaper in Port Moresby.
Dr Paunga said the university was also currently working closely with the PNG government and the progress of this collaboration demonstrated great things to come between the two countries, its people and future students.
USP Journalism programme coordinator Associate Professor Shailendra Singh said the programme was doing some good work in journalism in Fiji and the region. He commended Komai and Nou for their cooperation and vision over the MOU.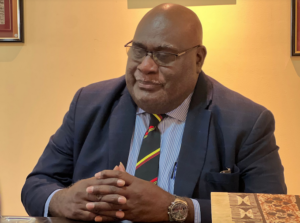 "The MOU we have signed is going to take the training and development of our journalists to another level," he said.
"We have been training journalists for a long time. Under this MOU, we will be able to decide our own agenda when it comes to training and research, instead of everything being designed from someplace else and us merely implementing it.
"We know PNG will be sending students to study at USP. Talks are underway and if that happens then there will be greater collaboration and interaction between students coming from PNG."
Dr Singh said USP had 12-member countries and PNG was set to become the 13th member if talks went according to plan.
Fiji Times partnership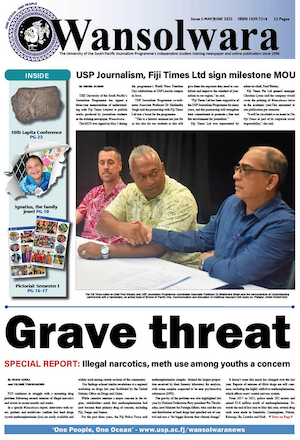 Earlier, on May 3 — World Press Freedom Day — USP Journalism signed the first MOU with Fiji Times Limited. The partnership includes, among other supportive initiatives, the publication of Wansolwara, twice a year.
The first Wansolwara edition for 2023 was published in The Sunday Times last week and featured 32 pages of news, sports and special reports written and produced by USP journalism students across Fiji and the region.
Dr Singh said the partnership with Fiji Times Ltd was also a boost for the programme.
"This is a historic moment, not just for us but also for our students, as this will give them the exposure they need to contribute and improve the standard of journalism in our region," he said.
"Fiji Times Ltd has been supportive of the USP Journalism Programme for many years, and this partnership will strengthen their commitment to promote a free and fair environment for journalists."
Fiji Times Pte Ltd general manager Christine Lyons said the company would cover the printing of Wansolwara twice in the academic year. This amounted to one publication per semester.
"It will be circulated as an insert in The Fiji Times as part of its corporate social responsibility," she said.
Fiji Times Ltd was represented by editor-in-chief Fred Wesley at the May MOU signing.
Viliame Tawanakoro is a final-year student journalist at USP's Laucala Campus. He is also the 2023 student editor for Wansolwara, USP Journalism's student training newspaper and online publication. Republished in a partnership between Asia Pacific Report and Wansolwara.