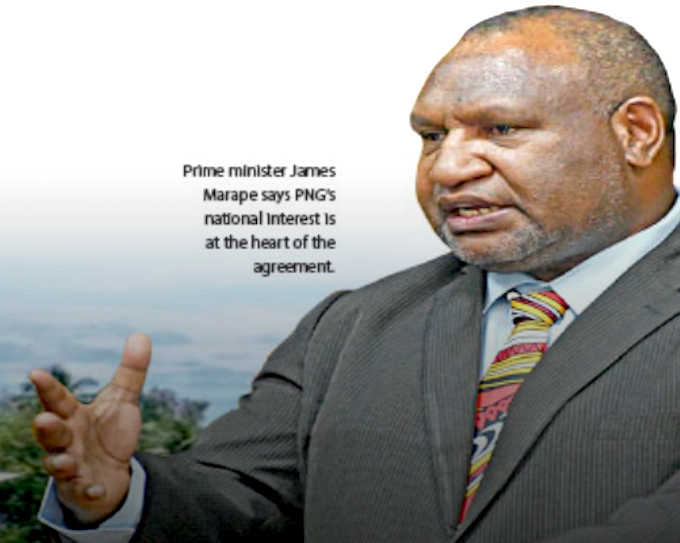 By Lawrence Fong and Gorethy Kenneth in Port Moresby
Papua New Guinea's Prime Minister James Marape is still confident of delivering the PNG-US Defence Cooperation Agreement despite the cancellation of US President Joe Biden's visit, and the leaking of a draft copy of the confidential document on Tuesday.
He said PNG's national interest was at the heart of the agreement, which was still expected to be signed on Monday in Port Moresby between himself and the US government leader or official who would step in for Biden.
Marape said yesterday the agreement that was leaked on Tuesday was still in draft format, and he would announce the finer details today following a cabinet meeting yesterday
By yesterday afternoon, the White House was still yet to confirm who would step in for Biden to visit Papua New Guinea.
Copies of the leaked agreement were circulated to PNG and regional media on Tuesday, with Radio New Zealand carrying it on its website the same afternoon.
Marape said the agreement would greatly boost PNG's defence capabilities and provide key infrastructure in strategic air and sea ports.
"There is a lot of misinformation in the news release. I will announce to the country the upsides of these agreements on Thursday [today]," Marape said told the Post-Courier.
Still in draft form
"The agreement was still in draft form and we will discuss it fully at our cabinet meeting later today [Wednesday].
"I want to inform all that PNG's national interest is the reason why we [are] elevating our traditional military relationship with USA to a higher and better level, including addressing the needs of our military, to upgrade and sea and airspace border protection."
Speaking to the Post-Courier separately on Tuesday, and without making any particular reference to the US-PNG Defence Cooperation Agreement, Chief of the PNG Defence Force Major-General Mark Goina said budget support to the military over the years had been unsatisfactory.
"Such agreements with our bilateral partners are crucial in helping plug the gaps," he said.
"We have devised plans where we have a budget put in place, in accordance to our needs, and based on that, we have identified where the gaps are, and that is where our partners are brought in, partners like Australia, New Zealand, US, China, India, UK and other partners we have relationships with.
"So they come and cover those gaps for us," General Goina said.
"That's how we have been addressing our budget shortfalls.
"And this will continue until such time, when we are able to meet our own needs satisfactorily."
Pact yet to be finaiised
The 14-page agreement, a copy of which was also seen by the Post-Courier, will be finalised by the end of this week for signing on Monday in Port Moresby.
When signed, the agreement will work in line with all previous defence agreements between the two countries.
The draft agreement, titled "Agreement on Defence Cooperation Between the Government of the United States of America And the government of the Independent State of Papua New Guinea', contains a total of 22 specific sections or articles, which deal with a broad range of issues.
The articles range from issues such as:
the status of US personnel who will pass through or be based in PNG military facilities;
access to and use of agreed facilities and areas covered in the agreement;
pre-positioning and storage of equipment, supplies and materials;
property ownership, security; entry and exit;
movement of aircraft, vehicles and vessels; importation, exportation and taxes;
driving and professional licenses;
contracting;
logistics support; medical and mortuary affairs, postal and recreational facilities and communications services; and
utilities and communications; and o
Strategic specifics
The specific areas and facilities covered under the agreement include the strategically-valuable Nadzab airport and Lae wharf, the Lombrum naval base and Momote airport in Manus, and the Port Moresby seaport and Jackson's International Airport.
Access to these strategic areas and facilities are covered in article five of the agreement, which states, in part, that: "The parties shall cooperate to facilitate the required approvals to enable unimpeded access to and use of the agreed facilities and areas to US Forces and US contractors as mutually agreed."
"Such agreed facilities and areas may be used for mutually agreed activities including visits, training, exercises, manoeuvres, transit, support and related activities, refueling of aircraft . ." and others.
There were fears that the agreement would undermine PNG's sovereignty, even though many similar agreements exist between the US and its allies around the world and the Indo-Pacific region — countries which still enjoy their freedoms and sovereignty.
Lawrence Fong and Gorethy Kenneth are PNG Post-Courier reporters. Republished with permission.