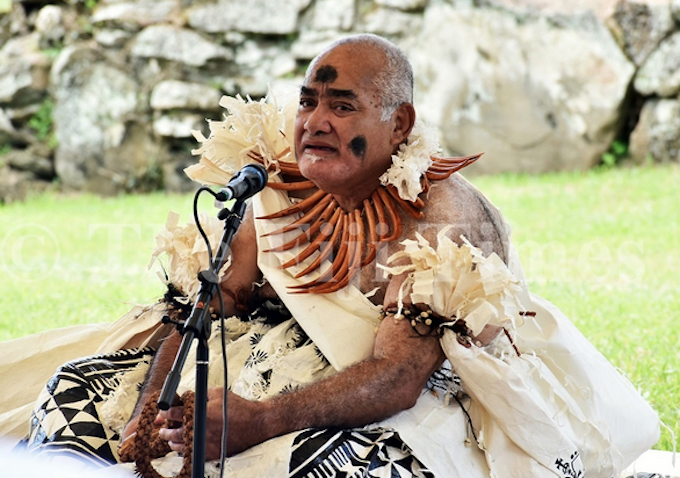 By Arieta Vakasukawaqa in Suva
The installation of the Turaga Bale na Vunivalu Na Tui Kaba, Ratu Epenisa Cakobau, clearly indicates that Fiji's traditional chiefly system still has a strong footing and chiefs still command respect among the country's citizens.
This is the view of Dr Paul Geraghty, the University of the South Pacific's associate professor of linguistics.
Dr Geraghty said even though the previous government had downplayed the role of chiefs, the population at large did not belittle their roles in society.
"Although Ratu Epenisa has been the de facto Vunivalu for a number of years, this confirmation by the vanua is important not only for ethnic Fijians, but also as the late National Federation Party leader, Jai Ram Reddy, pointed out to the Bose Levu Vakaturaga, for all races for whom Fiji is home," he said.
"It is confirmation that the traditional chiefly system, though viewed by some as anachronistic, still has a place in Fiji society, and that chiefs still command respect among all citizens of Fiji."
Dr Geraghty explained that the recent traditional installation was also met with approval by most segments of society and this was a solemn occasion worth celebrating.
He said given that those who had opposed Ratu Epenisa had passed on, he was the oldest available candidate and one who knew Bau and its people well.
On the chiefly island of Bau, the chief herald, Ratu Aisea Jack Komaitai said the first Great Council of Chiefs (GCC) meeting would be held on the island on May 24-25.
Meanwhile, iTaukei Affairs Minister Ifereimi Vasu said the installation of Ratu Epenisa was significant to the reinstatement of the GCC.
Arieta Vakasukawaqa is a Fiji Times reporter. Additional reporting by Elena Vucukula. Republished with permission.
🧵
'I kept my promise'

Watching the pomp and pageantry of the installation of the Turaga Bale na Vunivalu, na Tui Kaba on Friday took me back some 42 years. pic.twitter.com/1jWm7nbih4

— Sitiveni Rabuka (@slrabuka) March 12, 2023