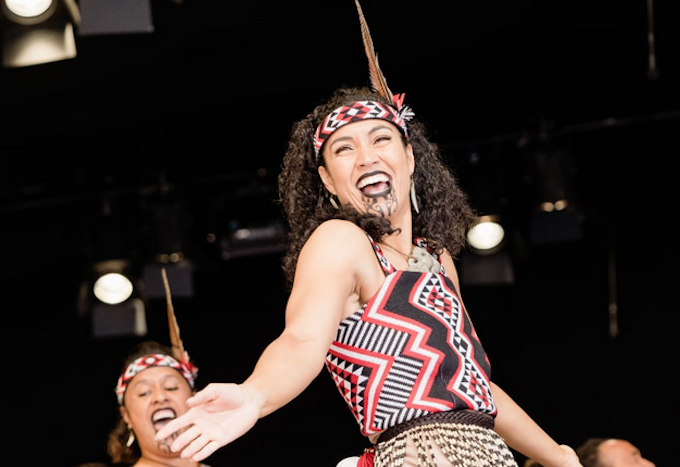 Te Kapa Haka o Te Whānau-a-Apanui from Mātaatua have been crowned Te Matatini champions for the third time in Aotearoa New Zealand.
Ngāti Whakaue from Te Arawa and Whangara Mai Tawhiti from Te Tai Rāwhiti came second equal in front of a crowd of at least 18,000 at Ngā Ana Wai/Eden Park this afternoon.
The top 12 roopu who performed over the first three days competed on Saturday, trying again to impress the judges with their original compositions.
Eventual winners Te Whānau-a-Apanui were the last group to perform yesterday after a lengthy delay because of rain, and they then had to repeat their performance today.
Manukura tāne Tamati Waaka said it made their challenge for the title of Toa Whakaihuwaka much harder.
"We were timing to perform at 5 in terms of food, nutrition, energy, water, all those things.
"And when we got here we were ready and it ended up being an hour and a half later, so we had to stay up for that long of a time then go home and sleep and back into it again."
Confident of win
Waaka said the roopu were confident they would win but worried they would go over time, which means losing points.
"Afterwards [they said], yeah we're gonna win, [but] because I talked for too long they go, 'we better not go over time because of you'.
"So we were all quite nervous because our time was right on the limit, because there's no stopwatches, no times, no clock, you just got to hope, hope you don't talk too long in my case."
Taking to the stage on Saturday included three groups who reached the national finals for the first time: Angitu, Te Hekenga ā Rangi and Te Kapa Haka o Ngāti Whakaue, who went on to place second.
The 2019 champions, Ngā Tumanako from Tāmaki Makaurau, made the final 12, but fell short of the top three.
Hailing from the region around Omaio, Te Kaha and East Cape, Te Whānau-a-Apanui previously won in 2005 and 2015.
Ngāti Whātua Ōrākei has also handed the mauri of the competition to Taranaki, who will host the next festival in 2025.
This article is republished under a community partnership agreement with RNZ.