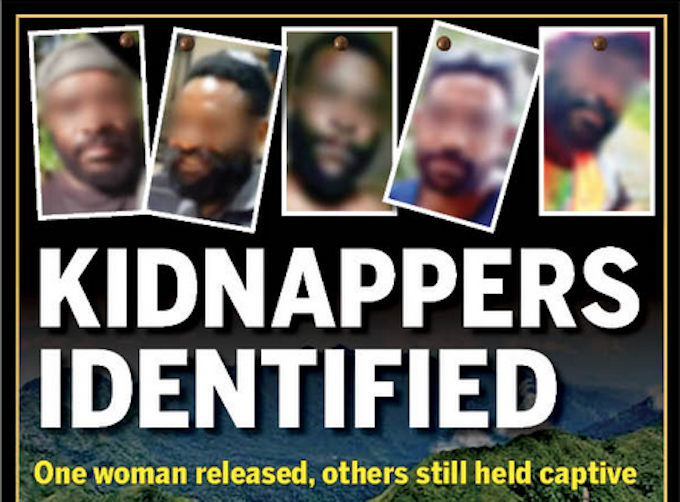 As day five dawned in Papua New Guinea's kidnapping drama, the family of one of the four hostages captives — one of three women held in the Bosavi mountains, Southern Highlands province — was relieved she was set free yesterday afternoon.
The Post-Courier was reliably informed of the release by the gunmen, with Police Commissioner David Manning confirming the news.
"The release of one female Papua New Guinean captive is a positive outcome, and negotiations continue for the safe release of the remaining two female Papua New Guineans and the male New Zealand citizen," Commissioner Manning said.
"From the information that we have received, the remaining three captives are in reasonable health, though [they] are being held in difficult terrain.
"We are continuing to work to strengthen lines of communication, which remains a challenging aspect of this operation.
"I will not go into deeper details at this point as this is an ongoing operation. The priority for police is to resolve this situation and return the remaining captives safely to their families.
"Negotiations are being undertaken with care so as to seek a peaceful resolution and minimise an escalation of tensions."
Ten accused identified
Ten men from five clans in Komo LLG, Hela province, have been identified as the alleged kidnappers of the Australian-based New Zealand researcher and the three PNG women.
The Post-Courier understands that the men are from the clans of Pina, Hetaruku, Pi, Alo, Taburuma, and Hambuali.
Replying to questions raised by the Post-Courier, Commissioner Manning said: "We are working to negotiate an outcome.
"We are satisfied with the amount of information that we are receiving, pointing us to the area where they are kept and the identity of their captors," he said.
"It is our intent to ensure the safe release of all and their safe return to their families. However, we also have contingencies if negotiations fail.
"At the end of the day, we are dealing with a criminal gang with no other established motive but greed.
"It is in everyone's interest to ensure [that] we progress this effort as responsibly and safely as possible.
We have taken into consideration all factors and possible outcomes, we remain committed to ensuring a successful outcome.
"That being said, the group behind this abduction are aware that any harm coming to the people they are holding captive will be met with a swift security response.
"As one of the captives is a New Zealand citizen with Australian residency, the High Commissions of both countries continue to be briefed on the situation."
Republished from the PNG Post-Courier with permission.