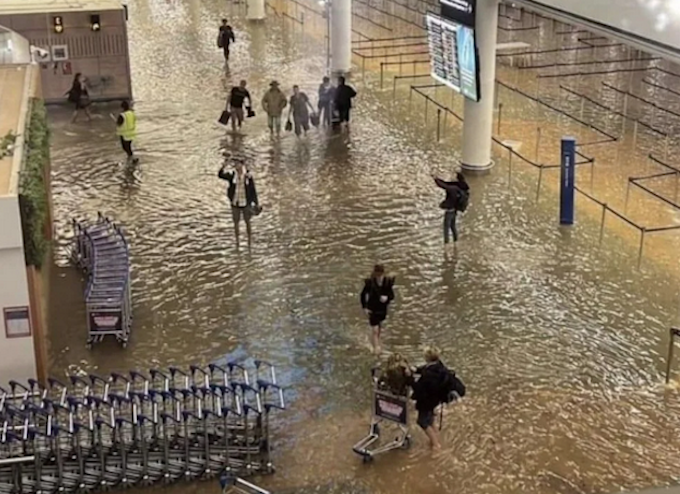 Three people are dead and at least one person is missing following the flooding overnight in Auckland, New Zealand's largest city.
About 1000 people were still stranded today after Auckland Airport was closed last night because of flooding of the arrival and departure foyers. Flights were cancelled for the morning but domestic flights resumed in the afternoon.
Police responded to a call after a man was found dead in a flooded culvert in Wairau Valley, about 7.30pm last night.
The spokesperson said police were called to a flooded carpark on Link Drive, also in Wairau Valley, after a report of another man found dead about 12.30am on Saturday.
Inquiries into the circumstances of both deaths were ongoing, police said.
Police are also investigating reports of a man having been swept away by floodwaters in Onewhero shortly after 10pm on Friday.
A search and rescue team will deploy today to search for the missing man.
Landslide brings down house
Emergency services also responded to a landslide that brought down a house on Shore Road, Remuera about half past seven. One person remains unaccounted for and the property will be assessed this morning.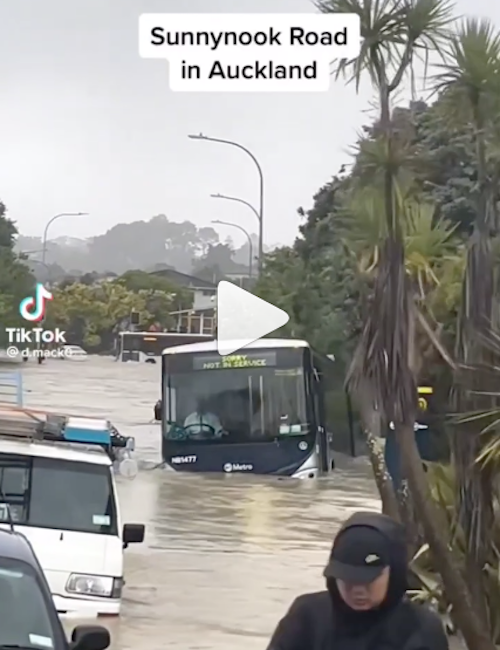 Police continue to urge people to stay home and not drive unless absolutely necessary today.
Police said they were continuing to respond to a high number of calls after the severe weather.
Auckland mayor Wayne Brown said staff would today be assessing what damage had occurred and what steps needed to be taken next.
He declared a state of emergency last night that will remain in force for seven days.
Unprecedented flooding
Prime Minister Chris Hipkins said the flooding in Auckland was an unprecedented event.
Hipkins said more should been known in a few hours about how bad the damage was after a day of torrential flooding.
He was with a team at the Beehive bunker overnight, talking to the teams coordinating the response in Auckland.
Hipkins said it was difficult to get information about what is going on but up to 1000 people were still stranded at Auckland airport, and right across the region there were many people just simply stuck somewhere where they would not normally be early on a Saturday morning — including in their car, or at a business.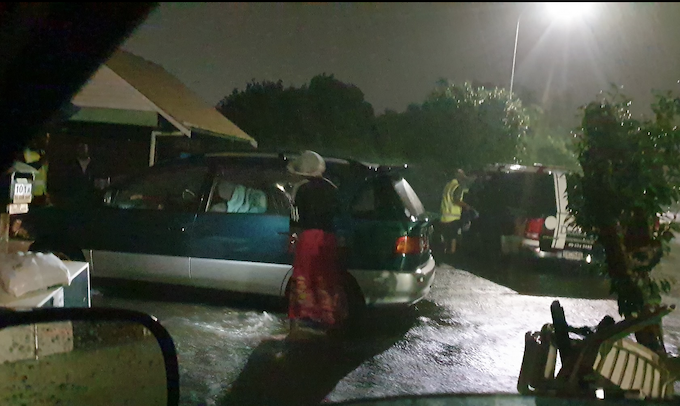 MetService said the airport had smashed its all-time record for rainfall in a single 24-hour period — recording 249mm yesterday, beating the previous record set nearly four decades in 1985 — 161.8mm.
This article is republished under a community partnership agreement with RNZ.
Record breaking rain in Auckland. Although the heavy band of rain has moved off to the east there is still a change of showers so the total for rainfall could climb even higher. The impacts of the last 24 hours will be felt by many in Auckland for a long time. Take care out there pic.twitter.com/kiIm6Tsrro

— MetService (@MetService) January 27, 2023