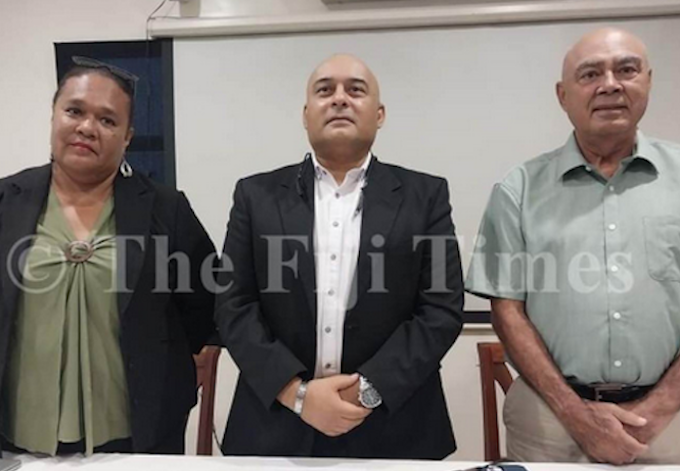 By Meri Radinibaravi in Suva
Freelance columnist and businessman Ajay Bhai Amrit is the new chair of the Fiji Broadcasting Corporation (FBC) board — and he has taken on the job with a symbolic director's fee of just $1 a year.
His appointment came after the resignation of all former FBC board members on January 11.
"Our appointments are for three years, and our specific role is to effectively represent and promote the interests of the shareholders," Amrit said.
"The shareholders, of course, are the people of Fiji."
The newly appointed board members are career banker Cecil Browne and lawyers Hemendra Nagin and Mereoni Duaibe. More will be appointed soon.
$11m grant questioned
Amrit said the board wanted to know how the national broadcaster spends the annual $11 million grant that it receives from the government.
He said $11 million was a lot of money and worked out to a spending of almost $1 million a month.
He said the board had asked FBC chief executive officer Riyaz Sayed-Khaiyum and the management to provide information that would shed light on the company's financial situation.
"What it's being used for, we need to break it down," Amrit said.
The scrutiny of FBC's books was aligned to Prime Minister Sitiveni Rabuka's call for an audit and investigation into the operations of the government as well as its statutory bodies.
"The PM has said that there will be audits and investigations into more than one organisation, whether it be statutory or not, within the government's sphere — so that's number one," he said
"Number two is that we welcome an audit to see what the situation is and once that audit is done then we will be in a better position to make decisions going forward.
"We are working through a process and we're working within the law."
He said the board wanted to understand FBC's business model and how public funds allocated were being used.
Meri Radinibaravi is a Fiji Times reporter. Republished with permission.