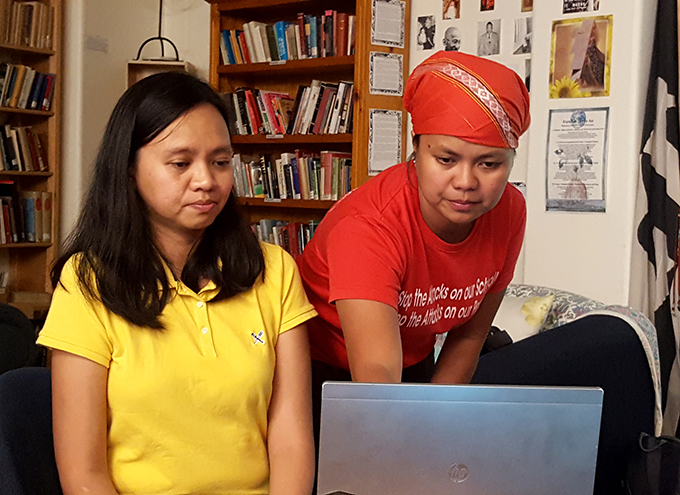 Asia Pacific Report newsdesk
Justice and peace advocates in New Zealand have strongly criticised Philippine President Rodrigo Duterte's "horrific crackdown" on community leaders, activists, and educators.
They have condemned in a statement published in Manila yesterday the arrest last September of Filipina educator and poet Lorena Sigua on a "trumped-up murder charge".
The advocates of the Auckland Philippiness Solidarity (APS) say Sigua, who is also a community activist, had recently returned from a visit to New Zealand and was not in Mindanao at the time of the alleged killing of Filipino soldiers on 22 April 2018.
The campaigners say the crackdown is "reminiscent of [Duterte's] infamous war on drugs".
Writing in a letter to the editor of the Philippine Daily Inquirer newspaper, Helen Te Hira of APS, said: "It is outrageous that thousands have been unjustly arrested and brutally killed under Duterte's drug war and war against community activists.
"Meanwhile those who are rich and close to power such as Kerwin Espinosa, a self-confessed drug dealer, will soon be free after the court dismissed drug trafficking charges against him.
"New Zealand indigenous rights advocates and community leaders were shocked to hear of the arrest of Lorena Sigua, a Filipino educator, poet, and community advocate on a trumped-up murder charge.
"Lorena was arrested on September 19, 2021, in Bulacan, Northern Luzon, and charged with murder for allegedly taking part in an attack by the New People's Army [NPA] on members of the Armed Forces of the Philippines [AFP] on April 22, 2018, in Agusan del Sur, Mindanao.
Not in Mindanao
"But in fact, she was not in Mindanao at this time. Lorena returned to Manila after arriving back from New Zealand on April 6, 2018, and on the day of the alleged murder she was attending the indigenous festival "Cordillera Day" in Baguio, 1413 kilometers from Agusan."
In 2018, Sigua took part in a speaking tour in Aotearoa New Zealand to discuss the situation of indigenous Lumad schools in Mindanao, Philippines.

Sigua spoke out strongly to New Zealand audiences in defence of the Lumad schools during her visit.
She met members of Parliament, representatives from the NZ Ministry of Foreign Affairs and Trade (MFAT), human rights advocates, members of the local Filipino community, Māori leaders, and students and staff at kohanga reo and kura kaupapa Māori and tertiary wānanga.
Te Hira wrote that kohanga reo and kura kaupapa Māori students and staff "enjoyed a rich dialogue with Lorena and the delegation as they exchanged experiences around the strategies that Māori and indigenous communities have adopted to build a national movement for language and cultural revitalisation".
"We were particularly disturbed to learn of the routine harassment and state violence that our Lumad counterparts face for attempting to educate children in indigenous ways," she said.
Te Hira described Sigua as a volunteer with the Education Development Institute in developing curriculum, books, and resources for Lumad schools in Mindanao.
Sigua was also a volunteer for students at the Lumad Bakwit School at the University of the Philippines Los Baños, a school set up for young people forced to leave their ancestral lands due to militarisation and human rights violations.
"Lorena's bravery and commitment to quality education for indigenous communities resonate with the struggles of our people in the kura kaupapa movement," Te Hira wrote.
"We call for immediate freedom for Lorena and all political prisoners who have been slapped with trumped-up charges."