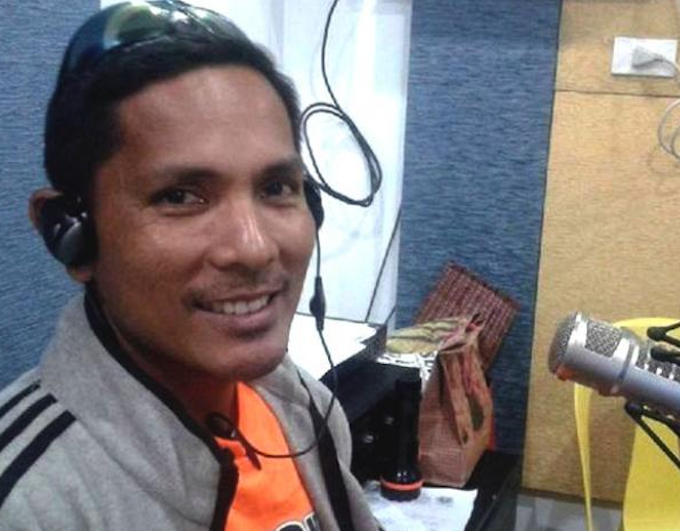 Reporters Without Borders (RSF) has urged the Philippine authorities to appoint a special independent team to investigate yesterday's "shocking murder" of an investigative radio journalist with a reputation for covering corruption.
He was gunned down by two men on a motorcycle in Dumaguete City, the capital of the central province of Negros Oriental, reports RSF.
Cornelio Pepino, known to his listeners as Rex Cornelio, was shot five times at close range at around 8.30 pm as he was driving home after presenting his programme Pokpokin Mo Baby! (Hit it baby!) on dyMD Energy FM 93.7. He died on the spot.
READ MORE: Top Philippines TV network told to close under Duterte pressure
Lieutenant Allen June Germondo, the police office in charge of the investigation, said he was examining the hypothesis that Pepino was killed in connection with his journalism.
As well as being a well-known radio show host, Pepino had a solid reputation as an investigative reporter in Negros Oriental.
He had exposed several cases of corruption, bribery and illegal mining. Negros Oriental governor Roel Degamo sued him for defamation in 2014, but he was finally acquitted in 2017.
"There is every reason to suspect that Cornelio Pepino was deliberately silenced because people were annoyed by his journalism," said Daniel Bastard, the head of RSF's Asia-Pacific desk.
"We urge the Presidential Task Force on Media Security to take charge of the investigation and to appoint an independent team to carry it out. The vicious cycle of crimes of violence against journalists and impunity must stop."
16 journalists slain
Two other radio journalists have been gunned down in a similar manner by hitmen on motorcycles in the past two years in Dumaguete City. One was Dindo Generoso, a radio commentator who criticised a popular local form of gambling and the associated corruption.
He was shot eight times last November.
The other was Edmund Sestoso, who was shot in May 2018. He was well known for explaining local political conflicts in Negros Oriental.
The current Philippine administration boasts of having created a Presidential Task Force on Media Security as soon as Rodrigo Duterte became president in 2016. Nonetheless, if confirmed, Pepino will be the 16th journalist to have been killed in connection with their work since then.
Pepino was slain on the same day that the National Telecommunications Commission ordered the country's biggest TV and radio network, ABS-CBN, to stop operating with immediate effect.
ABS-CBN's TV channels and radio stations did indeed stop broadcasting yesterday evening.
The Philippines is ranked 136th out of 180 countries in RSF's 2020 World Press Freedom Index, two places lower than in 2019.