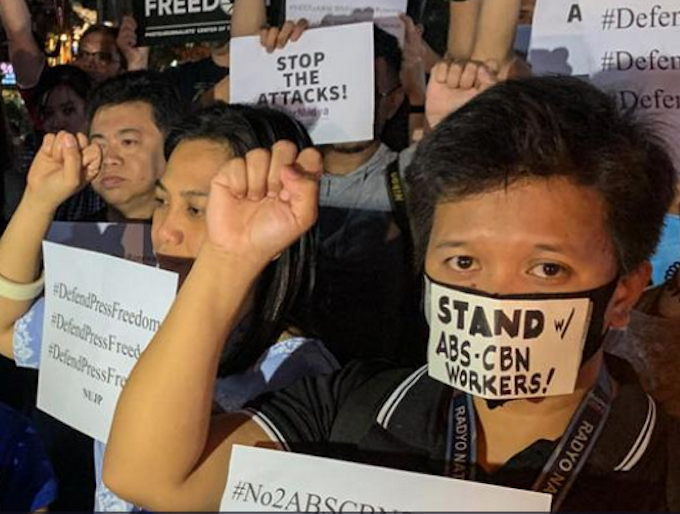 By Filipe F. Salvosa II in Manila
The National Telecommunications Commission (NTC) today issued a cease-and-desist order against ABS-CBN Corporation, the major television broadcaster in the Philippines, after its 25-year broadcast franchise expired on May 4.
The shutdown order, coming down amid the covid-19 coronavirus pandemic, places in danger some 11,000 jobs in the country's biggest media network.
"Upon the expiration of RA (Republic Act) 7966 (ABS-CBN franchise), ABS-CBN Corporation no longer has a valid and subsisting congressional franchise," the NTC order said.
READ MORE: RSF warns shutdown order a 'fatal blow' against media freedom if carried out
It said ABS-CBN should "immediately" shut down five AM radio stations, 18 FM radio stations, 42 TV stations, and 10 digital terrestrial television broadcasting stations "for implementation," and comment within 10 days why its broadcast frequencies should not be pulled.
ABS-CBN said it would comply with the NTC order and shut down at 7 pm. The ABS-CBN News channel said it would continue brioadcasts as it was not covered by the NTC order.
On Sunday, Solicitor-General Jose Calida, an appointee of President Rodrigo Duterte, warned the NTC that it faced graft charges if it gave the Lopez-led ABS-CBN a provisional authority or temporary licence to operate.
The House Committee on Legislative Franchises had written to the NTC asking it to allow ABS-CBN to operate beyond the expiry date of its licence, while Congress deliberated on a new franchise.
Temporary licence expected
On March 10, the NTC assured the House panel that it would grant ABS-CBN a temporary licence, as this was the practice in the case of broadcast companies whose applications for franchise remained pending before lawmakers.
In February, Calida had asked the Supreme Court to void ABS-CBN's franchise, citing supposed violations such as skirting the constitutional ban on foreign equity.
Duterte denies Calida was doing his bidding but in the past had threatened to shut down the network over an election ad dispute and critical news coverage.
Senators Franklin Drilon and Francis Pangilinan condemned the NTC's action and urged ABS-CBN to seek redress from the Supreme Court.
Albay Republican Edcel Lagman said the exchanges between NTC and lawmakers in March seemed to be a charade and that the ultimate goal was to close ABS-CBN.
"I have explained this over and over again that the provisional authority is not the solution," he told the ABS-CBN News channel.
Lagman said ABS-CBN's shutdown was the "death knell" to freedom of the press and doomed the livelihoods of thousands of workers.
But not all is lost as Congress has resumed sessions and could tackle the ABS-CBN franchise, he said.
Felipe F. Salvosa is coordinator of the journalism programme at the University of Santo Tomas in the Philippines and publishes the independent news blog PressOne. He is also a contributor to Asia Pacific Report.