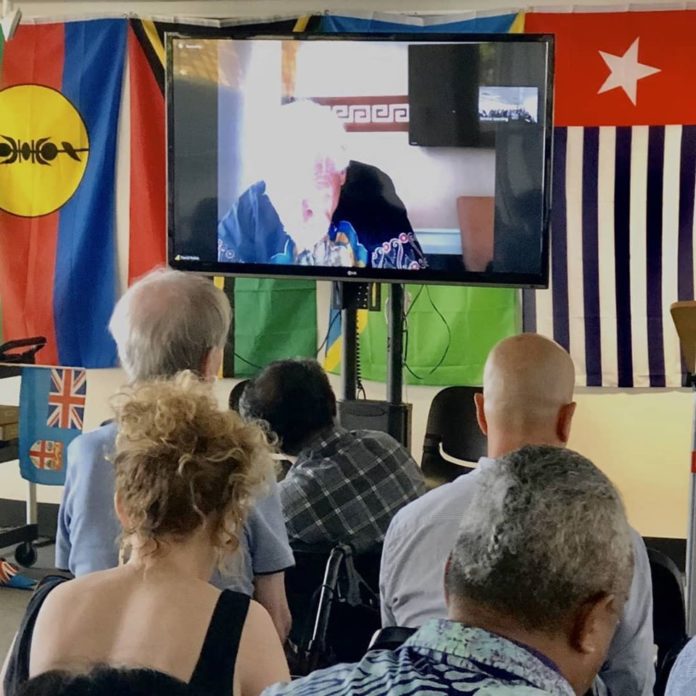 SPECIAL REPORT: By Philip Cass in Brisbane
Melanesia Media Freedom Forum – Day One:
The problems of operating in the Pacific and the impact of online news and the emergence of "citizen journalists" were common concerns for all delegates to this week's Melanesian Media Freedom Forum.
The forum, held at Griffith University's South Bank campus in Brisbane, drew professional and academic delegates from Papua New Guinea, Solomon Islands, Vanuatu, Fiji and West Papua.
During the opening session on Monday, Fred Wesley from the Fiji Times talked about the problems of operating under the Fiji media Act, particularly the provisions which imposed heavy fines and possible prison sentences on individual members of staff as well as the company.
He said he paper had to second guess every day, but was trying to push the boundaries back where it could.
He said The Fiji Times needed to strengthen its online team and be extra vigilant. The Times now needed to be an instant newspaper that operated across several platforms.
Victor Mambor from Tabloid Jubi talked about the pressures of operating in West Papua and the realities of racism, beatings and constant threats and intimidation from Indonesian security forces.
He told the forum he had had a gun held to his head in front of his wife by Indonesian security forces.
He said a growing problem was online provocations from people spreading distorted versions of events.
When the Indonesian government didn't like the news it simply shut down the internet in West Papua. It also used the online media to spread false stories and make claims that West Papua was not part of Melanesia.
It also tried to control reporting of what was happening so that people were unaware, for instance, of shootings in Jayapura.
He said anybody could become a member of the Indonesian Online Media association for the equivalent of $5. He said it 400,000 members but only 1000 sources.
Georgina Kekea from the Media Association of Solomon Islands (MASI) said the media in Solomon Islands had played a role in promoting peace during the ethnic crisis and still had a role to play in promoting peace and development.
There was a need to produce positive stories while still holding the government accountable.
She said there needed to be a way of properly defining and regulating who was a journalist.
She cited a recent example of a government delegation to China which was allocated two spots for journalists, only one of which was filled by an actual journalist. She expressed scepticism about the notion of 'citizen journalism.'
She said people should not be able claim they were journalists without some method of properly accrediting them.
She suggested this could be done through organisations such as MASI.
Sean Dorney
Melenesian authorities did not want journalists to do their job properly and things were getting worse, Sean Dorney told delegates to this week's Melanesian Media Freedom Forum.
Dorney, who is regarded by many as the journalist emeritus of Pacific reporting, told delegates they were at the forefront of upholding democracy in Melanesia.
"Keep the fires burning," he said.
Dorney, who was accompanied by his wife Pauline, herself a former broadcaster, said recent events in Kiribati with a 60 Minutes crew were an example.
He said that despite the version of events that had been circulated the Australian team had done everything it could to ensure it had the proper approvals but were still put under house arrest.
He said the Vanuatu government's expulsion of Daily Post media director Dan McGarry, who was at the forum, was an example of the same problems occurring in Melanesia.
Dorney said the best option under such circumstances was for members of the media to stick together.
"We don't have lots of friends in governments," he said.
"We have to keep up the good fight and keep in touch with each other."
The work of the media was essential in keeping democracy alive.
"I have nothing but admiration for anybody working in the media in the region," Dorney said.
Meg Taylor
The future of many Island states was not guaranteed, Secretary General of the Pacific Islands Forum Dame Meg Taylor told an audience at Griffith University's South Bank campus on Monday night.
Dame Meg said climate change was the biggest threat to the Pacific.
"We live in unprecedented times of change which will test our abilities to respond," she said.
"Decisions made now will affect what happens for decades to come."
However, the islands faced other challenges, such as increasing militarism and Dame Meg expressed concern about the spectre of new or reactivated naval bases in the region.
(China has reportedly expressed interested in establishing a naval base in Vanuatu, which has prompted Australia and the United states to consider re-activating the Royal Australian Navy base on Manus in Papua New Guinea – ed)
In her speech, dame Meg, who is nearing the end of her second term in office, said the Forum's concept of forging a Blue Pacific identity was challenged by climate change and the need to defend and define the borders of its member states.
She was politely scathing of a remark by US Secretary of State Mike Pompeo who, she said, had referred to the Pacific as empty space.
Dame Meg said the Blue Pacific concept was based round control of the islands resources, ownership of the ocean resources, fighting climate change and creating a new era of autonomy.
While individual island economies were vulnerable and based largely on fishing and tourism, acting collectively the islands would be in a better position.
She said there was an urgent need to invest in small scale resilience projects and opportunities in the face of climate change.
She said it was necessary to weight up the cost of such projects against the cost of the effects of climate change.
Dr Philip Cass is acting editor of the Pacific Media Centre's Pacific Journalism Review, one of the sponsors of the Melanesian Media Freedom Forum inaugural conference at Griffith University in Brisbane. Part two of his report is here.