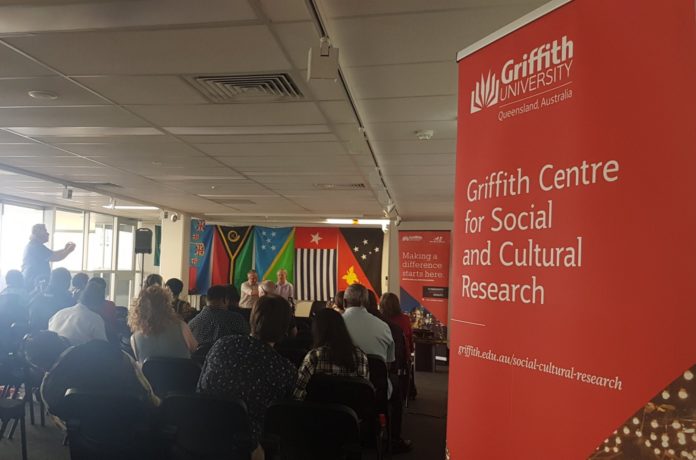 SPECIAL REPORT: By Philip Cass in Brisbane
Melanesian Media Freedom Forum – Day two: The second day of the Melanesian Media Freedom Forum began with praise for the work of young Pacific journalists by Professor David Robie and ended with a warning that threats to journalism in the region were increasing.
In between forum delegates heard about the continued problems of female journalists, who continue to be under-represented at senior levels, and debated ways in which international organisations could help.
Many of the discussions took on a strong human rights theme and delegates were reminded that Article 19 of the United Nations' International Declaration on Human Rights states that "Everyone has the right to freedom of opinion and expression; this right includes freedom to hold opinions without interference and to seek, receive and impart information and ideas through any media and regardless of frontiers."
Professor Robie, who is head of the Pacific Media Centre at Auckland University of Technology and editor of the highly respected Pacific Journalism Review, presented to the forum from Indonesia.
He also gave the pre-conference keynote address on October 28.
In a wide-ranging talk, Professor Robie spoke to delegates about some of the most serious issues facing journalists in Melanesia, including climate change and the independence struggle in West Papua.
Professor Robie has long been a trenchant critic of the way the West Papuan struggle has been almost completely  ignored  by the mainstream press in Australia and New Zealand.
He praised the work of younger journalists and students in exposing the dangers of climate change in the Pacific and screened excerpts from two student films during his talk.
After the opening session, delegates discussed where and how media workers in Melanesia could look for support from larger global organisations.
A special session on the experiences of women journalists took place later in the  morning, with women journalists, editors and free lancers speaking about common problems.
These included demands that they show "respect" for men they are interviewing, a  background of violence against women in many places and traditional notions of gender roles.
Statements  by conference delegates
Melanesian journalists face growing levels of political and legal threats, physical assaults, illegal detention and intimidation.
In a statement released after the conference, media delegates to the forum said the range and scope of threats was increasing, with prosecutions, restrictive legislation, online abuse and racism between ethnic groups a growing issue.
Female journalists faced the threat of violence both on the job and within their own homes.
The statement said threats to media freedom were having professional, personal and health affects on journalists across Melanesia.
The situation in West Papua was of particular concern with attacks on journalists resulting in deaths and injuries.
The unwillingness of politicians and officials to engage in dialogue was undermining the media's accountability role.
Public figures were becoming more resistant to responding to direct questions from media, choosing instead to issue media releases, or statements on social media or to preferred media outlets.
In addition to undermining the crucial accountability role of the media, this placed broadcast media (which requires actuality) at a disadvantage.
In the statement, media delegates said the ability of journalists to exercise their professional skills without fear was critical to the functioning of Meleanesia's democracies.
There needed to be a better understanding of the role of journalism in Melanesian democracies.
The issue of social media and fake news, which had been a feature of discussion on day one, was reflected in the statement, which said the media was ready to work with all parties that wanted to improve the social medialandscape.
"There is an urgent need to for the media to assert its role as a source of accurate and impartial information and to play a role in building social media literacy and public understanding of how to identify credible sources of information," the statement said.
"The global decline of democracy is making it easier for our governments to silence the media. It is expected this will become a bigger challenge in the future if it is not addressed, as national leaders, media organisations and journalists come under pressure and misinformation campaigns continue.
"Misinformation, propaganda and fake news are a growing problem: there is widespread concern around misinformation and offensive material being posted on social media platforms, sometimes by anonymous sources, some of them state and politically-partisan actors.
"The media's role as an antidote, and as a balancing source of verified information is under-recognised and under-supported."
Solidarity
Academics at the forum read out a draft statement expressing solidarity with media workers in Melanesia in their struggle for freedom of expression, security and professional recognition.
The academic statement cited Article 19 of the United Nations' International Declaration on Human Rights, but also the United Nations' 2030 development goals, particularly those designed to strengthen peace, justice and strong institutions; climate action; reduce inequalities; and gender equality.
Academic delegates to the forum called for journalists  working in Melanesia and across the Pacific, to be guaranteed the following  basic rights as professional communicators:
Freedom of expression

Freedom from physical abuse, threats or intimidation in pursuit of their work

Recognition of their status as professional communicators

Security of digital communication

Equality for all media workers in terms of their professional standing, regardless of gender.

Recognition and protection under law of these rights.
Pacific Journalism Review
Pacific Journalism Review, which is produced through the Pacific Media Centre at Auckland University of Technology, will produce a special edition based around the main themes of the forum in 2020.
It will be edited by Dr Kasun Ubayasiri of Griffith University, Professor Robie and Dr Philip Cass.
Papers can include:
The politics of press freedom in Melanesia.

The intersection between custom and indigenous knowledge in contemporary Fourth Estate practice.

Gender and identity in Melanesian journalism.

Human rights journalism in Melanesia.

Reporting climate change and human migration.

Circumventing censorship and restrictions to free and fair publication

Legal safeguards to press freedom.
Related topics that will be considered include social justice, human rights and environmental and climate change reporting in the Melanesian media. The journal also publishes an unthemed section and other papers related to journalism studies, and journalism education, theory and practice will also be considered by the editors.
The deadline for submissions is February 20, 2020.
Dr Philip Cass is acting editor of the Pacific Media Centre's Pacific Journalism Review, one of the sponsors of the Melanesian Media Freedom Forum inaugural conference at Griffith University in Brisbane. Part one of his report is here.