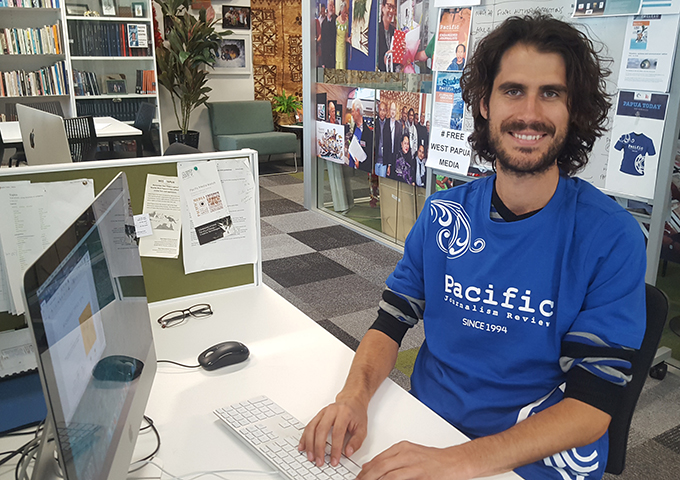 By Sri Krishnamurthi
The 2019 Pacific Media Watch contributing editor has been selected for a 6-week journalism practicum in Jakarta, Indonesia.
Michael Andrew was one of two New Zealand candidates selected for the Australian Consortium for 'In-Country' Indonesian Studies Journalism Professional Practicum (ACICIS), which will see him living in one of Asia's largest cities and reporting on local and regional issues.
"I'm very grateful to have been selected," Andrew said.
WATCH: Pacific Media Watch – the Genesis documentary
"I've covered Indonesia quite a bit with PMW. It seems to be such a chaotic melting pot of cultures, ideologies and politics – an exciting place for a journalist to work."
Andrew is one of two New Zealand journalism students funded on the programme by the Asia New Zealand Foundation Te Whītau Tūhono. The other is Katie Harris, who has just completed her studies at the University of Canterbury.
The Asia New Zealand Foundation has been funding New Zealand journalism students and graduates to participate in ACICIS JPP for more than a decade. The Foundation has supported more than 30 participants on the programme since it first began its involvement in 2008.
Asia New Zealand Director of Communications and Media Rebecca Inoue-Palmer said the Foundation continued to support the programme because participants have given it highly positive feedback over the years.
"It's unique in combining two weeks of language and culture training with a four-week newsroom placement, which really helps increase understanding about Indonesia and gives the students the confidence to engage.
"Many of the ACICIS participants have gone on to fantastic roles in New Zealand newsrooms, and we tend to find that they maintain an interest in Indonesia throughout their careers. Quite a few have used our media travel grants to return to Indonesia for further reporting."
The ACICIS JPP is part of the Foundation's broader media programme, which has been supporting New Zealand journalists to gain knowledge and understanding of Asia and report on developments in the region for 25 years.
"We have made this long-term investment in New Zealand journalists because we know from our research that New Zealanders get much of their information about Asia from our media," Inoue-Palmer said.
Founded in 1994, the Asia New Zealand Foundation is a non-profit, non-partisan organisation that runs a range of programmes designed to equip New Zealanders to thrive in Asia.
Pacific Media Centre director David Robie congratulated Michael Andrew on being selected, saying it was a reward for excellent work as a young journalist and carried on "a fine tradition of PMC students earning a place on the practicum."