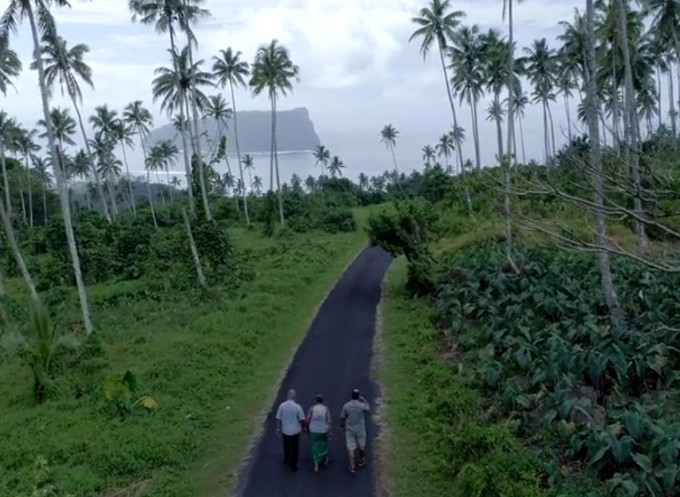 By Michael Andrew and Sri Krishnamurthi
The true story of one of the Pacific's great waka builders and sailors has been captured in a stirring and visually gripping documentary.
Loimata: The Sweetest Tears follows the final years of Ema Siope, a Samoan-born Kiwi who endured a tumultuous past to reconnect with her roots across the Pacific by mastering the seafaring traditions of her ancestors.
Six-feet tall and immensely strong, Siope was one of the few woman in the world who could captain and build an ocean going waka hourua – a traditional twin-hulled sailing canoe in which she completed many ocean voyages.
READ MORE: Indigenous Pacific knowledge to help save the ocean
WATCH: Loimata crowd funding video on Vimeo
Siope passed away in August this year, several years after she was diagnosed with cancer. The film starts at the time of diagnosis, following her to the rural New Zealand town of Taihape, where her parents migrated in the 1960s and then to Samoa to heal old wounds in her family's past.
Directed by close friend Anna Marbrook, the initially self-funded film has received support from private donors, NZ On Air, and Māori Television.
However, in order to complete and screen the film in the next six months, a crowd funding campaign has been launched to raise the necessary funds.
Marbrook's brother and co-producer, AUT screen production senior lecturer Jim Marbrook says the title of the film can be translated as "tears".
Tears of sadness
"The title of the film is Loimata: The Sweetest Tears. Because for all of us there's this idea that there are tears of sadness, sad moments, but also tears of reconnection," he says.
Reconnection is certainly a crucial theme of the film, which explores the distance and separation from culture so many in the Pacific diaspora experience after migrating to New Zealand.
"You know, you move from Samoa to New Zealand in the early 60s. So you're living that kind of world, it's disconnected from your Samoan culture, from where you grew up. And through that disconnection, Emma kind of lost her way a little bit," Jim Marbrook says.
After living rough on the streets, embroiled in drugs and substance abuse, Siope sought to reconnect with her native culture, eventually leading to her prodigious waka building and ocean voyages back home.
"Loimata also refers to a piece of land, family land," Jim Marbrook says.
"It's up in Savai'i, where Ema's family and her grandmother come from. So it's a very important part of the film, that return to Loimata."
Marbrook says it is much a story about Ema's unique qualities as it is about her personal journey.
Waka culture
"This is a story that has to be told because it's not only a story of reconnecting. It's a story of showing leadership qualities and joining this waka culture."
Eventually becoming a master craftswoman and mentor, Siope was initially schooled by waka-building legend Sir Hector Busby and taught to sail by Haunui captain Hoturoa Barclay-Kerr, both of whom are involved in the Tuia 250 Commemorations.
A characteristically discreet person who preferred the background, Siope approached Anna Marbrook about the story for the film two years ago.
Jim Marbrook says this was Siope's way of finally announcing, "I've got things to say."
While the film will likely be destined for overseas film festivals, Marbrook sees it opening in New Zealand and showing on the big screen.
Called a proudly Pacific story of transformation and healing, the film uses an array of captivating shots and video techniques to capture verdant vistas of Samoa and the inner world of the New Zealand waka community.
At a time when issues like disconnection, identity and the vital importance of the Pacific are growing in prominence, this film is likely to provide a soothing balance, while honouring the life and times of great woman whose wake will be felt for years to come.
Details of the crowdfunding campaign can be found here.