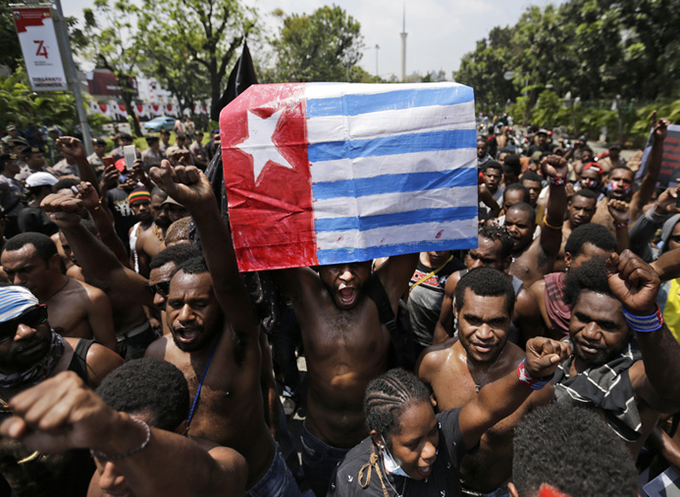 Pacific Media Watch Newsdesk
Indonesia has denied New Zealand diplomats' requests to visit Papua and assess the conflict and human rights situation in the turbulent region.
According to The Sydney Morning Herald and The Age, a spokesperson from the New Zealand embassy confirmed the travel ban, which has been extended to diplomats from the British and Canadian embassies as well.
The Indonesian Foreign Ministry, Kemlu, reportedly cited security concerns following weeks of violence and protest as the reason to deny entry.
READ MORE: WEST PAPUA: Veronica Koman 'won't be silenced' despite daily death threats
"Security considerations were the main concern at the moment," Kemlu spokesman Teuku Faizasyah said.
"We [Kemlu] follow the decision by the government to limit foreigners to visit Papua, including diplomats."
Australian and United States diplomats had not requested permission to visit however as they feared such inquiries would cause a "diplomatic headache".
The article said that the decision to block entry "underscored Indonesian sensitivities about the independence movement and recent violence in the provinces of Papua and West Papua".
This follows reports that the UN Office of the High Commissioner for Human Right has also been repetitively blocked from visiting Papua, despite being invited in 2018.
According to RNZ Pacific, UN Human Rights Commissioner Michelle Bachelet has said the talks with Jakarta to arrange a visit had stalled.
"We have been working with the authorities, but we haven't been able to progress it. But we will continue to talk to them because they promised to my predecessor the visit to West Papua but afterward we try to make it work and it hasn't worked yet but I hope it will work."
The situation in Papua has reached a crescendo in the last two weeks with reports of over 30 people killed during protests and at least 11500 fleeing violence in the highland town of Wamena, reports Fiji Village.
Reports indicate that those killed were Papuans shot by military but also non-native residents burned to death when protestors torched buildings.
Despite calls from international groups to investigate the deaths on both sides of the conflict, the Indonesian government has been focusing its efforts on finding and apprehending those it deems responsible for inciting the protests.
According to The Jakarta Post, Papuan activists arrested for treason were surreptitiously moved from the Papuan city of Jayapura to East Kalimantan, prompting condemnation from their lawyers and rights groups.
Meanwhile, a build up of Indonesian troops and a nearby shootout has prompted the border between Papua New Guinea and Papua to be closed.
While ethnic violence and anger has characterised the conflict in recent weeks, there have been instances of stirring kindness and humanity with reports of security forces protecting Papuans from Indonesian militias and Papuans protecting Indonesians from the indigenous protestors.
The Jakarta Post reports that Papuans from Wamena personally escorted non-native residents into a safe zone during the worst of the demonstrations and helped them escape the town afterwards.