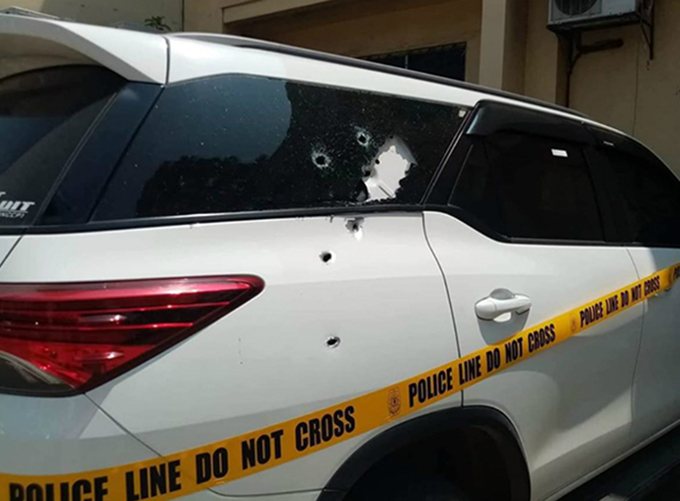 Pacific Media Centre Newsdesk
A Filipino human rights lawyer has come away uninjured after unidentified motorcyclists fired gunshots into her car on the central Philippines island of Panay, reports The Sun Star.
According to the report, Criselda Heredia was with her daughter and a client when the attack happened last month.
"I was just ambushed. Two bullet holes… There are nine bullets recovered by the police. The police however suspect that there are more," she said in a Facebook post.
READ MORE: Duterte accused of 'creating conditions' leading to martial law declaration
A member of the National Union of Peoples' Lawyers (NUPL) Heredia is an anti-mining campaigner on the island and handles pro bono cases for farmers, human rights defenders and political prisoners.
In an official statement, the International Coalition for Human Rights in the Philippines condemned the "outright attack against Filipino human rights lawyers," saying that it was part of an ongoing pattern of attacks.
"There is a clear pattern of vilification and harassments which then lead to political killings," said Peter Murphy, chair of ICHRP's Global Council.
"This only shows the continuing climate of impunity and the worsening human rights situation in the Philippines under President Duterte."
According to NUPL, before the shooting Heredia had been receiving death threats from unidentified men visiting her office and was red-tagged in posters in a similar fashion to human rights lawyer Benjamin Ramos, who was murdered on the nearby island of Negros last year.
The statement said that this attack on Heredia brings the total number of attacks on lawyers under the Duterte administration to 61, with 49 killed and 12 survivors.
It went on to emphasise the danger that Filipinos are facing on a regular basis.
"ICHRP reiterates its commitment to redouble our campaigns to alert the international community of the massive repression of the basic rights of the Filipino people that are continually taking place," said Murphy.
"We are also calling on all human rights defenders and advocates to denounce the looming fascism of President Rodrigo Duterte's government and to support the Filipino people's struggle for justice."